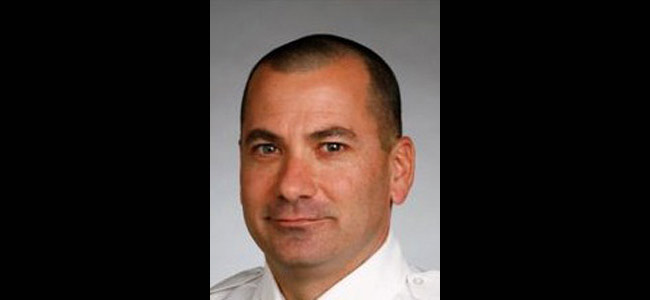 Jeffrey Hoffman been a captain in the Daytona Beach Police Department since January 2011, supervising 75 uniformed patrol cops, he's been in that police department since 1991, he's 41, has four children ranging between age 8 and 15, he lives in Ormond Beach, and he's going to be Bunnell's next police chief: City Manager Armando Martinez said today Hoffman was his top choice.
"I like the fact that he was local," Martinez said. "All along my plan was to get somebody who's highly qualified. But the fact that he's also local is icing on the cake. He's been here for 21 years, he knows all the law enforcement agencies here."
Hoffman will take a $45,000 pay cut to take the Bunnell job. He's making $94,500 currently. The Bunnell police chief's job pays $50,000. Martinez tried raising the salary. The Bunnell City Commission refused to go along.
Hoffman's confirmation goes before the commission next Monday (April 23). The nomination must have at least a majority vote of the five-member commission to be confirmed, Martinez said. He would start on April 28.
Hoffman is the last man standing from a batch of some 31 people who applied for the job after current Chief Arthur Jones announced in December he was retiring this month. He'd been on the job since late 2008.
The most high-profile application was that of Randy Burke, a lieutenant in the Bunnell Police Department on whose behalf Bunnell residents launched a petition drive to convince the city to hire him. Burke is not a favorite of Martinez's, and the job qualifications were re-written in such a way that applicants had to have a bachelor's degree. The same qualifications had not applied in Jones's case. Burke doesn't have a four-year degree, but nevertheless made the first cut, down to 19, but not the following cut. He said he was considering legal action.
Brannon Snead, a Florida Highway Patrol trooper of the month 15 times in his relatively young career,  and Gregory Feldman, a long-time South Florida cop retiring in Palm Coast, had made the final short list of three. Feldman was then eliminated, making it a contest between Snead and Hoffman. The difference came down to Hoffman being local, Martinez said, as both final candidates had strong backgrounds for the job.
"In my first year as captain," Hoffman wrote in his application for the job, "the district I commanded saw a 6 percent reduction in Part I crimes and has seen a 16 percent reduction in calls for service so far this year." Part I crimes are violent crimes such as murder, rape, aggravated assault, burglary, robbery, arson, auto theft and larceny. "I meet regularly with shift commanders in the district to discuss the problems in the patrol zones, and encourage the shift commanders to solicit ideas from each zone officer on what problems they encounter and what strategies they think would be most effective based on their knowledge of the area they have gained through community policing. Another component of the reduction came from regular meetings with community and business grouips to understand their concerns, and provide increased crime prevention education both in person and through the distribution of courtesy cards, door hangers and emails. This participation has led to a better deployment of resources both internally and externally to the areas most critical."
Asked about his first 90 days, Hoffman plans to spend his first 30 days soliciting ideas and insights from the city administration and commission, the next 30 visiting with businesses and civic groups, and the final 30 "implementing changes necessary to take the department in the direction needed."
"When you have a police background like you have I'm sure he's going to bring his own ideas and his own way of doing things, and I'm going to support him in that," Martinez said.