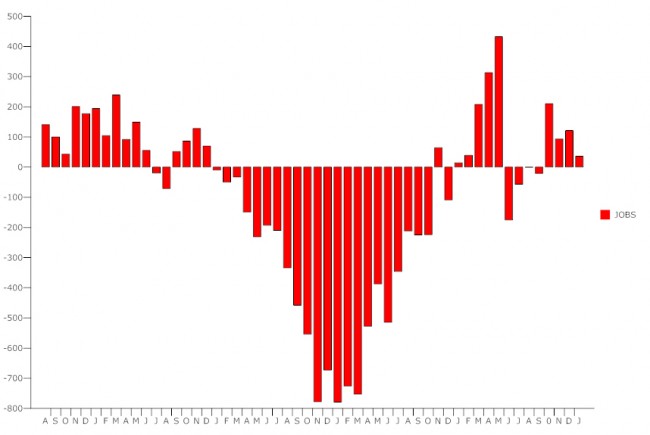 The national unemployment rate fell to 9 percent in January, the lowest rate in 20 months (it was 8.9 percent in April 2009), and a drop from 9.8 percent just two months ago. But job creation remains weak: just 36,000 jobs were created in December. Economists polled by the Wall Street Journal had expected 136,000 new jobs. The job-creation figures for November and December were revised upward to reflect an additional 40,000 jobs over those two months.
Bad weather, government layoffs and an economy still growing anemically for most, despite growth figures just over 3 percent for the past quarter, combined for the gloomier report than expected. Federal, state and local governments shed 14,000 jobs, while private industry added a net 50,000 jobs.
The drop in the unemployment rate was led by a reduction of 600,000 of people considered unemployed, or pulling unemployment checks, while the labor force itself was unchanged. That doesn't mean 600,000 people found jobs, but that most of those 600,000 people have dropped out of the unemployment line for one reason or another–death, retirement, discouragement. There was a significant drop (of half a million workers) in the ranks of people working part-time, and the number of people marginally attached to the labor force (those barely looking or no longer looking) rose to 2.8 million, a 300,000 increase in the last 12 months.
The total number of Americans not in the labor force was 83.9 million a year ago. It was 86.1 million in January.
Job gains: Manufacturing added 49,000 jobs in January, retail trades added 28,000, and health care 11,000.
Job losses: Construction employment declined by 32,000, especially among nonresidential specialty trade contractors (-22,000). Construction employment may have been hurt by a string of blizzards. Transportation and warehousing employment fell by 38,000, government by 14,000, and professional and business services and temp jobs dropped by 11,000.
The average workweek for all employees on private, non-farm payrolls fell by 0.1 hour to 34.2 hours in January, the Labor Department reports. The manufacturing workweek for all employees rose by 0.1 hour to 40.5 hours, while factory overtime remained at 3.1 hours. The average workweek for production and non-supervisory employees on private non-farm payrolls declined by 0.1 hour to 33.4 hours; the workweek fell by 1.0 hour in construction, likely reflecting severe winter weather.
Average hourly earnings for all employees on private payrolls increased by 8 cents, or 0.4 percent, to $22.86. Over the past 12 months, average hourly earnings have increased by 1.9 percent. Over the last 12 months, the inflation rate has increased 1.5 percent. Average hourly earnings of private-sector production and nonsupervisory employees rose by 10 cents, or 0.5 percent, to $19.34.