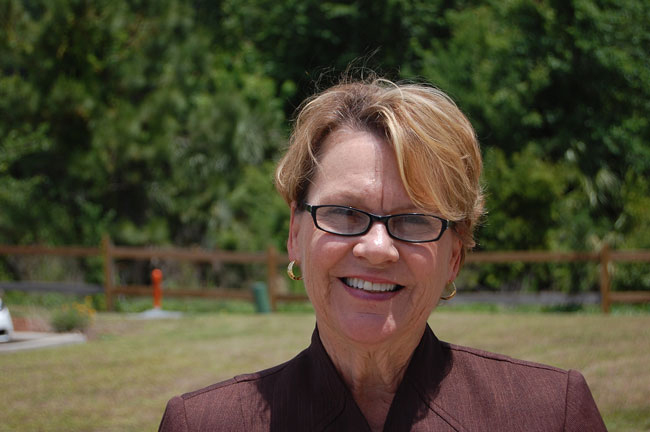 Come the end of June, Janet Valentine will literally be heading for the hills. Flagler County's school superintendent for the last four years will be retiring after 35 years in education, most of it in Flagler, and returning to the hills of her native North Carolina to live on her 5-acre farm east of Asheville, raise bees, fly-fish, and absolutely "not work."
Valentine, who'll be 59 at the time of her retirement, has time for her farewell tour yet—and a full school year to manage. But the school board tonight will be taking one of the most significant steps on the way to replacing Valentine, who by June will have been at the district's helm four years. The board will decide whether to go for a local, state or national search.
Valentine herself is recommending that the board act now to ensure a careful and, if feasible, lengthy transition, as was the case with hers. She succeeded Bill Delbrugge, who announced his resignation in February 2010 after five years as superintendent. But Delbrugge stayed on for another four months, sharing his office with Valentine and week after week gradually handing over his responsibilities to her. It was as smooth a transition from one superintendent to another as the district has known, made easier by Delbrugge's own decision to hire Valentine as his assistant superintendent in 2007.
In June 2012 Valentine named Jacob Oliva her assistant superintendent after he served a stint as principal at Flagler Palm Coast High School. The move was seen largely as a way to groom Oliva to take over when Valentine leaves. Oliva has a smooth relationship with the school board, and has sat in for Valentine on occasion. But the board must still formally decide whether to replicate its 2010 approach and hire from within or go through a fuller search.
In July, the board had discussed conducting a search through the Florida School Board Association. The board may also conduct the search itself, along with community input.
"But the board ultimately needs to make the decision," Valentine said. "If we're going to go out for either a state or a national search, the conversation needs to start now."
There is consensus on the board to go ahead with a statewide, but not a nationwide, search, Colleen Conklin, a board member in her 14th year, said. "We have heard from members of the community who are interested in a statewide search," she said.
Specifically, it's the local branch of the NAACP that's pushing the district to look beyond its ranks, mostly because of the district's issues with disproportionate disciplining of minorities, and the gap between lower and higher achievers. The district is also named in a lawsuit by the Southern Poverty Law Center blistering the district for harsh treatment of minorities. There is a demonstrable lack of minority teachers especially, and administrators to some extent, in the district.
"Under the budget constraints there may be discussion that a national search may cost more than they want to spend," Board Chairman Andy Dance, who's done his own research into the matter, said. He would not disclose his preference before this evening's meeting, saying he'd keep an open mind.
"It's not going to be a simple $25,000," board member Sue Dickinson said later in the evening, during the meeting. "That would be a big concern of mine," she said, of expected expenses. "Our last two superintendents were hired from within. I personally don't see why we can't do that again."
At the beginning of October, Valentine said, the board would decide "how we're going to get input from the community, what information to send out to advertise" for the position, and what the formal time-line would be for the hiring. Community input would typically last two months.
Valentine will be involved throughout. "I'll keep it rolling as I do with anything else, but if we go with an outside entity such as the school board association, they really take the lead role on that," Valentine said—and a measure of control over the ultimate decision, since the association would be culling the names.
Valentine was asked about Oliva's chances. "Certainly Jacob is a wonderful candidate, and he would be interviewed as anyone else," she said.
Valentine started her career as a teacher in an institution for the mentally disabled in Buncombe County, N.C.—the county adjacent to McDowell, there she is retiring. She moved to Florida 1983 as a teacher at Bunnell Elementary, where she taught second through fifth grade, then taught exceptional education at Flagler Palm Coast High School before becoming the adult education supervisor at the district. She was director of exceptional student education, then director of instruction for the Northeast Florida Education Consortium for a few years—avoiding what would turn out to be turbulent and divisive years for the district, during the relatively brief tenure of Superintendent Rober Corley—before returning as assistant superintendent from 2006 to 2010. (The experience is Corley is mostly the reason why the board is reluctant to try a national search again.)
Valentine enrolled in the DROP program—the deferred retirement option program under the Florida Retirement System—which requires her to stop working once the drop period runs its course. But she can return to work after a period of time, and many public employees have chosen to do so, essentially drawing a salary again even as they draw retirement benefits. Valentine has no such plans for now.
"I'm not going to work. At least for a while," she said.
The school district maintained an A in her first two years, and a B in her last two, while navigating through the most difficult economic retrenchment the district has ever known, with reductions in general fund revenue most years and the first leveling off—and last year's dip—in student enrollment in the district's history. Valentine steered the district through two successful tax referendums, but lost the third (last June), as voters tired of a compounding effect of rising fees and taxes from other governments and utilities, which they nevertheless blamed on all governments, the school board included.
Valentine also benefited from stability on the school board, with just one seat turning over during her tenure, and solid backing from a cohesive and collegial board throughout.
"I think we're headed in the right way in Flagler County and I know the board wants to see us continue in the great things we're doing," Valentine said. "I know they'll make the right decision."