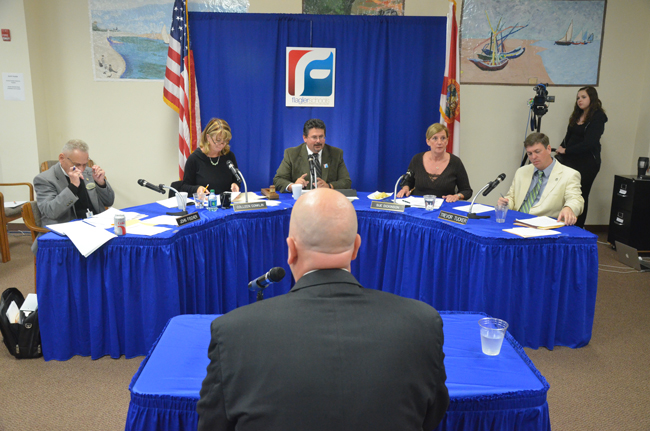 Note: the account of Pam Tapley's job interview, which took place before Jacob Oliva's, is available here.



"Jacob—Mr. Oliva, would you get the door please," School, Board Chairman Andy Dance told Jacob Oliva after a break during Oliva's two-hour job interview just after noon today. It was a joke, though one that reflected even in its brevity the level of comfort between Dance and Oliva and, in a broader sense, between the board and Oliva, who was at the receiving end of a hug from one of the board members before the proceedings.
Oliva matter-of-factly complied with the request about the door, not because he is compliant; he was making that quite clear during his interview, never hesitating to challenge the board's approach or district customs where he felt he needed to. But because he is virtually free of presumption, and has been so whatever his job title over the past 14 years in Flagler County schools, even as the titles have brought him within reach of the most important position at the top of the county's most consequential organization, and its largest employer by far.
If that brief moment halfway through the interview was revealing, so were the 115 other minutes of what turned into an exposition of the school district as it currently is, and as Oliva wants to make of it should he win the job.
Some contrasts with the only other contender for the job—Pamela Tapley, who was interviewed earlier in the morning and was on a guided tour of the district during Oliva's interview—were to be expected: Tapley is the outsider, the challenger, the one who had to make the case for essentially unseating Oliva from his incumbency, since Oliva is currently the acting superintendent. Oliva is the insider, so conversant with every aspect of the district that no question about its administrative details could stump him. And he had the advantage of being clearly not only the most versed of the two candidates regarding technology—a district priority—but of having been the point man of the district's "one-to-one" initiative, which will have a computer or tablet in the hands of each of the district's 13,000 students by 2017. Oliva referred to that initiative several times in the context of innovations, graduation rates and closing the achievement gap.
But other, perhaps less expected, contrasts also became apparent. Where Tapley was bubbly, going out of her way to banter with board members and appear the veteran she's been (she's 12 years from retirement), Oliva was initially subdued and tense. Tapley surrounded herself with notes, a binder and other documents, and took notes at many points during the interview. Oliva sat without a single piece of paper in front of him, his hands clasped most of the time, his eyes trained on board members at all times, and able to draw from memory every fact, figure or theory required.
Tapley came across as a commanding administrator who knows her school acronyms, her research and what jobs she's held. Oliva came across as a commanding administrator who's crash-coursed his way to the top job by necessity, but also as an almost compulsive innovator. If his philosophy could be summed up from today's interview, it would come down to this: staying ahead of the curve, whether the issue is technology, discipline, legislative developments, standardized testing or the achievement gap.
There were surprises in Oliva's interview. He unequivocally and impressively spoke against zero-tolerance policies that have been in place in the district for a decade and a half, and are still in place and enforced by an at-times expulsion-happy board. "My ideas on zero tolerance? It doesn't work," Oliva said. "You can't have policies in place where there is no investigation or no state of trying to determine the root cause of trying to determine why somebody did what they did. Kids make mistakes. Employees make mistakes. We have adults who make mistakes all the time." He described zero-tolerance as "probably an antiquated practice" that must change, because expelling a 5th grader who does something that a 12th grader would more likely do is not necessarily the right answer. "There isn't a single punishment that fits every crime."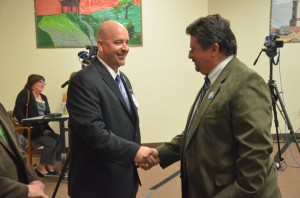 Oliva, of course, is aware of a lawsuit from the Southern Poverty Law Center that takes the district to task over disciplining that disproportionately affects black students. He is also aware that a significant reason why the board did not immediately appoint him superintendent, opting for a search instead, was opposition from members of the black community, including the NAACP, to an automatic appointment, and pressure on the board to explore the appointment of a minority superintendent. But whenever presented with questions about minority achievement, at-risk students (who are disproportionately black), discipline and recruitment of minority teachers—in a district where black teachers and administrators are a rarity—Oliva seized on the chance to describe a new approach, down to aggressive recruiting.
He described a "four-pillar" approach that ensures safety nets for students through teacher training that makes sure teachers know how to deal with a diverse population; that focuses on minority recruitment "and making sure we're not just talking about it," but spending money on it; that grooms "teacher-leaders" through the ranks; and that creates "true parent-community involvement and make sure that our civic organizations that our community know they have a voice, and provide a platform for that voice." He would later cite the district's mentor programs—for black girls and boys—as an example. "If we focus on those four things, all student achievements are going to go up, all graduation rates are going to go up," he said.
More specifically, one of his goals immediately after becoming superintendent—should he get the job—is to appoint a panel of district and community members to go through the district's "best practices" in discipline, and to analyze "what we need to stop doing." The idea was inspired by community members who recently sent Oliva new guidelines issued by the White House that move away from zero-tolerance policies.
Another surprise: Oliva's gently dressing down the board for having a missing link between the district's needs and Tallahassee's poor awareness of the district's priorities, something Oliva became aware of through trips to the capital and his introduction to the education world's main players. "I feel comfortable being critical of our district," Oliva said, describing his time in Tallahassee. "I don't think we've had as strong a presence as we should have had." Oliva's new connections were not just talk: he's been chosen to participate in a governor's round-table review of the state's education budget next Tuesday—coincidentally, the day the school board will be appointing Flagler's new superintendent. That happened, Oliva said, "because I wasn't shy about saying this is who I am, this is what we need, who do I need to talk to." In future, he said, the district must be more "strategic" with its presence in the state capital.
And yet another surprise: Oliva said that, to improve communications—a sore point with several board members, who have complained of too often reading of breaking emergencies in the media rather than hearing about them from the superintendent—he may be launching his own blog, Facebook or Twitter account to keep the community more readily informed of his and the district's work.
But he also addressed superintendent-board relations in the same terms as he did other changes in education: the relationship is evolving. It is not what it was a decade ago. he said, the two roles are changing today just as the educational system itself is changing. "Our job is to be ahead of that curve," Oliva said, as day-to-day management and policies must remain in sync.
When Dance asked him to describe his leadership style, Oliva unhesitatingly said: "I believe in transformational leadership." He said the purpose of a leader "is to help people become better and to transform them around you. My style is to take on that philosophy." Oliva spoke of being approachable, of being a listener, and of being visible. Again, it wasn't just words: as he walked into the interview room, he made a point of shaking hands and speaking with virtually every one of the half dozen students on Flagler Palm Coast High School's team of videographers, who were brought in to broadcast the interviews, though none of them would be material to his accession to the superintendent's job, and the men and women who are were standing nearby.
The product of Miami-Dade County schools and a 1998 graduate of Flagler College, Oliva was a student intern in 2000 at Wadsworth Elementary, teaching in third and fifth grade and students with behavioral disorders. He was tapped for a leadership program early in his career in Flagler. "One thing led to another, I ended up getting my Master's degree in educational leadership, and once I completed that I was moved into administration," he said, helping to open Belle Terre Elementary, where he was dean of students, before a transfer to Flagler Palm Coast High School as an assistant principal ("which I was very nervous about," because everything he'd done until then had been in elementary schools). He was there for a year and a half before he became principal at Wadsworth, "a nice welcoming home." But he was soon appointed principal at FPC, then appointed assistant superintendent in mid-2012.
"I wanted to have an opportunity to continue what we're doing and make sure we're still moving forward for our students and our community," he said.
Prompted by a question from board member Colleen Conklin—who struggled through the four hours of today's interview with a virulent flu–Oliva described the purpose of public education in idealistic terms often drowned out these days by the clamor for "choice," charters and vouchers. Public education, Oliva said, is "filling a need for our society, it is the avenue that provides equal and equitable access for everybody." He added: "When you look at the purpose of education and you look at the outcome of public education, this is the system that over the last hundred years put a man on the moon" and has pioneered a system other countries have envied. On a local level, he said, the purpose is to ensure that graduating students are prepared, competitive and capable to take on college or careers.
That gave Oliva a way to later expound on two initiatives he's been working on—universal pre-K education in all elementary schools, which should be in place by next fall, and the alignment of students at various levels with potential career opportunities that coincide with industries targeted for growth by local economic development agencies.
Oliva's wide-ranging answers touched on his experience as the district's lead negotiators with the unions and what he said was a collective bargaining agreement "held in high regard." He stressed the need to hire employees at all levels, whether for the classroom or for lawn maintenance, whose priority is students. He said the district has many "pockets of innovation" that should be studied and either standardized, if they work, or scrapped, if they don't.
But he said the district misses two key components: "a return on investment protocol," which actually measures the worth of such innovations (such as Phoenix Academy, he said). The district, he said, needs "to make sure we're getting the gains out of what we're doing. That's probably something I'd agree we're not doing a good enough job on." Also missing, he said, is a systematic set of procedures that fill in a managerial gap between policies and unwritten rules. Oliva pledged to undertake a procedural review in his first 100 days.
He was specific when, asked by Trevor Tucker, what he thought the district's reserves should be: a minimum of 5 percent, but preferably higher, with ideal numbers between 8 and 10 percent. Below 5 percent, "that's when I'd be hitting the panic button." (When asked a similar question, Tapley did not provide figures.)
Oliva was at his most personal on several occasions when he spoke of his personal leadership style and work ethic, and of his attempts to balance family and work life—attempts that have not always been successful, as he has found himself working extremely long hours and bringing his children to evening events to spend time with them. (Last year, during a visit to the district by Sen. John Thrasher, Oliva toward the end of the visit was spotted at a distance from the activity on the Phoenix Academy campus, literally trying to rest, his eyes closed, standing up).
In teacher or administrator education programs, Oliva said, there's a lot of theory learning. But the programs don't prepare the individuals for how "you get consumed" once the job begins. "Turning it off may be difficult," he said. "As an early administrator I struggled with that a lot. That's a big challenge and you're not really taught that, and you have to learn it on your own. It's tougher than people think."
As soon as the interview was over minutes before 1 p.m., and after brief conversations, Oliva headed for the door. "I got meetings scheduled the rest of the day, I'm a little behind schedule now," he said.
The school board will deliberate and vote on a new superintendent Tuesday at its meeting, beginning at 6 p.m. in Bunnell.