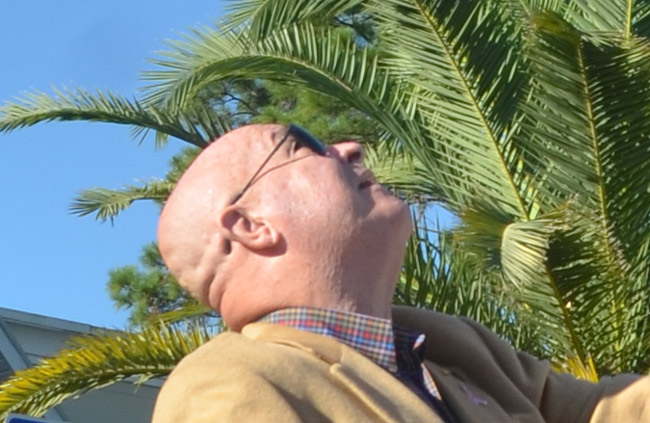 Jack Howell has survived another one.
The 69-year-old retired Marine colonel who survived the jungles of Vietnam, countless flight hours with student pilots in his Teens in Flight program, at least one political campaign (he ran for Flagler County Sheriff in 2008), one very serious motorcycle crash two years ago, and triple bypass surgery last year, as a result of his exposure to Agent Orange in Vietnam, had another motorcycle crash Saturday.
He left various pieces of himself on the pavement of U.S. 1 near the I-95 overpass as his body tumbled and scraped over the road after a tire blew. But unlike the crash two years ago, he broke no bones even though he was going 60 mph. But he's sore from head to foot. "It hurts. It hurts," he said Monday. He never lost consciousness and is able to walk slowly. "I'm tired of being the cockroach," he said, referring to his nickname. "I'm safer in the air. At least I know statistically I am."
His motorcycle took the brunt of the beating: it's totaled, and he's not replacing it. Not this time. "There's no question about it. My chief of staff has kind of directed me to do that in no uncertain terms," he said, as his wife in the background could be heard saying not to put it on her. "When she says get rid of it, you get rid of it."
Howell was taking part in the annual fund-raising ride for the Frank Celico Foundation, which drew some 100 riders in an annual event in the memory of the late Flagler County Sheriff's sergeant and bike enthusiast. Celico died in 2011.
"I truly believe that my buddy Frank Celico had a hand in saving my life as I heard him whisper in my ear, 'Not today Colonel Jack, you got a lot of work to do with your teens,'" Howell wrote on his Facebook page Sunday. "I am not the most religious person on earth but, I know what I heard and I know that I should have died on US 1 yesterday." He also credited "the first-rate care I received by the Flagler County Fire Rescue and Palm Coast Fire Department, Station 23," though he asked them to take him to Flagler Hospital in St. Augustine. "I was not going to let them tale me to Florida Hospital Flagler under any circumstances as I would have rather died on the roadside then to be taken there!" Howell hasn't had the happiest experiences at the local hospital.
"Finally," he said, "the good thing to have taken place is I now know what to wear for Halloween. I look just like a cast member from the 'Walking Dead.'"
His fans were quick to razz him. Some of the comments he drew: "I heard Freak Show is looking for a Scab Man. Glad you are going to heal and be fine." "Time for a trike for sure brother jack." "You are still a stubborn old dog very glad and grateful nothing terrible happened. As always Semper Fi!" And from County Commissioner Charlie Ericksen: "We've got to talk, Sir! You are grounded for awhile."
Three weeks ago when a Palm Coast pilot died in an experimental plane crash in the Princess Place Preserve marshes, Howell got so many numerous phone calls and emails from worried fans that he had to post a reassuring note on his page: "You all know my motto 'You can't kill a cockroach'! I'm still here folks." So he is.