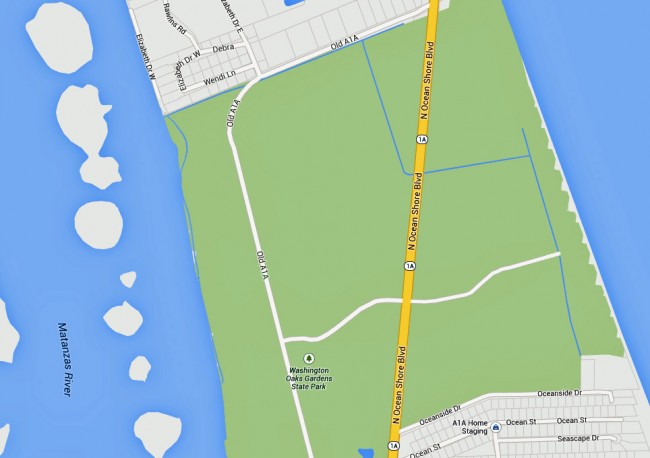 Ivor Roberts, 61, of Palm Coast, was on his 2012 Suzuki MC motorcycle, traveling south on State Road A1A near Washington Gardens State Park Saturday afternoon (July 27) when he was cut off by a driver making a left turn to get into the park. The collision left Roberts in critical condition.
John Chamberlin, a 37-year-old resident of Palm Coast, was driving north in a 2005 Jeep Liberty, an SUV, when he attempted to make a left turn to get into Washington Oaks State Park, according to a Florida Highway Patrol report. Chamberlin, the report states, violated Roberts's right of way. The front of Roberts's motorcycle collided with the front of the Jeep in the southbound lane of A1A, ejecting Roberts onto the southbound shoulder.
Chamberlin's Jeep came to a final rest in the southbound lane, facing northwest, while the motorcycle ended up in the driveway to Washington Square Oaks, facing west.
The Palm Coast Fire Police and the Flagler County Sheriff's Office reduced traffic on A1A to one lane as firefighter-paramedics and the highway patrol worked the scene. The wreck took place at 2:20 p.m. The road was re-opened to normal traffic flow at 5:19 p.m. Charges against Chamberlin are pending.
Chamberlin sustained minor injuries but declined transport to a hospital. The SUV sustained $5,000 in damages. The motorcycle sustained $2,000 in damages. Roberts was taken by ground to Halifax hospital's trauma unit. He was not wearing a helmet.
Saturday's crash was the latest in a string of crashes involving motorcyclists or cyclists on Flagler County roads this year, resulting in several deaths and critical injuries. On July 10, 63-year-old Deborah Dunn was killed as she rode her bicycle on U.S. 1 south of Bunnell, when an SUV that had swerved off the road moments earlier slammed into her from behind. On June 13, a motorcyclist was evacuated by air with critical injuries after losing control of his motorcycle, also on U.S. 1. Robert Trainham, 27, was killed while riding his motorcycle on April 2 in a collision with a pick-up on Belle Terre Parkway in Palm Coast. Days earlier, Frederick Martinez was killed on State Road 100 while riding his bicycle home, in the bicycle lane, as he was struck from behind by a van.
In most cases, drivers who are found at fault of such wrecks face careless driving charges and light punishment.