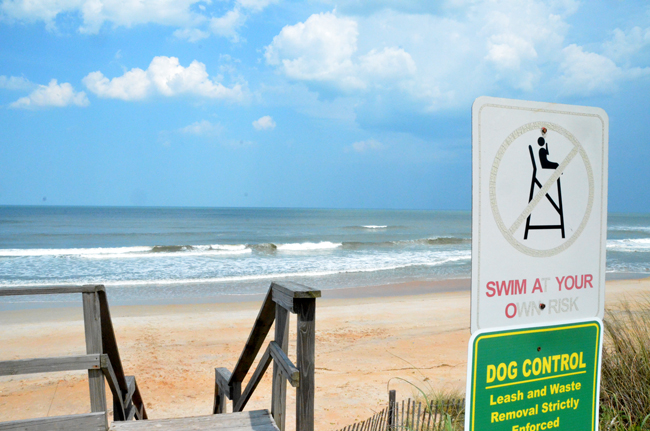 Hurricane Irene's aftershocks claimed two victims within three hours of each other in the Atlantic Saturday afternoon–one just north of Flagler Beach, one in New Smyrna Beach.
James Palmer had been swimming just before 3 p.m. in a Beverly Beach location parallel to some 50 yards north of the Flagler Beach city limit sign when his family lost sight of him, according to the Flagler County Sheriff's Office. Palmer, 55, was pulled from the water by a surfer who noticed him floating. Palmer was not breathing when he was brought to shore. He was administered CPR before being taken to Florida Hospital Flagler. He was pronounced dead at the hospital.
Palmer and his wife had just moved into the first floor of the Oceanside condominiums in Beverly Beach, across the street from the scene of the drowning, according to Howard Kane, a chaplain who's part of the Flagler County Emergency Responders Chaplaincy. Kane happened to be passing by the scene when he saw the emergency responders along the dunes. He stopped and gave comfort to the family. "It was emotional. They were traumatized," Kane said shortly after the family had gone to the hospital. "They tried to get him out, they tried to do the CPR," he said, but with no success.
Kane said the family consisted of the father, the mother and two adult children. The Sheriff's office reported later this afternoon that the family is from New Jersey and was visiting locally, and staying at the Oceanside condos.
That area of the beach, and for a long distance north and south, was all but deserted even before the incident Saturday afternoon as many beach-goers were still hesitant to take to the surf after Hurricane Irene had traveled a distance east of the shore on its way north, churning up the beach particularly on Thursday evening and into Friday. There are no lifeguards in that area of the beach. A sign warns beach-goers that they swim at their own risk.
Earlier this morning in New Smyrna Beach, Frederick Fernandez, a 55-year-old surfer and math teacher at New Smyrna Beach High School, was killed when, taking advantage of what was termed as ideal surfing conditions, he was wounded in the head by the surf board and knocked unconscious.
Like Palmer in Beverly Beach, the Fernandez was unresponsive by the time paramedics arrived. He was pronounced dead shortly after noon at Bert Fish Medical Center. Volusia County authorities attributed the death to the still-dangerous surf conditions in the wake of Hurricane Irene. Waves there were between 5 and 7 feet. They were around 4 feet in Flagler Beach and Beverly Beach.
The two deaths today would be the first two attributed to the storm in Florida. Irene has so far claimed five deaths in Virginia and North Carolina.