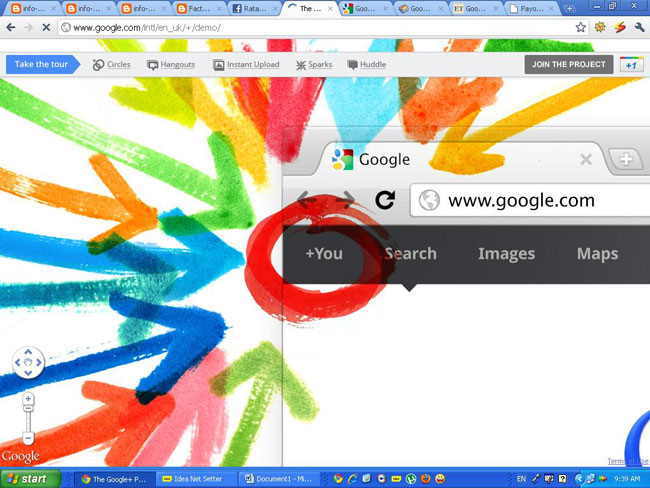 By Kyle Russell
The realm of social networking sites is always changing. First, there was Friendster, the so-called "granddaddy" of social networks. Next up was MySpace, which was what introduced most teenagers and young adults to social media, but died soon after being acquired by Rupert Murdoch's News Corp for $580 million (it recently sold for only $35 million).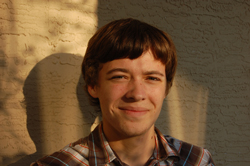 Of course, everyone and their mother is aware of the juggernaut that is Facebook, which recently passed the 750 million user mark, is probably well on its way to having a valuation of $100 billion, and is the first website to have an Oscar-winning movie made about its creation. But what's currently shaking up the Internet is a new service created by the search giant Google, known as "Google+". According to Google's former CEO, it already has millions of users. That's extraordinary for a service that's only been active for 12 days.
But what is Google+, and why is there so much hype? At first glance, it appears to be "like Facebook, but not Facebook". On further examination, it provides so much more. Intrinsic to the service is the concept of "Circles", a system where users organize the people they know into groups. While this seems fairly rudimentary in concept, the execution is superb. Rather than having one group of "friends" for every single person you know, as on Facebook, Google+ gives several categories to start with, and users can add more as they see fit. This allows the site to match users' "real" social lives with their online interactions: rather than share that inappropriate joke with your parents and coworkers, you can post the message in your "friends" circle, where you know it'll be taken the right way. This also prevents one of the main problems associated with having an online identity, the idea that potential employers could see your online profile and not like what they see.
Besides Circles, there are two features that push social networking forward. "Hangouts" are a group video chats, where up to 10 people at a time can converse for free (unlike Skype, which requires payment for group chat). The fact that these chats are all done within the browser is significant: do you think your grandmother would video chat if she had to install camera drivers, download Skype, create an account, and add your username? What if she only had to log in with her Gmail account, type in your actual name, and click the big green "start a hangout" button?
The second feature is known as "Sparks". Sparks are essentially automated Google searches. To set up Sparks, users enter a category such as "Apple Computers", and whenever they click on the that category, the latest news about that category is brought up. While this may seem rather pointless, in practice it's quite useful. For those with experience in social networking, think about the last time you were staring at your Facebook, but didn't really have anything to say. Sparks find things that interest you and let you keep the conversation moving forward.
So, from someone who has used Google+, is it worth trying out? In a word: yes. In many more words: yes, especially if you use Gmail on a regular basis/wish you could combine Twitter and Facebook/would like to connect with people that are essentially inaccessible on other sites (I'm currently "acquaintances" with two of my favorite writers, which is awesome). The only "problem" one could complain about is that the site isn't open for just anyone; to gain access to Google+, one must be invited by someone who is already a member. This has advantages and disadvantages: it has built up hype, due to being "exclusive", as well as reducing the amount of spam; at the same time, the site feels a bit empty right now. Luckily, this is a problem that is quickly becoming moot, as from my experience it seems many users invite at least 10 of their "real" friends upon signing up.
Where do I think Google+ will be a year from now? Assuming that the hype stays in place for the next month or so, that everyone with a Gmail account is eventually allowed in without an invite, and Google integrates Google+ with its Android operating system and Chrome web browser, Google+ may be the next 100+ million user social network. The ability to "follow" someone as you would on Twitter and talk to your friends as you would on Facebook without either feeling like it's missing features is winner. The site is already integrated with many of Google's other products: Gmail users, notice the black bar at the top of the screen? Google+. Search for something on Google and notice that all the links have a "+1" button to the side of them? That's the equivalent of the "Like" button on Google+. Upload any pictures on Picasa? Those can be transferred to your Google+ profile. Just through the sheer size of the range of its products, Google has managed to bring aspects of its new service to hundreds of millions of people, in 12 days. In this way, Google+ lives up to its name. It's like Google, but better.
On other fronts, LinkedIn no longer has the best system for interacting with employers and coworkers effectively, and Twitter no longer has a monopoly on following trends. Google+ may have just put them out of business. Facebook has over a tenth of the world population as active users, so it may have little to fear over the next few years.

Kyle Russell, a FlaglerLive contributor, graduated Flagler Palm Coast High School at the top of the Class of 2011. He'll be studying computer science at Berkeley starting this fall, and blogs here.