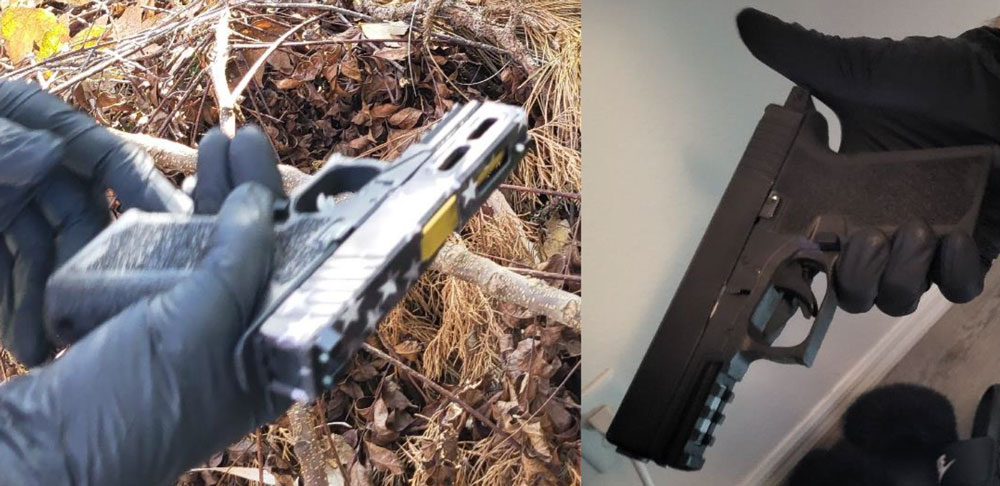 Jaden Santiago, a 15-year-old resident of Breeze Hill Lane, and Marshall W. Thomas, a 16-year-old resident of Brewster Lane, were arrested on grand theft and other charges after allegedly stealing two firearms in a plan to intimidate or fight other juveniles at Holland Park in Palm Coast this week.
The posturing preceding the boys' arrests was similar to incidents that led to the shooting deaths of five teens in Palm Coast and Bunnell since 2019.
Authorities were alerted to the incident by Thomas's father, Daniel Thomas, who reported that his son, from whom he has been estranged, had run away, and that he was possibly going to Holland Park to fight someone. Daniel subsequently informed authorities that two of his guns were missing.
Marshall returned to the Brewster Lane house while deputies were still there. He agreed to speak with Flagler County Sheriff's deputies, in his father's presence. Marshall told deputies that he'd been getting threatening messages from students he used to go to school with at Matanzas High School. They were threatening to jump him and beat him up, and had previously done so at Holland Park. He said he had ongoing issues with them.




Marshall would not provide names, concerned that it would make matters worse, though later on he provided names. But nor had Marshall tried to avoid the juveniles, or block their numbers, or avoid getting into arguments with them, he told deputies. On Jan. 16, he ran into two of the students. One of them punched him. So the next day, Marshall took the two guns and $1,283 in cash and went out to meet Santiago.
Marshall told deputies that stealing the handguns was a matter of safety, for himself and for his friends, but also to scare the juveniles he had an issue with. "Marshall," his arrest report states, "stated he was planning on placing the handgun in the waistband of his shorts. When Marshall was talking to them at Holland Park, Marshall [said] he was going to pull his shirt up, brandishing the firearm at those juveniles, hoping to scare them and 'show he is not playing around.'"
Marshall had also texted the juveniles that he would "put a cap in their ass," meaning that he'd shoot them, and told deputies "that is the action he would take if he were jumped again," according to his arrest report.




That text message was the least of it. When deputies went through Marshall's phone, with his father's permission, they found a slew of threatening messages: "u finna get shot," "like bro chill out you really wanna die," "you gonna die," that one laced in a racist epithet, and "I don't care anymore I will shoot ya ass killed."
Palm Coast and Bunnell have been the sites of a spate of incidents that resulted in the shooting deaths of five teens just since 2019–Curtis Gray, Elijah Rizvan, Jamey Bennett, Noah Smith and Keymarion Hall. Four of the five killings were preceded by the sort of posturing Marshall Thomas described. The circumstances of the fourth remain unclear, except for the near certainty that the shooting took place during a drug deal.
After hanging out at a friend's house, Marshall Thomas and Santiago headed for Holland Park to confront Marshall's tormentors, but noticed law enforcement speaking to teens there: by then Daniel Thomas had alerted authorities of his son's theft. So Marshall and Santiago reversed course.
Speaking with deputies, Marshall initially gave inaccurate or misleading information about the whereabouts of the gun, at one point claiming Santiago had both, when Santiago had only one of them: he'd given it to him.




Both guns were still missing when Marshall was placed under arrest on two felony counts of grand theft of a firearm, a separate count of grand theft, due to the stolen cash, and a second degree felony charge of making written threats to kill.
The next day, Angel Santiago, Jaden's father, called authorities to report his son missing. Deputies located Jaden that day, but he invoked his right to a lawyer, and since the weapons were not found on him, deputies did not make an arrest. The next day deputies located one of the two guns in a wooded lot (the arrest report attributes the find only to "investigative techniques," suggesting that written messages in Marshall's phone may have led to the location). Deputies also determined that Jaden Santiago had the other gun.
They went to the home where they thought he was staying on Thursday, knocking on the door after some surveillance. The report blacks out the name or age of the person deputies spoke with, a woman who denied knowing of the firearm. She said she had not spoken to Jaden since the previous day. But shortly after she went in the house, she returned in a panic, telling deputies Jaden was inside, and that she wanted him out of her house.
Deputies drew their firearms and went in, ordering Jaden to get out of a bedroom. He complied, if with some resistance on his way to being placed in a patrol vehicle. The gun was located in a dresser after the woman conceded that she had spoken to Jaden about the gun, and watched him boast about it with a friend, in a video call, showing off the weapon.
Jaden Santiago was arrested on charges of grand theft, tampering with evidence, possession of a firearm by a person under 18, and resisting an officer.




Thanking Thomas's father, Sheriff Rick Staly said, "Because of his actions and
responding FCSO deputies, a potentially deadly altercation between juveniles was likely avoided." The sheriff's detectives and deputies have investigated all five of the murders of teens since 2019, with arrests–and the attendant grief, anger and sorrow–in all five shootings.
Staly added: "Parents, be the Sheriff in your home and talk to your children on how to handle disagreements. Taking a gun to an argument, is not it! If you don't, we will be the Sheriff to your children and the outcome will likely be an arrest. I also commend our K-9 Unit, School Resource
Deputies, Community Policing Division, and detectives for quickly intervening to get these guns out of the hands of juveniles before someone could get hurt or killed."
The Sheriff's Office in a release said Thomas had not been an in-person student in Flagler County schools since the 2021-22 school year, attending iFlagler, the district's virtual school. Jaden Santiago has not attended Flagler County schools, the release said.

Editorial note: FlaglerLive does not ordinarily identify by name minors accused of crimes. The exemption does not apply to juveniles in incidents involving firearms.
Reader Interactions