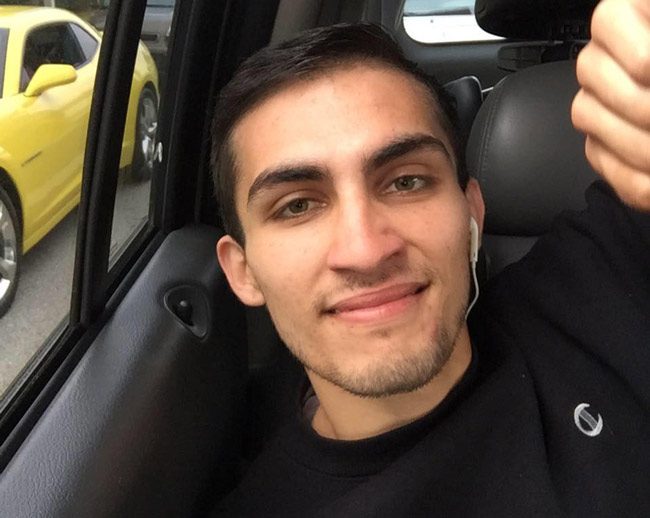 Anthony Fennick, a 23-year-old resident of Palm Coast's Richardson Drive, has had his issues–with drugs, with the law, even with his health: his kidneys have given him problems in the past, according to his girlfriend of five years.
He worked to mend his ways. He was admitted to drug court in June 2017 and managed to make it through its rigors week after week, even completing a residential drug-treatment program in DeLand. But a few weeks ago he violated the terms of drug court and tested positive for cocaine.
He'd been diverted from jail after facing charges for burglary and drug possession. Now, having violated the terms of drug court, he found himself back at the county jail. In early January, he told his mother–he lived with his parents, along with his girlfriend and 2-year-old child–that he would "do anything to get out of jail," even give up the name of the person who'd provided it.
Today, the Flagler County jail's docket shows him still there, since his booking on Dec. 28.
In fact, Fennick is not at the jail. He is on life support at AdventHealth Palm Coast's ICU, brain dead.
A Flagler County Sheriff's Office release issued this afternoon, prompted by FlaglerLive raising questions about Fennick this morning, stated that Fennick had "a medical episode" and was in "critical condition" at the hospital.
It quotes Steve Cole, who oversees the jail, saying that "the medical team is available to inmates at their request. They reacted as soon as the medical episode was reported."
Starting with Fennick's actual condition and what preceded it for five days, Fennick's mother, father and girlfriend, all of whom spoke with FlaglerLive this afternoon (FlaglerLive contacted them first: they had not reached out to media), describe a much different, more disturbing progression of events that indicate Fennick was visibly and obviously ailing–obviously enough that even two detention deputies interceded on his behalf with a dismissive medical staff.
Fennick's mother, who spoke with him every day, twice a day at times, said he was suffering from a high fever for several days in a row, had become dazed and confused, had developed rashes, and still was appeased rather than treated.
The medical staff kept Fennick's mother, Erika Williams, from learning anything about her son even in the 12 hours before he was taken to the hospital, when Williams knew something terrible was happening to her son because he wasn't calling her. The staff never told her he was taken to the hospital. The medical staff went so far as to tell her that they could neither confirm nor deny that he was even at the jail, and told her they could not speak of his medical condition to her because they claimed not to have a recent enough consent form allowing them to speak with her about him. That's when they deigned speak to her: she called a dozen times on Monday before finally going through a sheriff's operator, who assured her she would find a way to patch her through to a medical supervisor–and did. But only for Williams to get much the same story.
In sum, the picture Fennick's parents and girlfriend describe is one of two worlds at the jail, with notable exceptions on both sides: concern from detention deputies (though at one point, according to other inmates who witnessed the encounter and told his mother, one deputy derisively told Fennick that maybe he was ailing because he'd ingested something he shouldn't have, implying that he'd gotten hold of drugs inside), and indifference and contempt from the medical staff (though Fennick's mother made an exception for one nurse who she said treated her son like a human).
The sheriff in 2017 contracted with a private company, Armor Correctional Health, to provide what's described as 24-hour medical care to inmates at the jail. The company was paid $619,000 last year, and is being paid $641,188 this year. When FlaglerLive asked about the contract last February, Chief Mark Strobridge said at the time that Armor would provide more, not less, care, and gave a theoretical example: "When an inmate claimed a heart issue, they were automatically transported to the hospital by fire/rescue and one deputy or two would have to go and guard the inmate. Now with Armor, if an inmate claims a heart issue and it is not an obvious medical emergency they will have an EKG at the jail, which is transmitted to a cardiologist to read it immediately and determine if the inmate should be transported to the hospital or sent back to their jail cell. We have had many inmates that work the system to get out of the jail by fringing an illness." (See the contract with Armor here.)
But even when Fennick insisted that he was getting worse, he was told he could not see a doctor until Tuesday, the day when a doctor would normally be present. His parents say the medical staff made no efforts to take him to a doctor sooner. In the past, before the new company was hired, inmates were routinely taken to the hospital's emergency room for treatment–which took time and resources away from the jail, prompting the new arrangement with the private company, but which also likely better ensured that inmates with more severe issues did not fall through the cracks.
The Sheriff's Office isn't saying so in its scant release, but it has launched an investigation into the case. (A sheriff's spokesman said the release was scant because an investigation is under way.) According to Williams, surveillance video corroborates both what her son was telling her before he became unresponsive and what other inmates have reported about his dazed condition, which at one point had him unable to put on his jump suit correctly, had him staring into space, and had him not eating.
Fennick was taken to the hospital at 11:23 p.m. Monday. His parents say he went into cardiac arrest, his heart had stopped for nine minutes, and he was brain dead after that. A brain scan showed that he had fluid on the brain, a condition his mother said precipitated the crisis and should have been addressed much earlier, when her son started reporting high fevers day after day.
His father, Dan Fennick, said that his son days ago had reported to the medical staff that he had a bump on the back of his head that was bothering him. He was given antibiotics, including a topical cream. The following morning he reported being feverish, which is when triple-digit fevers began, seesawing with doses of ibuprofen–when he was able to get ibuprofen. "He was telling them look, I need to see a doctor, my fever is real high," Dan Williams said. His son would not be given so much as new linen after one of his fevers broke.
The last time he spoke with his mother, Fennick told her he couldn't stand up. Then, "Monday I knew something was wrong because he didn't call me," Erika Williams said. That's when she started calling the medical staff, getting progressively frantic, and urging the staff, once she got them on the phone, to "please, can somebody go see him, get a doctor in there, do something."
A nurse and her supervisor told her her son was getting good medical care, but said nothing more. "They just blew me off the phone just like that, just because he didn't have any consent," she said–which is standard for health care providers in the age of HIPAA: Fennick is 23, an adult.
In one of his last conversations with his mother, Fennick had reported that one of the nurses rudely told him off when he became insistent that he needed help.
Williams credits two detention deputies, Jarred Tazewell and Brandon Twing, for trying to help her son. "They were the two officers standing right there on Saturday when [the nurse] pretty much went off on him and she didn't have time for him, and they actually said look, he's really been feeling sick, he's not making this up."
But it was getting to be too late.
It was only Tuesday at 10:10 a.m. that medical staff from the hospital contacted Williams and told her she had to get to the hospital immediately. "There's no kind of brain activity whatsoever," a neurologist told her of her son's condition.
The medical staff told the Williamses that there would be another scan, and if that scan showed no activity, their son would be declared dead and be pulled off the machine–a whole different problem that's left the Williamses frustrated and angry at seemingly not being given a choice in the matter. "We're sitting here with our hands tied, trying to fight this thing, and getting no help from anyone," Dan Williams said.
Other than detectives and the two deputies posted to guard Fennick at the hospital (they've not interfered with the family at bedside), the Williamses have not heard a word either from the medical staff or from jail or sheriff's officials at any level.
By Wednesday afternoon, with her son on an ICU ventilator nearby, Erika Williams spoke between emotional breakdowns of having her son treated as less than human because he's an inmate. She did not diminish his issues and struggles with drugs, his run-ins with the law. But she did not want him diminished either, the way she felt he was at almost every turn just because of his status.
"I don't want him to die in vain," she said. "If I'm going to lose my baby, I don't want anybody else to go through what I'm going through."
Fennick has a daughter two and a half years old. He was to serve out his probation violation and be released in May.