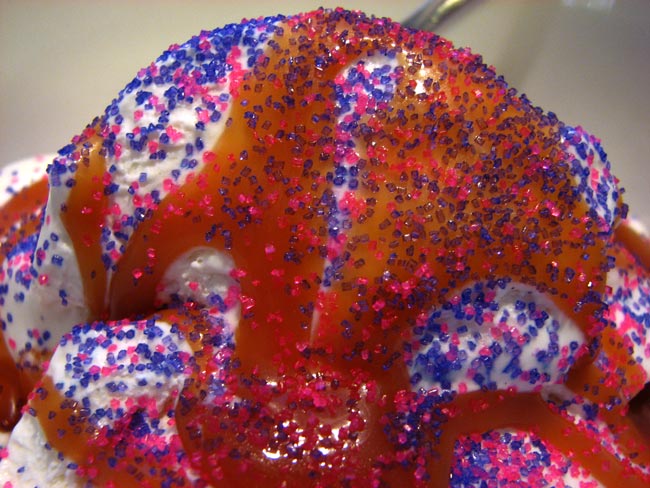 Don't worry, Flagler Beach: you'll still be able to buy ice cream from a roving ice cream truck, at least for the foreseeable future. In a stinging defeat for Jane Mealy on her first day as chairman of the Flagler Beach City Commission, the panel voted to table a proposed ordinance that would have severely limited the right of mobile businesses, including ice cream trucks, to ply their wafers around town. A full commission chamber applauded, but also grumbled at the possibility that the issue may yet not be dead: Mealy hopes to bring it back. She won't face any less resistance.
For Flagler Beach, the story of the ice cream truck is the latest example of a city struggling to define itself as both business friendly and quaint, both welcoming to entrepreneurs and protective of its existing businesses, both eager to attract more investment in the abstract but often leery of its consequences in its particulars.
Here's the story.
Sandy Kinney owns an ice cream truck. She has a Flagler County license to operate it. Perhaps you've heard its characteristic jingle—that hybrid bell-organ wail of a street anthem dearer to children's ears than anything Francis Scott Key ever composed.  Kinney drives her truck in Palm Coast, in the county, and of course in Flagler Beach, whose shore is like sprinkles on any ice cream operation's sales.
She parks in rights-of-way and sells. She also pays the $30 fee and sets up shop at Flagler Beach's First Fridays. The city's ordinance allows the mobile vending—not explicitly, but by omission. In other words, it doesn't regulate it, or addresses it. Anyone with a truck or a car with a trunk full of wares can, theoretically, drive around town, park, and sell. It would not be legal for cops to stop it. They'd have no ordinance to enforce.
Kinney knew her laws before she bought her truck and invested in her operation. But a few months ago she ran into a roadblock. Jane Mealy, the Flagler Beach city commissioner, objected to the business—not to ice cream on wheels exactly, but to the notion that a business on wheels could enjoy the advantages of doing business anywhere in town without having gone through the hoops that businesses at physical locations have had to go through. She asked for the commission's support to draft an ordinance addressing the matter. She got that support.
But when the city's legal and administrative staff produced the proposed ordinance last week and made it public, all hell broke loose.
Kinney, who was able to quickly rally popular support before her, wrote the administration, asking the city manager to run interference between her and Mealy. "In recent interactions with Ms. Mealy I have been told, in essence, that my business is not welcome in Flagler Beach based mainly on the grounds that it is mobile," Kinney wrote in a one-page letter displaying obvious, crafted writing skills. "Ms. Mealy cited concerns such as other businesses (Sally's for example) not having the 'luxury' of being able to deliver their product to the customer. This logic makes no sense to me, since I could say that my business does not have the 'luxury' of being in a fixed location with an established name and desirable spot. I am a single mother struggling to support myself in difficult economic times, as opposed to being an unemployed burden on the system. My business is legal and has a positive, albeit small, effect on the economy in more ways than one."
Kinney said she felt "unfairly targeted," describing Mealy's position as "unfair" and "opposed to positive growth in the community."
Then a strange thing happened: Carol Fischer, a business owner in Flagler Beach (she has the Beachhouse Beanery) and is one of the city's most vocal pro-business advocates, was incensed by the proposal, and joined Kenney in opposition. Fischer's business could be hurt by the sort of mobile coffee shops known to many other communities (though more in colder weather states than in Florida). But she dismissed the notion in an email to the commissioners: "It's really no different than allowing Domino's and Pizza Hut to deliver in Flagler Beach, which hurts local pizza shops," Fischer wrote. "Or would delivery trucks be banned also?," she added in a parenthetical.
Fischer continued: "We all have to deal with competition. The new 7-11 is huge competition, and you didn't stop them from coming, or create an ordinance against them. 7-11 has hurt the local coffee business, sandwich business, souvenir business, ice cream business, hot dog business (oh, never mind, our second hot dog shop just bit the dust!) As to the 'bricks and mortar' argument about fixed costs and unfair competition by mobile vendors, how do you justify the farmer market vendors that don't have the fixed costs yet come each week and 'impact' established businesses?"
As throngs filled the commission room Thursday evening, it was obvious to commissioners that they had an unwinnable battle on their hands, and a very long night of protesting comments from a public ready to filibuster the issue. Prefacing the matter with their comments, one commissioner after the other spoke in opposition of the proposal, saying, essentially, that it was half-baked: not enough research, not enough thought about how it could be more compromising.
Commissioner Kim Carney was outright opposed to any such regulation, saying Kinney had followed every rule and would have had, in retrospect, to contend with a new set of rules essentially tailored against her business. "This would impede entrepreneurship in Flagler Beach, Flagler County, wherever we are," Carney said. After someone has gone out and invested a lot of money to start up a business, "now we say, you can't do this. I don't think we could do this."
It was clear that the proposed ordinance had no support, and when Commissioner Steve Settle made a motion to table it, he got a 4-1 vote supporting him, including Mealy's, who was willing to see the proposal refined—but not killed.
Mealy reiterated her defense of "brick and mortar" businesses and said, speaking to the crowd—and whoever would rewrite the ordinance: "I would ask that you stay away from emotional issues because we cannot as a commission deal with emotional issues. The fact that there is a single mother involved here is sad, but it has nothing to do with the ordinance–excuse me," at that point Mealy had to silence the grumbling crowd, which did not take kindly to the comment about the single mother. "It has nothing to do with the ordinance because I would apply to anyone else," Mealy continued. "So the fact that there is a single mom here really I not the issue. The fact that it retains the quaintness of Flagler Beach is not the issue. We have to have legal grounds."
The large crowd did not get to speak because the matter wasn't voted on, though there was a little restless back-and-forth between people in the crowd and Mealy. It's not clear whether the matter will be back to the commission any time soon, but mealy said she would bring it back.