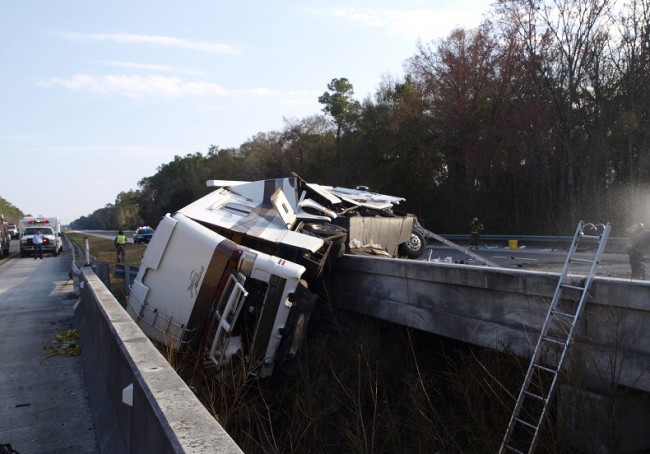 Driving on I-95 in St. Johns County just north of the Flagler County line Thursday afternoon was a swarm of snarls.
The southbound lanes of the Interstate were all closed after 3 p.m. at mile marker 320, just north of the county line, when an American Eagle recreational vehicle towing a Chevrolet pickup truck had a blowout, veered left, hit the guardrail, hit a concrete bridge, overturned on its side, and continued sliding on top of the bridge, splitting the motor home almost in half.
Somehow the RV stayed in one piece, but when it was done sliding, its rear half hung over the railing of the bridge, and its front half, considerably smashed up, clung to the roadway, pointing southwest. The pickup truck was not as lucky. It disconnected from the RV, catapulted over the bridge railing, and fell below the bridge, some 20 feet down. The pickup was empty. But it was demolished. The motor home sustained $50,000 in damages. Its salvageability is doubtful.
The motor home was driven by Richard Wray, 68, who was with his wife, Carol Wray, 65, both of Morehead City, N.C. Wray sustained minor injuries and was treated at Flagler Hospital in St. Johns.
A fuel spill lengthened the time the road had to be closed. Southbound traffic was routed through U.S. 1 and International Golf Parkway. Fuel had spilled on the road and the center median. At 4 p.m., an hour after the shut-down, the Florida Highway Patrol opened one outside lane, but kept the other lanes closed until 8 p.m.
Because of the back-up, another accident occurred further north on the interstate, by which time the backup had almost reached the Duval County line. A 2009 Chevrolet Avalanche driving south on the interstate's outside lane struck another car slowing down because of the traffic tie-up ahead. That collision resulted in a chain reaction involving six vehicles, including a tractor trailer and a passenger car. Two people, including Mark Moore, the 34-year-old Orlando driver of the Avalanche, were treated for minor injuries at Baptist South Hospital. Southbound lanes were closed there, too, and traffic diverted to County Road 210.
when a car overturned but without causing life-threatening injuries, according to Bill Leeper of the Florida Highway Patrol.