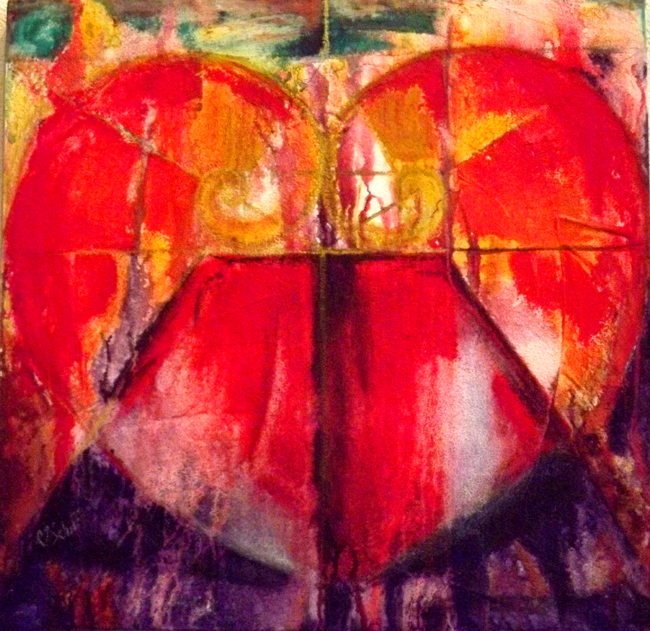 State Road A1A, otherwise known as Oceanshore Boulevard, is already Gallery Alley in Flagler County, especially through the Hammock. Yet another gallery is about to open on Valentine's Day: The I AM ART/Rachel & Friends studio and gallery, which premiers with "The Heart of Expression" on Feb. 14 from 5 to 8 p.m. at 5915 North Oceanshore Boulevard.
"It is a crisply contemporary artist's venue," says Rachel Thompson Schiff, the gallery owner. "We are thrilled to be able to showcase contemporary art in the Hammock and have been welcomed with open arms."
The soft opening for the gallery will include live music and champagne to toast the launch. St. Augustine based artist Thomas Long's hand-blown glass sculptures will be featured in the studio through April. His work has appeared in Architectural Digest, Florida Design, Florida Architecture, and Coastal Living Magazines. Other accomplished artists whose work will be exhibited are Joan Dorrill and John Thompson, as well as Paula Felici, Sandra Pierce and Rachel Thompson. Le Cose Belle and Christine Sullivan's painting studio–Sullivan is the reigning Flagler County Artist of the Year–both in the same plaza, will be open and welcoming guests as well.
According to her Facebook biography, Schiff "Rachel Thompson Schiff is an award winning mixed media artist and recent author. She attended Virginia Tech and holds a degree in Biblical Studies. Born with the soul of an artist much of Rachel's life has been devoted to aesthetics and spiritual growth. Her journey has been diverse and is shaped largely through her unique life experience and private study. Her inner landscape and that of others informs her artwork today. Rachel is currently a member of Professional Artists of St. Augustine," living in the Hammock.
She had lived in Niagara County, N.Y., where she held a studio at the Niagara Arts and Cultural Center, working with Native American, expressionistic, abstract and realistic artists. There, she launched her first solo show. In Florida, she's been featured at St. Augustine's Pasta Gallery. Her "Emanation" oil on dual panel acrylic was on exhibit at the Appleton Museum in Ocala recently for three months, and she currently has her "Woman with Vessel" acrylic painting on display at Hollingsworth Gallery in Palm Coast.
I AM ART/Rachel & Friends studio and gallery at 5915 N. Oceanshore Blvd in Palm Coast can be reached at 386/383-7404 or on Facebook.

A few miles down A1A in Flagler Beach, Ocean Books and Art's gallery is featuring photographer Joe Campanellie and Ormond Beach sculptor Timothy Murphy.
Murphy's wood carvings will be on exhibit in the Featured Artist space at the front of the gallery through February, with an artist's reception on Friday, Feb. 7, from 5:30 to 8:30 p.m. The reception is free to the public.
Murphy uses only reclaimed materials in his artwork. The wood he carves into animals is from Eastern red cedar that was once a part of a maritime coastal hammock on the back dune in Ormond-By-The Sea. The coquina stone blocks which serve as bases for many of his sculptures come from old walls removed from construction sites. Even the metal stands supporting his artwork once had a former purpose and now support his marine life and birds.
Each piece of wood has a history. To Murphy, the grain, twists, knots, insect holes, wounds, and its former location in the environment, are stories waiting to be told. "The culmination of all these factors, which I have spent most of my life studying and seeking to understand, has allowed me to gain an appreciation and connection with the wood," Murphy says. "I approach my works as a form of meditation and, in a sense, as an archaeological journey." His sculptures of whales, birds, manatees, turtles, and other animals of the barrier island have no eyes because they represent what was or what may be lost if humans fail to act to protect the natural environment.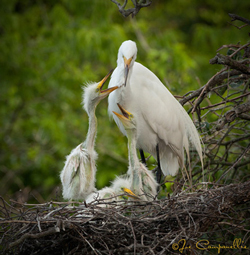 Joe Campanellie was one of 59 Gold Medalists at Professional Photographers of America's 2013 International Photographic Competition. He was honored at PPA's annual convention, Imaging USA, in mid-January in Phoenix.
Campanellie's Photographic Album Entry, "Birds Of A Feather," a collection of his Florida avian images, was selected for the Grand Imaging Awards. The album was chosen as the third place winner from over 5,000 photographic entries.
"These photographers have reached a prestigious achievement," states Randy McNeilly, PPA's Photographic Exhibition Committee Chairman. "It takes dedication to achieve the consistent quality and creativity necessary to earn the title of Gold Medalist in one of the world's most celebrated photography competitions."
Campanellie holds the PPA Master of Photography and Photographic Craftsman Degrees, is a Certified Professional Photographer and a Fellow of the American Society of Photographers, one of only 114 worldwide.
Ocean Books & Art Gallery is at 200 S. Oceanshore Blvd, in Flagler Beach.