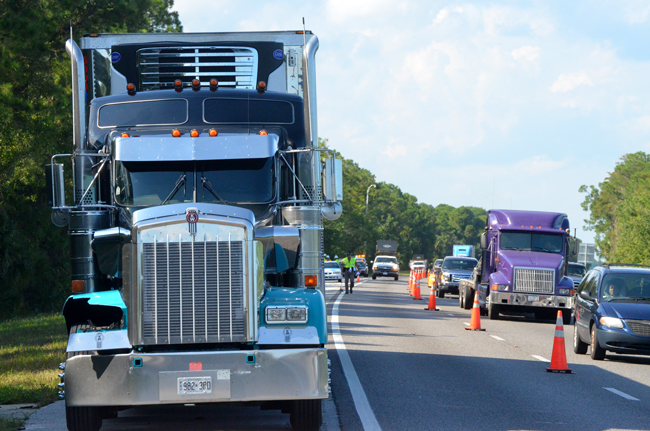 An Ontario-based 18-wheel truck struck Rickey Clint Green on I-95 southbound, at mile marker 280, at 3 p.m. today, killing Green.
Green, of Bunnell, was 31. It is the third fatality in three days on Flagler County roads, following the unsolved hit-and-run killing of a 54-year-old bicyclist in the early hours of Tuesday on State Road 100, and the killing of a 67-year-old man on his motorcycle, on U.S. 1 at the south end of the county, on Monday.
Green was pronounced dead within moments of Flagler County Fire Rescue's arrival at the scene. A Florida Highway Patrol report states that "for unknown reasons at this time," Green "walked from the southbound outside emergency parking lane into the path" of the truck, suggesting that his death may have been self-inflicted. He was between one and two miles north of the Old Dixie exit, and several miles south of the State 100 exit.
The 2006 Kenworth truck, is leased to Tropical Selections Inc., belongs to Wayne Peconi, of Selkirk, Ontario. Peconi applied his brakes to avoid Green.
One of the three southbound lanes was shut down after 3 p.m., though traffic barely backed up as it flowed through the other two lanes. Unlike at vehicle crash scenes, when drivers tend to slow down to gape, there was little to see at this accident scene. Drivers could not make out the body of the victim, which was covered in a white sheet and slightly below the road level, down the shoulder's embankment.
The truck's right-side lights had been as if yanked out from the force of the impact, leaving a hole there.