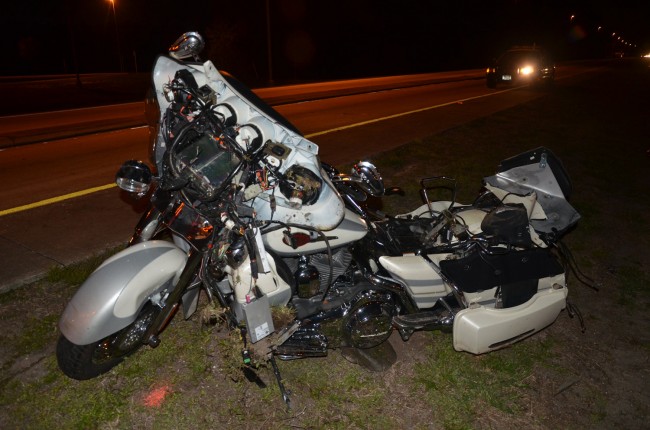 Bike Week claimed yet another victim on Flagler County roads this evening as a rider from Virginia, possibly experiencing brake problems, crashed his Harley on the grassy shoulder of I-95 parallel to the weigh station, just south of Palm Coast Parkway.
Ronnie Reynolds, 54, of Richlands, Va., was evacuated by air in critical condition to Halifax Hospital. The wreck took place at 6:40 p.m.
Reynolds, a retired trucker known as Two Rs, was traveling south with several friends in a group of four bikes. He's been coming to Bike Week in Daytona Beach for years. The group had just been to the Harley Davidson store in St. Augustine. Something went wrong with Reynolds's bike. A Florida Highway Patrol investigator said his brakes malfunctioned. The bike began to wobble. Reynolds lost control and "he started overturning."
The investigator said the bike flipped five or six times, with Reynolds on it probably the first four times. Even though the bike overturned on the grassy shoulder, Reynolds was severly injured. No alcohol or drugs are involved, an investigator said.
The wreck is the fourth serious Bike Week-related wreck in Flagler County in seven days, beginning with a car-versus-bike wreck on U.S. 1 on March 9 that sent three people to hospitals. Three days later, a man and a woman, engaged to be married, were riding south on A1A by Washington Oaks Garden State Park when the bike hit an SUV preparing to turn. Diana Sallee, the woman riding the bike, died the next day. That same day, another young engaged couple was riding south on State Road 11 when their bike struck a guard rail, sending the woman over the rail and leaving her with critical injuries. The man had several broken bones.