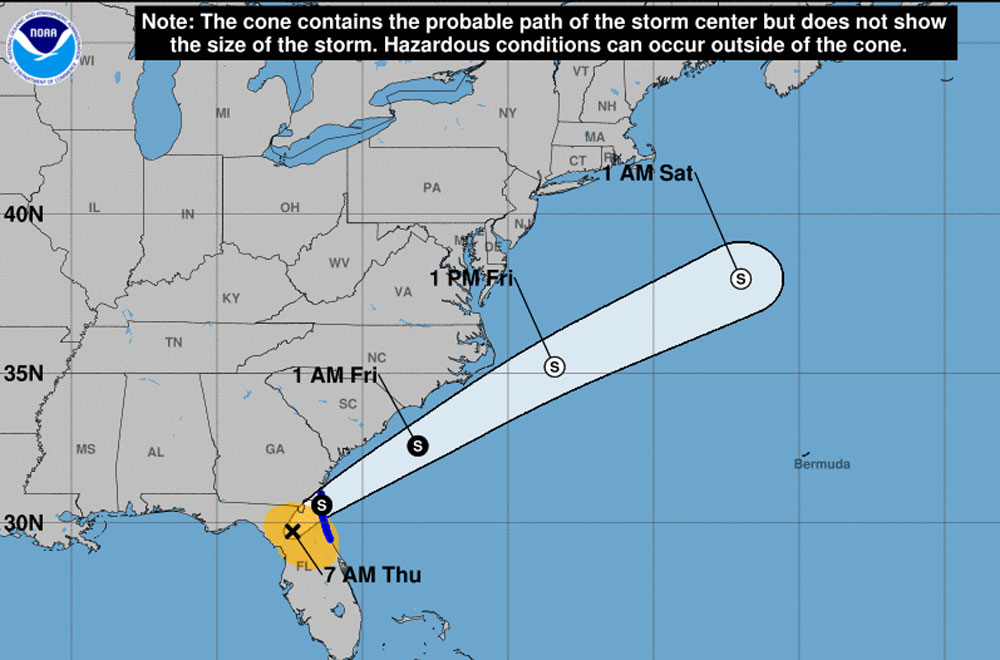 Last Updated: 10:53 a.m.
Thursday, 7:45 a.m.–Flagler County was preparing to weather a late-season tropical storm as ex-Hurricane Eta was made landfall in the Cedar Key area Thursday morning then started its rapid churn toward Flagler and Northeast Florida. A tropical storm warning is in effect for eastern parts of Flagler and Bunnell. Some power outages are possible.
At 7 this morning Eta was 65 miles southwest of Jacksonville, with maximum sustained winds of 45 mph, moving at 13 mph.
Flagler County schools will remain open today, "however there may be impacts on our after-school and extracurricular activities Thursday," the district said in a statement Wednesday afternoon. The Flagler County courthouse is closed for the day.
"Eta has weakened and is forecast to remain a low-end tropical storm as it moves across north central and northeast Florida, with the circulation of Eta forecast to move into the Atlantic waters early this afternoon," the National Weather Service in Jacksonville said this morning. "Periods of heavy rainfall and gusty winds are expected through around noon today, with localized flooding possible for locations south of Interstate 10."
Peak winds are expected to be between 25 and 35 mph locally, with gusts up to 40 mph.
The Palm Harbor Golf Course and Palm Coast Tennis Center are closed. Palm Coast government in an advisory this morning stated that the city's weirs and canals have been lowered to accommodate for additional stormwater drainage. Residents may notice their swale accumulate water, which is normal for its function to collect rainfall.
During periods of heavy or consistent rains the water table can raise up high enough that it is above the bottom of the swale. This is a temporary condition. When the rains stop and the water table goes back to normal your swale should return to the same condition it was before the rain started. A simple way to tell if this is what is going on in your swale is to follow the swale down to where it outfalls (ditch or basin). If there is water in all of the swales and water is running into the outfall, even if it is not raining at that moment, then this is most likely just high ground water.
It is especially important for residents with PEP tanks to drastically decrease water usage if they lose electricity. PEP tanks will not empty into the wastewater system if there is no power. If the tank fills to capacity, there is a risk it may back up into your home, especially if water is continued to be used. If power is lost, whether you're on the gravity sewer system or have a PEP tank, do not do laundry, do not run the dishwasher, and reduce the time and frequency of showers. Flush as infrequently as possible. Put as little water down your sinks and showers as possible. If your PEP tank alarm goes off, please silence it and call Palm Coast Customer Service at 386-986-2360. A crew will be dispatched for assistance as soon as it's safe to do so.
Palm Coast Public Works crews are out searching for debris. To report issues or concerns, call customer service or submit a case through palmcoastconnect.com.
Previous stories are below.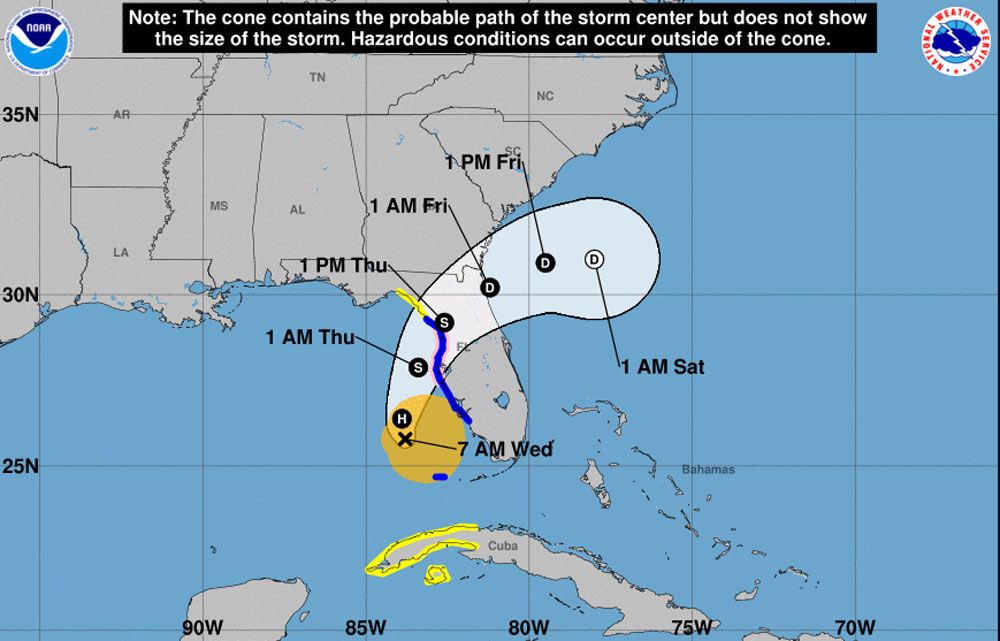 Flagler Under Tropical Storm Watch As Eta Swings East, Weakening Considerably as It Approaches
Wednesday, Nov. 11–The National Weather Service in Jacksonville early Wednesday morning placed Flagler County under tropical storm watch as what had briefly turned into Hurricane Eta, swinging east from the Gulf of Mexico, was expected to cross the Florida Peninsula Thursday into Friday, in a northeasterly direction, degrading into a tropical storm then a tropical depression as it does so. A Tropical Storm Watch means that tropical storm conditions of winds greater than 39 mph are possible in the next 24 to 36 hours.
Tuesday evening Eta's track was more northerly than it became overnight as it continued shifting east, toward Flagler and Northeast Florida. While the shift may continue, Eta is currently expected to reach the Flagler region as a depression late Thursday night into early Friday morning.




The National Weather Service forecasts possible tropical storm conditions for Thursday in Palm Coast and Flagler, with chances of thunderstorm before 1 p.m. developing into more likely thunderstorms between 1 and 5 p.m. Some of the storms could produce heavy rainfall. Possible tropical storm conditions will stretch to around 1 a.m. Friday.
Flagler County Emergency Management Chief Jonathan Lord Wednesday morning issued an advisory to local residents. "We urge residents, businesses, and visitors, to be prepared for periods of heavy rain Thursday and Thursday evening, that may result in localized flooding, to include those low lying properties along the Intracoastal Waterway at high tide," he cautioned, winds of 25-35 mph with gusts to 40 mph, and a "chance of isolated tornadoes."
"Please take time on Wednesday to review your disaster plan, prepare for the potential of isolated power outages and wind-blown debris, and by putting away loose outdoor items, such as furniture," Lord said.
As it's moved from the Caribbean to the Gulf, the weather system has kept much of the Peninsula unsettled, triggering a brief state of emergency in southern counties before Eta shifted west in a wide arc (and causing the rearrangement of Veterans Day events planned in Palm Coast today). Flagler schools are closed today in observance of Veterans Day.
At 7 this morning, Eta was some 130 miles west southwest of Ft. Myers, 170 miles south-southwest of Tampa, with maximum sustained winds of 70 mph. It was moving north-northeast at 14 mph. "Eta is expected to be near or at hurricane strength tonight as it approaches the west coast of Florida, with rapid weakening expected after landfall on Thursday," the National Hurricane Center's 7 a.m. advisory states.
Reader Interactions