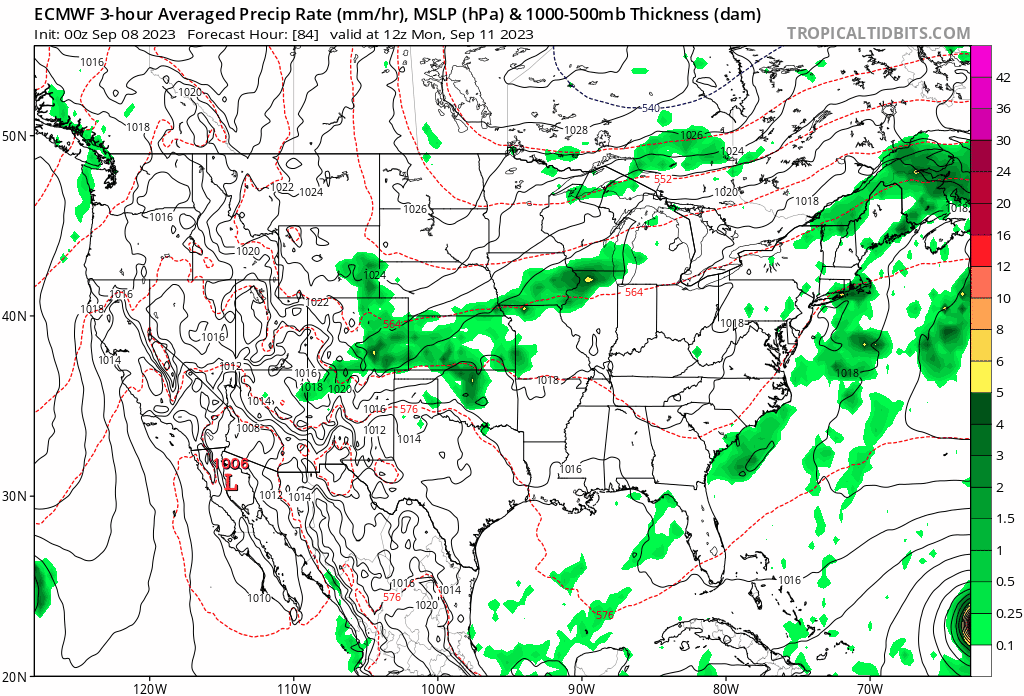 For the last several days, Hurricane Lee, the most powerful storm of the season yet and a potential record-breaker, has been as if making a beeline for Florida, from the middle Atlantic. But models and Flagler County's emergency management director say the hurricane in five days will make an abrupt turn north well before it comes near the Florida Peninsula.
Hurricane Lee is already a Category 5 storm, with sustained winds of 165 miles per hour, and may yet strengthen because of record high ocean temperatures. But both the American and European models, the two with the most reliable history of forecasting–as do numerous other models–show Hurricane Lee swerving well clear of the Antilles to carve a northerly path parallel to the East Coast all the way up to Newfoundland, but always staying well offshore.




The storm may spawn a few localized storms in Flagler County and Northeast Florida. But its most severe local impact–and it may not be minor–will be limited to beach erosion. On a significantly eroded dune system, that's no small concern in Flagler County. Surfers' joy will be shoreside homeowners' anxiety. But Lee will otherwise be a distant phenomenon on satellite and television screens: sand bags may sleep easy, students will not have hurricane days.
Dangerous surf and rip currents are expected to begin along most of the U.S. East Coast beginning Sunday, the National Hurricane Center warns, with potentially life-threatening surf and rip currents.
"Hurricane Lee as everyone has seen on the news, it's out there and it looks like it may be on a path to be potentially be a record-setting storm the way it's rapidly intensifying," Flagler County Emergency Management Director Jonathan Lord said this morning. "However, the cone that you see on television or on the internet doesn't tell the full story. It only shows the next seven days at best.
"So when we look at all of the models there, they're all quite consistent, which is rare. But they're all very, very consistent, showing a turn within the next week before Lee gets to the Bahamas and having it go in a more northerly direction. So that turn means we are not likely to see hurricane impacts or even tropical storm impacts here in Flagler County. We're going to keep it well out into the Atlantic Ocean. However, we are definitely concerned that it's going to create swells and rough seas that will very likely cause some elevated tides and potentially chip away in our dune system."




A hurricane is a swirl of intense energy fueled by warm water, literally lifting vast swaths of seas over which it passes. Hurricane Lee is currently causing waves of 45 to 50 feet high near the center, according to the National Hurricane Center. "Dangerously high seas are expected to continue near the core of the hurricane, and large swells will spread well away from the system through the forecast period," the center predicts.
"That water has to go somewhere," Lord said. "It'll get weaker as it comes our way but it's still going to be a lot more rough than what we've been having this summer. And even though it's hundreds of miles away, that water travels somewhere until it hits land or levels out across larger distances. Unfortunately, we are close enough to see some impacts from what that storm is going to be doing hundreds of miles away."
Lord said there's a good chance of "accelerated erosion" on Flagler County's 18 miles of shoreline. He's not as concerned about breakthroughs. But the erosion could chip away at what remains of the dune structure, weakening it ahead of what may still be a dangerous hurricane season, which is only now peaking. Hurricane season officially ends on Nov. 30. But because of the ocean's temperatures, the season may not respect that date, Lord said. Hurricanes form in water temperatures of 80 degrees and above. They're well above that now, and may remain above that threshold past Nov. 30.
So Hurricane Lee may be only a preview.




"The way it's rapidly intensified, I don't know if it's a record but it's quite shocking," Lord said. "The amount of heat in the Atlantic Ocean is definitely setting records this summer. The fact that we've never seen in recorded history, or at least recorded ocean temperatures, this much heat–and heat means energy and fuel for the hurricane–could very well mean we can see a stronger hurricane potentially. This one is very much one to watch because of that, just because of how fast it's developed."
Hurricane Allen in early August 1980 set the record for strongest sustained winds in the Atlantic, at 190 miles per hour, as it threaded its way between Cuba and the Yucatan Peninsula, shearing parts of the Antilles before making landfall from the Gulf of Mexico at the U.S.-Mexico border, near Matamoros. Some 269 deaths were attributed to Allen. On Earth, the hurricane with the highest-recorded force was Hurricane Patricia in 2015, with 215 miles per hour winds. It swung around from Central America into a sparsely populated region of southwest Mexico that October, killing 13 people.
As of 5 this morning, Hurricane Lee's 165-miles-per-hour winds were traveling west northwest at 14 miles per hour, its hurricane force winds extending 45 miles from the center, its tropical storm force winds extending 140 miles. It was closer to the mid-Atlantic than any land in the Americas and their islands. It had not triggered any coastal watches or warnings. Lee is expected to slow down significantly, which means it will pick up force as it passes north of Puerto Rico over the weekend. "Additional strengthening is forecast today," the National Hurricane Center predicts. "Fluctuations in intensity are likely over the next few days, but Lee is expected to remain a major hurricane through early next week.
See this morning's weather briefing from the National Weather Service in Jacksonville below.

nws-jax-briefing