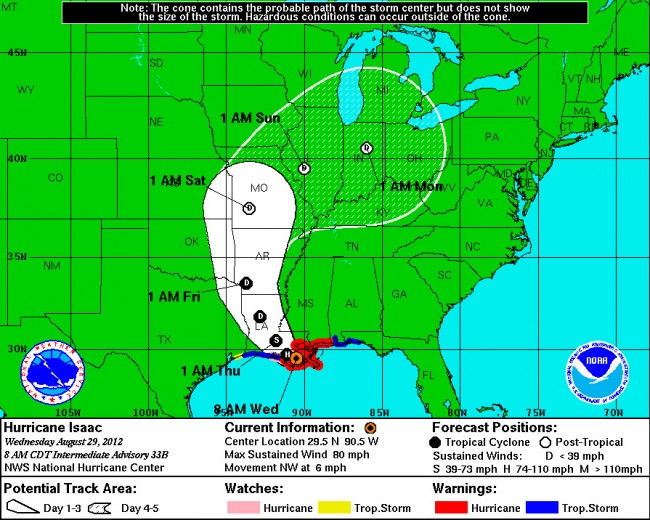 Last Updated: Wednesday, 10:11 a.m.
Isaac became a Category 1 Hurricane Tuesday. The vast, slow-moving hurricane is combing with high tides to produce enormous storm surges as Isaac threatenes New Orleans and coastal areas stretching to Florida's Gulf coasts.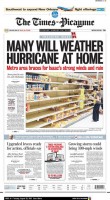 Hurricane Isaac made landfall at 6:45 p.m. in Louisiana, some 90 miles southeast of New Orleans, a little after 8 p.m. Tuesday. At 6 p.m., it had gained a little strength, to 80 mph. But it was a landfall in the most technical sense only, striking a spit of land stretching into the Gulf. The hurricane made its more serious landfall around 5 a.m. Wednesday, with winds of 80 mph, crawling inland, and on track to strike the New Orleans metropolitan area, where the repaired levee system was to be tested again.
By 8 a.m. Wednesday, the hurricane had almost stalled, moving northwest at just 6 mph, about 40 miles southwest of New Orleans.
Flooding had begun in New Orleans. "Some local residents with boats have begun rescue efforts for Plaquemines Parish residents stranded by Hurricane Isaac along its east bank, outside the federal levee system," the Times-Picayune was reporting Wednesday morning. "So far at least half a dozen people have been picked up, according to parish officials. Dozens of people on Plaquemines' east bank, south of St. Bernard Parish, reportedly are stranded, some in attics to escape flood waters that may have reached 5 to 9 feet in certain areas."
The paper adds: "There is a nursing home in the Jesuit Bend area on the west bank that was not evacuated, and the Governor's office of Homeland Security and Emergency Preparedness wants to try to evacuate it. The parish levees on the east bank are about 8.5 feet, though some are as high as 12 feet. Some estimates have storm surge at 13 feet; corps officials this morning put the figure at 12.5 feet. Corps officials are saying that there are no confirmed reports of breaches, which suggest failures in levees."
At mid-day Tuesday, Hurricane Isaac was a Category 1 hurricane, packing winds of 75 mph and moving toward the mouth of the Mississippi at 10 mph. It was about 55 miles south-southeast of the edge of Louisiana, and was expected to make landfall late tonight or just after midnight. It is expected to pick up strength before striking the Louisiana coastline and New Orleans.
Isaac is not a strong hurricane (Hurricane Katrina was a Category 3 when it struck New Orleans in 2005), but it is a very large hurricane, extending more than 200 miles. It is also very slow moving. The combination will result in an unusually powerful storm surge. In Southeast Louisiana, the surge is expected to reach 12 feet.
A hurricane warning is in effect for New Orleans, Lake Pontchartrain and Lake Maurepas, and for areas east of Morgan City, La., to the Mississippi-Alabama border.
A tropical storm warning is in effect for the area from Destin, Fla., to the Mississippi-Alabama border.
A high tide is adding to the expected storm surge. The combination will prove damaging to coastal areas affected by Hurricane Isaac. The water could reach the following above-ground levels if the peak surge and the tide coincide:
Mississippi and Southeastern Louisiana: 6 to 12 feet.
Alabama coast: 4 to 8 feet.
South-Central Louisiana: 3 to 6 feet.
Florida Panhandle: 3 to 6 feet.
Apalachee Bay in Florida (the state's armpit), 2 to 4 feet.
Remainder of Florida's West Coast: 1 to 3 feet.
Tropical Storm/Hurricane Isaac's Location, Wednesday, Aug. 29, 8 a.m.
View Larger Map
The News Service of Florida reports that an advisor to Republican presidential candidate Mitt Romney said early Monday evening he does not expect further changes in the party convention schedule, despite Tropical Storm Isaac barreling toward the northern gulf coast. "Moving forward, no change with our Tuesday, Wednesday, Thursday schedule," said Russ Schriefer, a Romney strategist. Some reports earlier Monday speculated that Republican leaders might shorten the convention because Isaac is expected to turn into a hurricane and possibly hit the New Orleans area. Republican leaders already eliminated almost all of Monday's convention activities in Tampa because of Isaac tossing off high winds and rain in Florida. The convention Tuesday will include the roll call vote to nominate Romney for president and prime-time speeches by Romney's wife, Ann, and New Jersey Gov. Chris Christie.

Hurricane Isaac/Tropical Storm Isaac: previous coverage:
When Isaac was born, his mother Sarah laughed and thought, "How could a worn-out woman like me enjoy such pleasure, especially when my husband is also so old?" No one is laughing in the Caribbean as Tropical Storm Isaac, a late-summer storm that will turn into a hurricane sometime late Wednesday or early Thursday, begins to make a run for the Dominican Republic, Haiti, Cuba–and South Florida.
By 11 a.m. Thursday, Tropical Storm Isaac was still potentially on track to either make landfall in Florida next week or skirt the west coast of the peninsula, in a virtual straight line, close enough to create havoc along mile after mile of coastline, up to Tampa Bay. On the other hand, the storm does appear, for now, to be edging west as the days go by, which suggests that the state could be spared the brunt of the damage. If it is, the storm would be striking the Gulf of Mexico's oil rigs instead, where some 29 percent of American oil production is located.
At 11 a.m. Thursday, Tropical Storm Isaac was some 200 miles south of Puerto Rico, at 15.6N, 65.4W (see map below), its maximum wind speeds at 40 mph, down from Wednesday's 45 mph. Isaac was traveling west at 15 mph, down from Thursday's 24 mph clip. But the National Hurricane Center is predicting that Isaac will become a hurricane on Friday. Isaac is the ninth named Atlantic storm of the season. As it moves across the larger islands of the Caribbean, the storm will likely weaken. If it lingers over the islands, it could become disorganized enough to pose a much-reduced threat as iot advances. If it moves fast, then it will be back over warmer waters, where it would have the means to re-organize and strengthen.
On Wednesday, the storm was looking to make landfall in Florida in the early hours of Monday, in the same area where Hurricane Andrew made landfall exactly 20 years ago Friday. Hurricane Isaac would have been an unpleasant commemoration. One big difference: Andrew was a Category 5 hurricane, reaching maximum wind speeds of 175 mph. Current models don't have Hurricane Isaac becoming nearly as severe, but with that many days out, models can be wrong, because a hurricane's temperament is by nature mercurial. This one may also be bi-polar, alternating between tropical storm and hurricane as it goes. Of equal concern, or delight, depending on one's party registration, is Isaac's notion of crashing the Republican National Convention in Tampa on Aug. 27-30. (As Andy Borowitz put it Wednesday afternoon, "To avoid Hurricane Isaac, the GOP is officially moving their Convention to the 14th Century.")
For now, the National Hurricane Center in Miami has soon-to-be Hurricane Isaac striking Cuba's largest island by 8 a.m. Saturday, then continuing northwest across Cuba, but as a tropical storm, not a hurricane, as it heads for the toward the Florida peninsula. It's still too early to predict precise Hurricane Isaac landfalls .
Much of the Caribbean islands are under either tropical storm warning or hurricane watch.
Previous reports:
At 5 p.m. Wednesday evening, the center of Tropical Storm Isaac was churning through the Leeward islands, some 40 miles south-southeast of Guadeloupe, with maximum sustained winds of 45 mph, unchanged from 12 hours earlier, but at a distinctly faster clip of 22 mph: the storm has been picking up traveling speed, if not quite wind speeds.
At 8 a.m. Wednesday morning, the center of Tropican Storm Isaac was at latitude 15.7 north and longitude 58.4 west ((see the map below), traveling west at 19 mph, two miles per hour faster than 12 hours ago, with maximum sustained winds of 45 mph, slightly higher than 12 hours ago.
At 8 p.m. Tuesday, the center of Tropical Storm Isaac was near latitude 15.5 north and longitude 54.9 west, traveling west at 17 miles per hour, with maximum sustained winds of 40 mph–nothing particularly trunk-breaking at the moment, but the storm is moving over warm waters, and is expected to strengthen over the next 48 hours. But it isn;t expected to be more than a Category 1 hurricane by the time it strikes Caribbean islands, even as it moves through Cuba.
It's not clear what (by then) Hurricane Issac's behavior will be like once it crosses into the Florida strait, though unlike Diana Nyad, it's certain not to be deterred by jellyfish, and the storm's strength by the time it nears Florida or the Gulf of Mexico is also impossible to predict. What's slightly easier to predict is more rain for Florida, further adding to already saturated grounds, and–should the storm make it into this region–triggering the possibility of flooding.
Further out to sea, in the mid-Atlantic, the hurricane center is tracking yet another serious storm it expects to be a tropical storm within days. That storm's direction is for now unpredictable. Should it become a named storm, it would be called Joyce (though Isaac's children, Sarah's grandchildren, were called Jacob and Esau).
The hurricane center's storm advisories are available here. The Washington Post has a nice Hurricane Issac tracker here.

Hurricane Isaac's path as earlier plotted:
Tuesday, Aug. 28: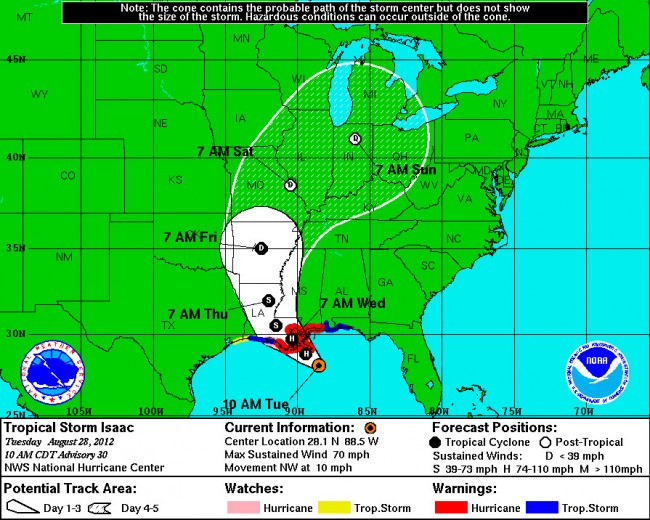 Wednesday evening, Aug. 22: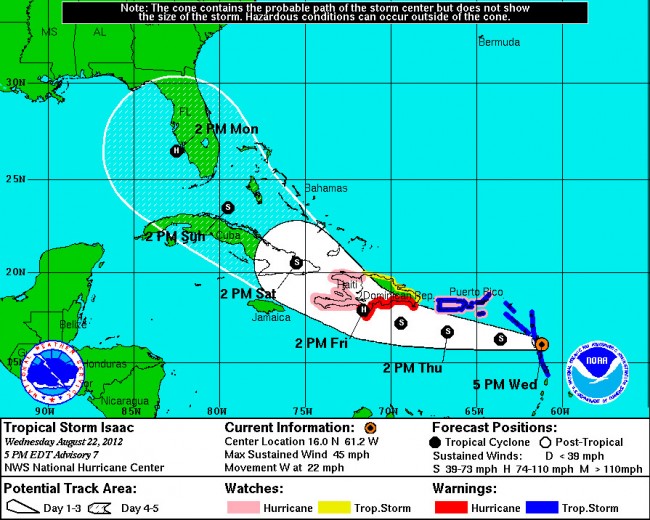 Wednesday morning, Aug. 22: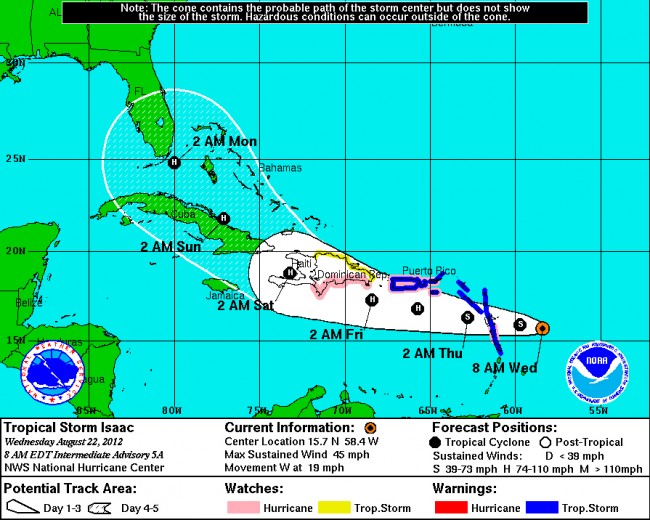 Thursday, Aug. 23: