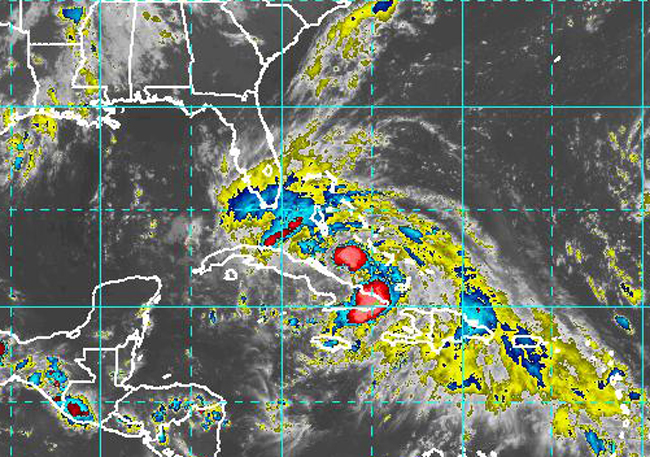 With Tropical Storm Isaac bearing down on Florida, Republican leaders Saturday night called off the party's national convention activities scheduled for Monday in Tampa.
The convention will convene Monday and immediately recess until Tuesday afternoon. Reince Priebus, chairman of the Republican National Committee, said during a conference call that convention organizers are concerned, in part, about transportation problems as high winds and other storm conditions threaten the Tampa Bay area.
徹ur chief priority is the safety of the residents of Florida, of those visiting the convention, and all those in Gulf Coast states who may be impacted by Tropical Storm Isaac," Republican National Convention President and CEO Bill Harris said in a prepared statement. "We have been working closely with the campaign, the party, and state and local officials for months to ensure a successful, enjoyable convention."
Also, Gov. Rick Scott said he will cancel his convention-related activities scheduled for Sunday and Monday, pointing to the increasing likelihood of hurricane conditions in the Keys and later in the Panhandle. Scott had been scheduled to speak at the convention Monday night.
"As governor of this great state, I am responsible for all 19 million residents and visitors, and it is my duty to make sure we can quickly respond to the regions affected," Scott said in a statement released by his office. "While Tampa Bay has gotten a lot of attention due to the upcoming convention, I will unilaterally focus on the safety of every resident and community throughout the state."
Along with speeches by Scott and former Gov. Jeb Bush, Monday's convention events were expected to include a roll-call vote to formally nominate Mitt Romney as the party's presidential candidate. Russ Schriefer, a Romney strategist, said during the conference call that party officials expect to hold the roll call Tuesday.
Schriefer said officials hope to still include as many speakers as possible, as they consolidate the convention from four days to three. Romney is scheduled to speak Thursday night during the convention's final session.
Priebus said revised plans for the convention will be released as early as Sunday.
The announcement came after Scott and Tampa Mayor Bob Buckhorn made statements in recent days expressing confidence about going forward with the convention as Isaac swirled in the Caribbean. About 50,000 people are expected to converge on the Tampa area, making the convention a major economic driver for hotels, restaurants and other businesses.
It was not immediately clear Saturday night how Isaac would affect the myriad other events scheduled in conjunction with the convention.
Isaac, which was in the vicinity of Cuba on Saturday, is not expected to make landfall in the Tampa area. But as it moves north through the Gulf of Mexico — likely turning into a hurricane — it will spin off heavy winds, rain and storm surges that could affect Tampa Bay.
Such conditions could cause problems for Tampa Bay area residents and convention delegates. The Florida delegation, for example, is slated to stay at the Innisbrook Resort and Spa in Palm Harbor, which is north of Clearwater and a relatively lengthy distance from the main convention activities in downtown Tampa.
–Jim Saunders, News Service of Florida