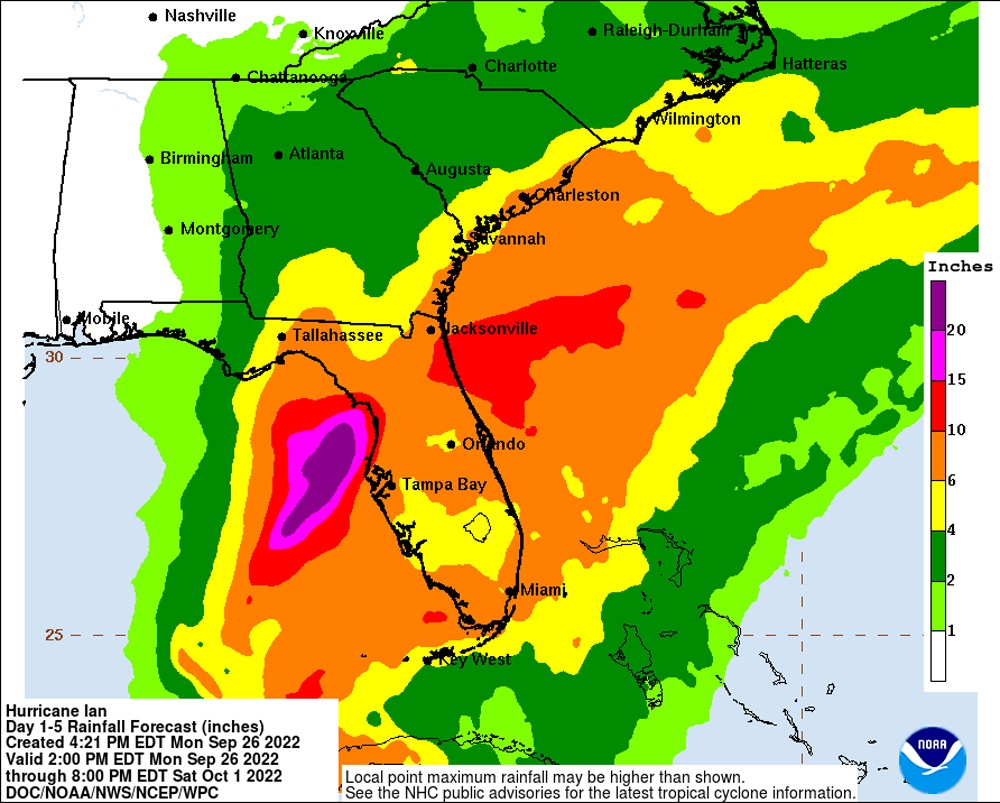 Last Updated: 5:42 p.m. 
For previous coverage, go here.
Jump to sandbag locations here.
Monday, 5:40 p.m. update–The National Hurricane Center's evening briefing Monday brought more confidence about Hurricane Ian's path in the next three days, including a near-stalling of the storm off the coast of Tampa Bay.
That stall would mean torrential rains and potentially tropical storm-force winds extending for hundreds of miles east of the storm into Flagler County on Wednesday and Thursday, extending into Friday, when the storm would make its closest approach to Flagler, but as a tropical storm.
Rainfall potentials have increased for parts of Flagler, to 10 to 15 inches, and 6 to 10 inches for the entirety of Central Florida. The chance of flash flooding in Flagler and Central Florida is at least 40 percent.
The earliest arrival time of tropical storm-force winds in Flagler is currently forecast for Wednesday, starting a little after 8 a.m.
The distance of the storm is no longer the issue for Flagler. Its width and potential for flooding rains is. Palm Coast declared a state of emergency this afternoon. Flagler Beach is doing so Tuesday morning. Local governments are closing their offices except for customer service. Sand-bag operations continue at a frenetic pace in half a dozen locations around the county.
Garbage collections have been cancelled for the next several days across Flagler and its cities. Central Florida's SunRail line is shutting down after the last train tonight. The University of Central Florida has cancelled classes from Wednesday through the end of the week. The Flagler County school district is holding off on issuing any school-closing announcements just yet, saying it "continues to monitor the weather situation."
As of 5 p.m. today, Hurricane Ian had picked up velocity rapidly, now churning at 100 miles per hour and expected to become a major, Category 3 hurricane overnight as it strikes the easternmost part of Cuba. The cuban land mass is not expected to slow down the storm, which was still 155 miles southeast of the island, moving at 13 miles per hour. The storm has become more organized in the past 12 hours.




"Atmospheric and oceanic conditions remain very favorable for additional intensification during the next 24 h or so, as Ian moves over the very warm waters of the northwestern Caribbean Sea and the southeastern Gulf of Mexico," the hurricane center state sin its latest advisory. "Ian is still
forecast to remain at or near major hurricane strength as it passes near the west-central coast of Florida on Wednesday and Thursday."
That's when the storm is expected to nearly stall. "The slower forward motion is likely to prolong the storm surge, wind, and rainfall impacts, especially along the west coast of Florida," NHC states. The center has moved the track of the storm slightly east, again dimming hope for Flagler that the storm's impacts might be lessened. After a slight tick of the storm tack west, the European model again adjusted the storm track to the east today, as it had on previous occasions over the weekend.
See today's earlier coverage below the image showing what the rain situation looked like this morning.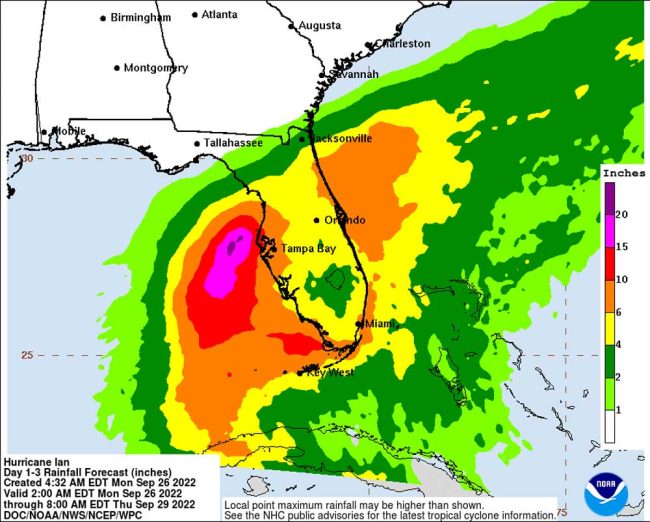 Hurricane Ian's Path Into West Florida Would Cause Tropical Winds, Heavy Rain and Floods in Flagler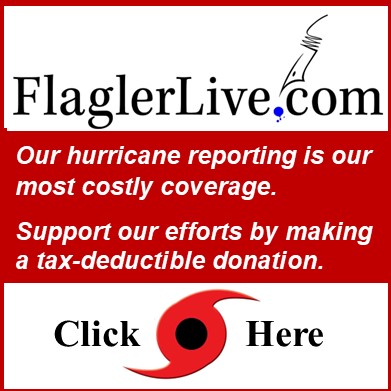 Monday, 3:15 p.m. update: Closures and cancellations:: All local garbage collections in Palm Coast, Flagler Beach, Bunnell and the county are cancelled Thursday and Friday. Do not put your garbage out. All Palm Coast government facilities will close at noon Tuesday and remain closed through Friday. City staff will be working through the Emergency Operations Center at City Hall to monitor and respond to the storm throughout the duration of the event.
Palm Coast's Customer Service division will have phone lines open for 24 hours until the storm has passed beginning at 7 a.m. on Tuesday, September 27. The Flagler Beach City Commission will hold an emergency meeting Tuesday at noon to declare a city state of emergency.
Monday, noon update: The National Hurricane Center's 11 a.m. advisory does not significantly change its earlier forecasts except by moving the eye of the storm a little closer to the Tampa Bay area, which it may graze on its way to landfall further north. But the European forecasting model is again diverging from the American model, and pushing the hurricane back out to sea.
NHC is increasingly concerned about the storm's stall just offshore or above Tampa Bay, which will prolong surges and rainfalls for possibly 48 hours–the sort of effect that recalls Houston's fate in 2017, when Hurricane Harvey flooded parts of the city with 30 inches of rain and one location in Texas recorded 60 inches.
The European model of Hurricane Ian's track, which had pushed the storm closer to, and into, the west coast of Florida in weekend forecasts, at midday Monday had pushed the storm a little further west to sea, which would reduce severe impacts in Flagler County considerably–if that track holds. The next major update from the National Hurricane Center is at 5 p.m.
Monday, 8 a.m.–As of today there was somewhat more consensus about Hurricane Ian's path through Florida than there was a day or two ago, even among forecasting models that had diverged until now: that path would have Ian pass offshore of Tampa Bay as a major hurricane and make landfall in the less populated areas of Crystal River or Cedar Key as Category 2 hurricane in the early hours of Friday. (Note: that consensus seemed to diminish again by midday.)
But the focus on the center of the storm can be deceptive. The slow-moving storm's width and strength, as a major hurricane, would extend tropical storm-force winds and torrential rains far east of the storm. Current projections give a 65 percent chance of tropical storm-strength winds extending into Flagler County.
Of equal concern is the very large amount of rain expected to to the east of the storm, including potentially 10 to 15 inches in Flagler County, according to Jonathan Lord, the county's emergency management director. "We're going to have flooding in our community. No ifs, ands or buts," Lord said.
A problem specific to Hurricane Ian: the storm will essentially stall, or move very slowly, once it nears Tampa Bay, with its eastern rain bands stalling likewise and dumping rain hour after hour. The current forecast has the storm stalling Wednesday and Thursday.




That's what has prompted Palm Coast and Flagler County governments to set up sandbag stations (Flagler on Sunday, Palm Coast today starting at 9 a.m. See below.) Lord is cautioning that between the hurricane's effects and a king tide timed for the middle of the week, flooding in low-lying areas is a serious possibility.
"My greatest concern is our flooding," Lord said Monday morning. "Two days ago, we were 10 to 15 [inches]. Yesterday we were seven to 10. Today we're back to 10 to 15. So that 10 number is the one in the middle. To me 10 inches of rain sounds very, very possible. We were going to have those seasonally higher tides anyway, we can't change Mother Nature. So that coupled with the rain is the big risk for the Intracoastal. It's also a risk for Crescent Lake because Crescent Lake connects to the St. Johns and the St. Johns River is impacted by the seasonally higher higher tides as well. Again, on the west side, that impacts our ability to to drain there as well.
The center of the storm is its most violent by wind speed. But the effects of the storm–wind and rain–are most pronounced east of it. That's why it may impact northeast Florida as much as Lord describes.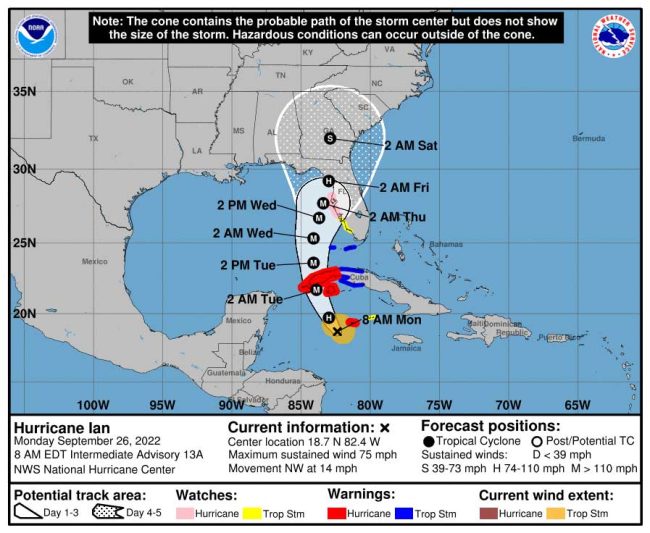 The rain will start in Flagler far ahead of the storm proximity. Today, expect overcast skies with spots of rain. But by evening tomorrow the rain should become steadier, even though Hurricane Ian will still be far offshore, southwest of Florida. Lord said the rain is currently projected to intensify into Wednesday and Thursday especially, and continue into Friday. Because of the storm's slowness, rainfall to its east will stretch over more days.
"The majority of the 'weather' of the storm, it hangs out on the right hand side," Lord said, "and the impacts of the storm are hundreds–I'm not kidding–hundreds, 450, 500 miles away from that center." Unfortunately, Lord said, a lot of people look at the satellite imagery and take it for a "Gulf course hurricane," and let down their guard.
If Lord were advising officials on school, government and business closures ahead, "I'm going to tell them that we need to be prepared for closure. It's "very unlikely Tuesday–but still to be ready for them Tuesday," in Flagler, he said. "Much higher likelihood Wednesday and potentially Thursday." There's going to be flooding either way, he said, and resources are going to be dedicated to that, Lord said. The wind is the wild factor.


"If the tropical storm force winds aren't going to come to us–right now it's a 65 percent chance they are," Lord said. "That could all be different. Later today. It could go higher and it could go down to zero. It can be different tomorrow morning." As Flagler gets into the three-day window of the storm, the probabilities will be more accurate. "So the next 24 hours are really key for us to know if we're going to have to mandated or required closures," he said.
Emergency vehicles do not go on the road once wind speeds reach 45 miles per hour. The Flagler Beach bridge shuts down at that wind speed as well. School buses are generally shut down by lower wind speeds. But it's not just the sustained wind speeds that concern Lord. If wind gusts go up to 45 miles per hour, that's a problem for emergency and public vehicles as well.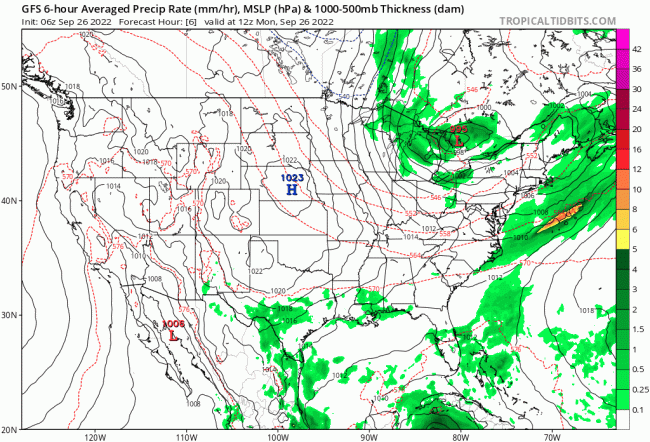 "I don't take that advice lightly at all," Lord said. "It's a huge impact to our economy to shut everybody down, to shutdown schools. It means families, parents can't go to work. If parents can't go to work businesses can't stay open, even if the winds aren't that bad. The team has got to err err on the side of public safety. So it very much is walking a very fine line of not shutting down our economy, and public safety. And we'll always err on the side of public safety."




Monday morning by 8 Ian had developed into a defined Category 1 Hurricane with sustained winds of 75 miles per hour, traveling northwest at 14 miles per hour. It was 275 miles southeast of the east of Cuba. It is expected to strengthen into a Category 3 hurricane by tonight and turn north, into Cuba.
"It should again be stressed that there is still significant uncertainty in the track of Ian, especially in the 3-5 day time frame, and users should not focus on the details of the track forecast at longer time ranges," the National Hurricane center cautions.
Sandbags:
In preparation for Tropical Storm Ian, the City of Palm Coast has these sandbag locations open Monday. Palm Coast sand stations are self-serve and residents should bring a shovel and be prepared to fill the bags. There is a limit of ten bags per household. The stations are open until  6 p.m. or until sand runs out:
Palm Coast Public Works Yard, 1 Wellfield Grade, off U.S. 1 just north of Palm Coast Parkway, Palm Coast.
Daytona State College, 3000 Palm Coast Parkway SE, Palm Coast.
Indian Trails Sports Complex, 5455 Belle Terre Pkwy, Palm Coast
Additional sandbag locations may become available if needed.
In addition to the City's sandbag location, Flagler County official shave the following sandbag operations. Residents are limited to 10 sandbags per household. Sand, bags, and manpower will be available at the following locations on Monday:
Flagler Technical College – 5633 N. Oceanshore Blvd., The Hammock – 9 a.m. to 5 p.m.
Fire Station 71 – 89 County Road 2006 West, Bunnell – 9 a.m. to 5 p.m.
Palm Coast Public Works Yard, 1 Wellfield Grade, off U.S. 1 and just north of Palm Coast Parkway, Palm Coast – 9 a.m. to 6 p.m. or until sand runs out.
Daytona State College – 3000 Palm Coast Parkway SE, Palm Coast – 9 a.m. to 6 p.m. or until sand runs out.
Santa Maria Del Mar Catholic Church – 915 N. Central Ave., Flagler Beach – 2 to 6 p.m. for Flagler Beach and Beverly Beach residents only.
 "Between volunteers and the Flagler County Sheriff's Office work crews, there is manpower to help our residents," said Emergency Management Director Jonathan Lord. "We are doing our best to help those who need it."
 For information on those locations and other storm-prep information, visit http://www.flaglercounty.gov/emergency or go to PalmCoast.gov/emergency/hurricane-preparation.