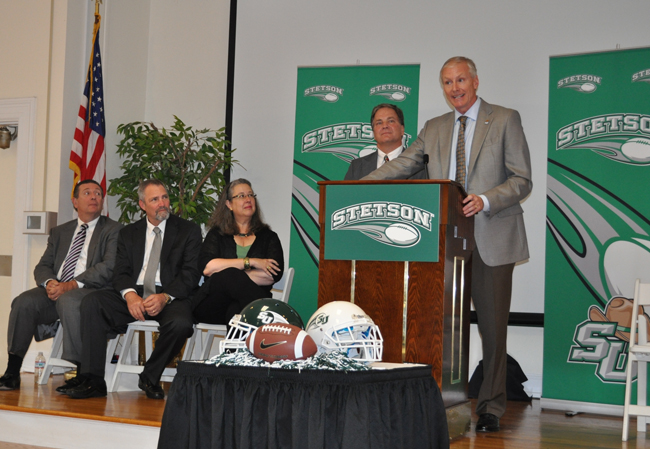 Roger A. Hughes is the new head coach of the Stetson University soon-to-be revived football team. Hughes becomes the ninth head football coach in the history of the program, which ran from 1894 through 1956. It begins play again in 2013. He was selected from a pool of more than 160 applicants.
About a year ago, Stetson began examining the economic feasibility of a return to football. Following approval by the Board of Trustees in February to move forward, the DeLand City Commission met in March to consider a partnership with Stetson for the needed improvements to the Spec Martin Stadium complex. When the proposal was approved football was reborn at Stetson.
"Starting any endeavor from the ground up is an enormous challenge. But working within the visions of President Wendy Libby and Athletic Director Jeff Altier makes this challenge a very exciting one. I can't wait to get started," said Hughes.
"Dr. Hughes has maintained a leadership role within the American Football Coaches Association and has been employed as a consultant by many institutions, which speaks volumes about how he is respected within the college football world," Director of Athletics Jeff Altier said. "Roger has significant fundraising experience and an understanding of how to cultivate and solicit donors, which is critical for Stetson at this developmental stage of our program. As everyone gets to know Roger and reflect upon his experience, I am confident that all will agree that he is the perfect fit for Stetson as we re-introduce football."
Hughes has 27 years' experience coaching at all levels of the NCAA, including 10 seasons as head coach at Princeton University, from 2000-2009. He went 47-52 in those years, with a 9-1 season in 2006-07, the year he took Princeton to the Ivy League title. The highlight victory of the season was a 34-31 win at co-champion Yale. That win clinched Princeton's first bonfire in 12 years, a tradition for any team that sweeps Harvard and Yale in the same season. It was the first nine-win season at Princeton in 42 years. At the conclusion of the 2006 season, Hughes was named a finalist for the Eddie Robinson Coach of the Year Award and earned the Johnny Vaught Coach of the Year Award from the American Football Foundation.
Hughes put together a .560 winning percentage (28-22) over his final five seasons at Princeton. He was the only coach in Ivy League history to improve a team by at least two wins in three straight seasons. While leading the Tigers, Hughes coached two All-Americans, 24 First Team All-Ivy and 55 Second Team All-Ivy League players. His teams led the league in passing and total offense in 2006, and in rushing in 2008.
Hughes, who holds a Ph.D. from the University of Nebraska, had spent almost a decade as offensive coordinator at Dartmouth before that, leading an offense that produced a 22-game winning streak and two Ivy League championships, and developing Jay Fiedler into an NFL quarterback along the way.
Most recently he worked as the wide receivers coach for the Omaha Nighthawks of the United States Football League in 2010. Hughes has been a member of the American Football Coaches Association since 1984, and served on the Head Coaches Committee of the Football Championship Subdivision.
"I am very excited to be named the head football coach at Stetson University. The opportunity to represent an institution with Stetson's outstanding academic and athletic reputation is a true honor and is congruent with my previous coaching experiences," Hughes said.
Off the field at Princeton, Hughes was instrumental in cultivating and maintaining relationships with alumni, corporate sponsors and university supporters. Over his 10 years, he helped raise more than $14 million including the largest athletic gift in the school's history.
After graduating from Doane College in Crete, Nebraska, in 1982, where he was a football tight end as well as a member of the golf team, Hughes began his coaching career with the Tigers as a receivers and defensive backs coach with the varsity, and an offensive coordinator and defensive coordinator with the junior varsity (1982-1984). From there he went on to the University of Nebraska as a graduate assistant (1984-1986), Doane as the offensive coordinator (1986-1987), University of Wisconsin-Whitewater as a running backs coach (1988) and Cameron University as offensive coordinator and strength coach (1989-1992) before being hired at Dartmouth.
Hughes received his B.A. in physical education and a B.S. in biology from Doane in 1982 and then earned an M.P.E. in exercise physiology (1984) and a Ph.D. in exercise physiology (1987) at the University of Nebraska in Lincoln.
"Roger Hughes' experience in the Ivy League and in rebuilding programs makes him a perfect coach and leader for the Hatters," said Stetson President Wendy Libby. "Stetson was accepted into the Pioneer Football League on June 13, and we're excited to have Coach Hughes on board to help us build a great football program for our students, alumni, faculty, staff and community fans."
Like the Ivy League, the Pioneer League is comprised of private schools that promote high academic standards and do not allow athletic scholarships. The lack of scholarships requires unique recruiting skills to be competitive. Over his career Hughes has recruited from all 50 states and, at Princeton, he helped develop a national web-based recruiting system.
Next up for Hughes will be the recruitment of prospective student athletes beginning this fall, hiring an offensive or defensive coordinator, and beginning facility construction over the winter, hiring additional assistant coaches and support staff and beginning a practice year in the summer of 2012, and then beginning a full schedule in the fall of 2013.