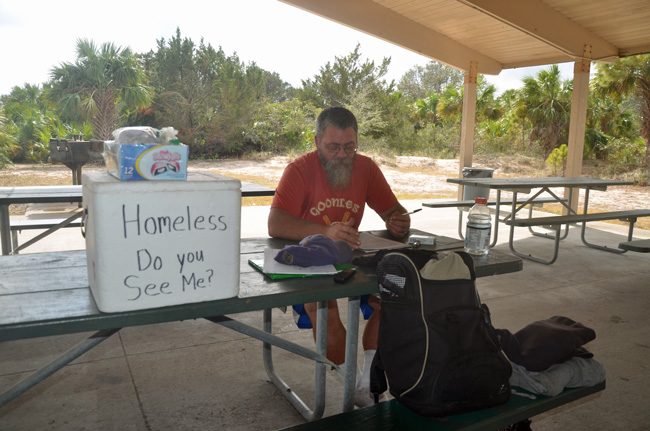 Flager County's homeless population is significantly down, according to the latest point-in-time census. As of last January, there were 75 homeless individuals in Flagler, compared with 104 the previous year. Of those 74, 28 were sheltered, 47 were unsheltered.
The lower numbers are part of a trend going back to 2011, when the homeless population in Flagler and Volusia counties peaked at 2,428. Since then, the two-county homeless population has declined every year, falling to 1,000 last year and 753 this year.
In Flagler, the homeless were concentrated in Bunnell, along State Road 100, in Palm Coast off of Palm Coast Parkway, in the Hammock to some extent, and to a smaller extent in Flagler Beach. Bunnell had a total of 61 homeless, half unsheltered. Palm Coast had 11 and Flagler Beach three, all unsheltered.
Carrie Baird of Flagler Cares, the multi-agency organization that's taken a lead in analyzing and coordinating health and social services in Flagler, presented the numbers to a homelessness and housing task force meeting this afternoon at the Emergency Operations Center in Bunnell. The task force included representatives from county government, the Volusia Flagler Coalition for the Homeless, the United Way, the Salvation Army and Lutheran Services Florida Health Services, which helps the poor and the uninsured.
There's been a sense in Flagler that homelessness has been on the increase, Baird said. That's not the case. Not only the numbers show it, but so does the method through which the numbers were collected: "We had more volunteers this year than we ever had in the past," Baird said of the annual census, which is conducted by volunteers actually spending 24 hours across Flagler and Volusia, literally counting the number of homeless people they come across. Some 80 volunteers participated in the two counties this year, up from 55 (among them law enforcement volunteers and Flagler County Commissioner Charlie Ericksen, who's long been involved in homeless issues and volunteering efforts.) The count is required by the federal Housing and Urban Development Department. It's conducted annually toward the end of January across 400 communities in the nation.
The reason for the lower numbers: the economy has improved, the number of people losing their homes has diminished dramatically, Volusia County has added to its stock of low-income housing–Flagler County has a base of low-income housing but it hasn't grown substantially, though the county is laying the groundwork to increase that stock–and specific programs are helping get the homeless off the streets.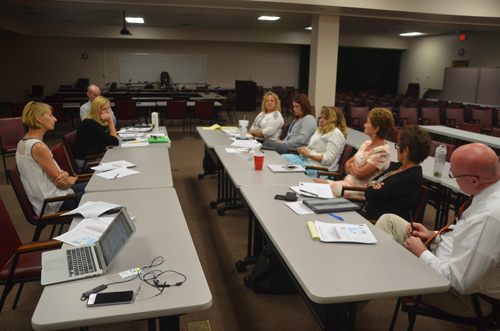 In Flagler, for example, county government's community services division is working with the Sheltering Tree, the cold-weather shelter based at Bunnell's First United Methodist Church, to help inmates at the county jail who would be homeless upon release situated before they leave the jail, either helping them to get into housing, a half-way house like Bunnell's Open Door Ministries, or securing them transportation to let them go to the destination of their choice. On such apparent success was getting Wayne Perry a bus ticket to enable him to go back to Washington State.
Perry had come to be the face of homelessness in Flagler through numerous appearances before local government boards, and a few controversies along the way: he's had to be removed from the odd meeting, he's been Baker Acted, and his status as a homeless man at a county park in Flagler Beach had flummoxed officials, who did not know what they could do with him other than to designate a slip of land where he could spend nights. Perry along the way refused a job the city's police chief had lined up for him, and said in an interview he was not interested in holding a job. Yet he advocated for the homeless in every appearance before local government.
The two-county efforts against homelessness have also shifted dollars away from transitional to permanent housing subsidies, shifting $750,000 since 2014 toward that approach, which helps find homes for families and defray some upfront costs. An increase in emergency funding for immediate housing assistance, such as state Emergency Services Grants, has also helped (with a $425,000 increase in those dollars in 2016-17). The Salvation Army helped close to 400 homeless veterans find homes.
Of course, homelessness persists, as does a chronic issue: the lack of affordable rents. The flip side of the low number of homeless–which is essentially at a 10-year low–is that with so many working poor living paycheck-to-paycheck, any financial trauma (let alone another recession) would have dire consequences.
"There is affordable housing here, otherwise the Flagler Housing Authority wouldn't be able to give out vouchers to people here," Carl Falconer of Lutheran Services Florida said, referring to the 250 such vouchers available to individuals and families in South Bunnell. "Anybody who's taking that voucher, there has to be some rent reasonableness there."
That's accurate, but the number of units is limited, and Baird noted that for the working poor who hold a job, subsidized housing is not necessarily an option. That's where the problem has grown: people have jobs, but, as Janet Nickels, a program manager with Flagler County government's division of human services put it, "now we're seeing people who are employed but the cost of living has risen so significantly in rent and in food, so two basic things for a lot of our single parents, there's no where you can go to make up that difference." Affordable housing, she said, would be very helpful.
Nickels was among the volunteers who conducted the point-in-time census and provided insights into what she saw. She and other volunteers in her group visited two male homeless camps and one women's encampment that had broken away from one of the male camps. "The female encampment was very nicely decorated, the outside had flowers, they really made it homey and cosy," Nickels said. One of the women she talked to was very well dressed, well kept. She had joined a gym for $10 or $12 a month. She could take a daily shower there, watch the news while exercising. "I'm not homeless," She had told Nickels. "That's not who I am, it's just a temporary way of living for me right now."
"I loved her philosophy, this is not who I am, it just happened to be the circumstances she was in, I thought that was magnificent," Nickels said.
To Nickels, the experience had as much to do with counting the homeless as it did with outreach and cultivating trust, which in turn developed relationships that helped individuals, as with two men who needed medical assistance. "It was great, I think I learned as much about them as they learned about services."
Today's meeting of the task force was to go further and find out where the more serious needs are. The key, as always, is finding a way to place homeless individuals in housing they can afford–and keeping them there. But one reason there's a lack of such broader efforts, or money, is a lack of organizations that can have "a real footprint in Flagler applying for money," Baird said, that money will not materialize–and it won't be put to use, subsidizing housing.
The task force meets irregularly. It's not clear what direction it will take next, though members don;t want it disbanded. "It is good practice to have this group meet regularly, because it incorporates Flagler very distinctly" into the coalition, one of the members said. A tentative meeting is set for September 5.
The hope for Baird is to find an agency locally that would become the focus of efforts to stem homelessness–an agency that would write grants and find a "long-term path" to channel those grants locally, in Baird's words. She frequently referred to the Sheltering Tree, but while that organization has been a workhorse in managing its scope of work (running the cold-weather shelter, organizing a weekly meal for the homeless, catering to their clothing and hygiene needs) it has not ventured into government grant-writing. "I'd be happy to help in my knowledge of non-profit management, grant-writing," Baird said.