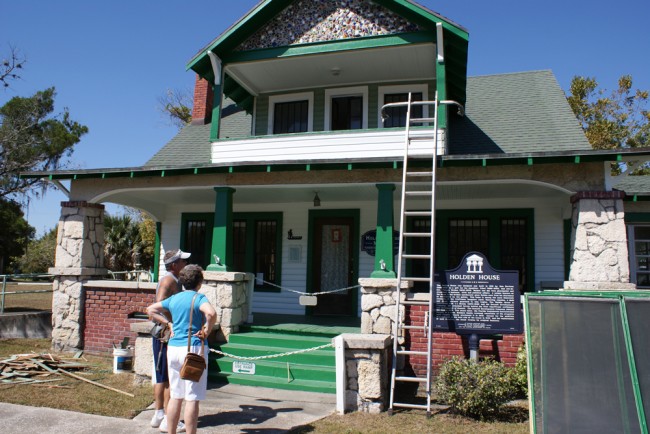 "If you haven't been by, please come by," Flagler County Historical Society President Mary Ann Clark told county commissioners Monday night, by way of thanking them for the $23,400 restoration of Hodlen House in Bunnell. The 92-year-old house is undergoing extensive and unexpected renovations (see below).
---
Mary Ann Clark at the Commission[media id=94 width=300 height=300]
"The exterior," Clark said, "has been repainted, it's just beautiful, back to the original white with green trim, and it looks wonderful. We're not quite ready for business yet because they're working on the porch, I understand, the front porch. They're going to restore that. So we are just so pleased, and thank you."
Clark then asked commissioners about the old courthouse–how far along might negotiations be with the sheriff's office to occupy it. County Administrator Craig Coffey said there's been three or four meetings with the sheriff who has settled on a final lay-out of the annex, but nothing's been done for the old, front portion of the courthouse.
The historical society's Sisco Deen sent in the following details about the Holden House restoration:
"During the painting of the Holden House following restoration of the siding (the original project) the workmen found that the screens on the upstairs porch were rotted as well as the floor of the porch (mostly due to water). The floor of the upstairs porch shows evidence of being repaired many times over the years.
"So back to the drawing board.
"The screens have been removed (photo below) and will be replaced. All rotted wood will be replaced and the screens will be re-installed. Then everything will be painted.
"About ten years ago, we installed plexiglass behind the screens to "water proof" the porch to prevent rain water from dripping through the porch floor to the ceiling of the front porch on the first floor. This worked very well actually and when the screens are reinstalled the plexiglass will be also.
Then all will be painted and away we go. I would imagine that the Holden House will be open for business as usual in November."

See Also: