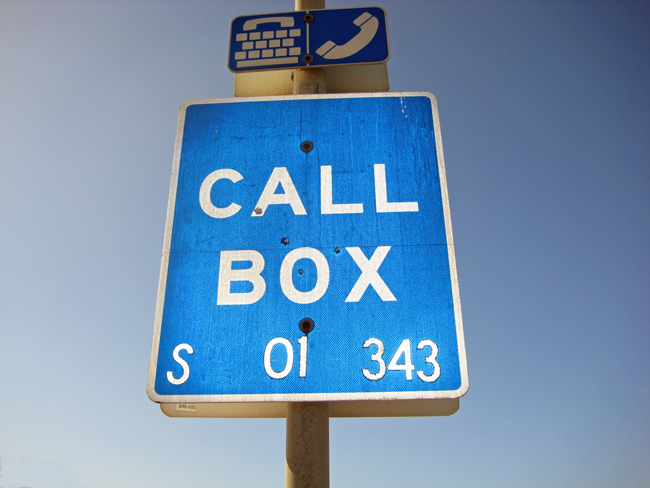 Other than along the Sunshine Skyway Bridge, Florida's highways will no longer have the telephone call boxes by the end of January.
The state Department of Transportation is removing all but a few of the 2,752 push button call boxes from along its highways as personal cell phones have reduced the need for the roadside phones.
"With cell phone use it was decided to save the department some money," said DOT spokesman John O'Brien.
The removal, estimated to cost around $200,000, has already started.
By not having to maintain the system, including the interconnecting consoles at Florida Department of Highway dispatch offices and base stations, the state is expected to save $1 million a year.
The boxes along the Sunshine Skyway Bridge will remain – they are connected to a crisis counseling system, and the bridge in the past has been a common place for suicidal people to contemplate jumping.
The move will leave Pennsylvania and Hawaii as the only states that offer roadside motorists call boxes.
The boxes were installed in the early 1970s, back at a time when those seeking police, medical or automotive aide would have otherwise had to hoof it or hitch a ride to the closest businesses or residence with a pay phone.
However, for more than a decade the use of the boxes has been on a steady decline, falling from 56,674 calls in 1998 to 22,051 in 2004 and 7,807 in 2012.
"There's been a dramatic decline in usage over the years," O'Brien said. "The technology is antiquated and we're doing a lot of stuff with ITS (Intelligent Transportation Systems programs) and the Road Rangers."
ITS is a fiber optic system of traffic cameras, overhead message signs, microwave vehicle detectors, travel time sensors, road and weather information sensors, and highway advisory radios that is in place along 1,259 miles of interstate and turnpike. Work began this week putting the system in place in the northwest, along a section of I-10 and U.S. 231, at a cost of $24 million.
Last year, the call boxes were used 3,301 times along Interstate 75, which runs from the Georgia state line down the middle and west coast of Florida. In 2004, the call boxes were used 8,932 times on I-75.
Calls made along Florida's Turnpike have dropped from 4,926 in 2004 to 2,095 last year, while the use declined from 4,039 to 1,212 along Interstate 95 in the same period.
For Interstate 10, which runs from the Alabama state line to Jacksonville, the calls have dropped from 3,571 in 2004 to 1,143 last year.
No calls were recorded on Interstate 4 across Central Florida last year. Nine years earlier there were 428 calls for service made from the I-4 phones.
–Jim Turner, News Service of Florida