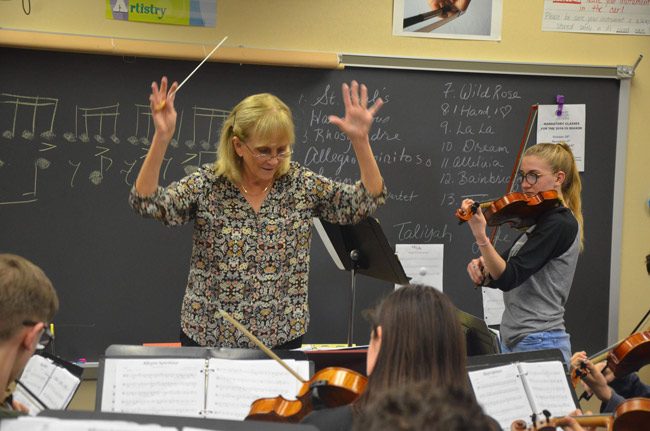 The Flagler Youth Orchestra's top ensemble, the Harmony Chamber Orchestra, performs a concert to benefit the FYO at 4 p.m. Saturday, March 2, at First Baptist Church in Bunnell, 2301 Commerce Parkway. The concert is free but generous donations are strongly recommended. Call 386/503-3808 for questions.

When you're watching these students–these kids, really–play one piece after another this Saturday, 15 pieces and 21 movements in a rare, full-fledged concert, think about this: just a few years ago, every one of these Flagler Youth Orchestra performers, some of them now just 11, 12 or 13, hadn't played a note on an instrument, read a note off a score, or even held a violin or viola in their hands, and probably confused the sight of a cello with little monsters.
Think about the fact that a few years ago, when they'd take to the stage for any one of their three annual concerts at the Flagler Auditorium, they were the first up in the course of the night, the beginners who could play just a few simple notes, the stars of "Mary Had a Little Lamb" and "Twinkle Twinkle Little" whatever, the little children seemingly a universe away from the Harmony Orchestra, the "Upper Orchestra" that every FYO kid aspires to, most eventually audition for, and many make it into, because the program is designed to grow these children from bewildered to accomplished musicians.
The musicians of the FYO's Harmony Chamber Orchestra are performing Saturday at 4 p.m. at the First Baptist Church in Bunnell, a new venue for the FYO's ensembles, which keep adding stages and performances to their annual schedule. Saturday's concert is designed to showcase just the top Harmony Orchestra in what amounts to one of the only all-strings concerts of advanced musicians all year in the county. The other is also performed by Harmony at the Palm Coast Methodist Church's annual youth music festival, as it was a few weeks ago, a tradition that goes back a decade. But Saturday's concert is also designed as a fund-raiser, with every dime contributed going to the FYO (which is not the case at the music festival. The FYO is largely supported and made possible by the Flagler County school district, but a significant portion of the funding, including all instrument scholarships for 100 students and its music library, are supported entirely by donations).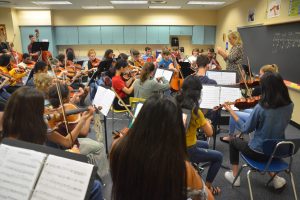 So think about this, too: the ensemble of some 30 musicians you'll see Saturday–violinists, violists, cellists and two bass players–only a handful of whom take private lessons, will have rehearsed these 15 pieces together just five hours over five weeks before the concert. It's all they get as participants in the Flagler Youth Orchestra's after-school program at Indian Trails Middle School, where they're part of the organization's much larger operation–some 350 students gather there twice a week for rehearsals and "fundamentals."
That's not all they'd have put in of course. Many of them practice five or more hours a week at home (an hour and a half a day, in one case). They also put hours of so-called "fundamental" instruction at the FYO rehearsals, those weekly, one-hour sessions with their teachers where they focus on the fundamentals of music rather than on program works, the more arduous work on technique that then enables them to pick up any score their teacher puts in front of them and perform after only a few weeks' work. The students aren't crazy about that part of the learning curve. But Hilary Hahn and and Joshua Bell (both of whom picked up the violin in the womb) probably don't like to play their scales, either. They still do. It's what builds the muscle behind the performances, what gives the performers the confidence and stamina to pull off more than an hour's worth of live music.
Still, says Matanzas High 10th grader Michelle Taing, a first violinist and a leading contender for the concertmaster spot next year, "it does surprise me that we're able to pull it off." But she has no performance anxiety. "It's more exhilarating. The music of course is probably the driving force why we're so passionate," she says, and for all the length of the program, "time flies when you're playing." It usually flies for audiences too.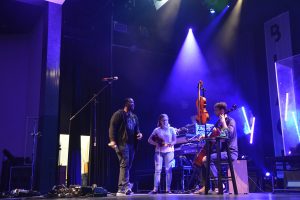 "We've prepared a lot more music," says cellist Jonathan Fisk, an 18-year-old senior looking to major in music performance  and play in a professional orchestra, starting with pit orchestras in Off-Broadway productions. Performances like Saturday's get him revved up. "To me it feels closer to what it would be to prepare and play in a professional orchestra that's playing a full concert for a benefit or for whatever event rather than just preparing something very small scale," Fisk says. "What we do at the Auditorium feels a lot more like a youth orchestra as I imagine it. These extra performances feel more like a professional atmosphere and feel."
Fisk has been with the orchestra eight years, one of five siblings in FYO (one of them graduated). He's auditioning at the University of North Florida and Stetson, and is one of the FYO's top performers and a member of its elite quartet (or quintet or sextet or septet, depending on the occasion). You can't miss him: he's the dervish of the cello section, fused to his bow and whirling to the music as much as his cello's endpin, the only thing grounding him, allows.
So you'll understand why he says what he does when asked what he wants the audience to get from Saturday's performance: "Above all, I want the orchestra to be able to express to them what the music really is," Fisk says. "Because in orchestra, we look at music and we try to attain perfection, but perfection is second to expression.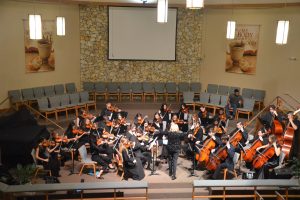 The program, developed by Artistic Director and Conductor Sue Cryan, isn't quite chronological, opening with a four-movement suite by Gustav Holst (the jiggity pluckety St. Paul Suite), then a few movements from Handel's stately Air and variations known for inexplicable reasons as the Harmonious Blacksmith (it wasn't Handel's naming). It's harmonious, but it's more whiggish than blacksmith. The program then takes turns in and out of 20th century nuggets, including Bernstein's wedding-weepy "One Hand, One Heart" (from "West Side Story"), "I Dream a Dream" from "Les Misérables," and yes, to Cryan's once-upon-a-time chagrin, something from La La Land that her students love to play. But for the purists out there, there's also some hefty Mozart, including the "Alleluia" from his "Exultate, jubilate" motet (meaning "Exult, Rejoice" and a sort of take-that to Handel's Alleluia from 30 years earlier) and a Granados dance that'll turn you Iberian for a few minutes.
Keep your eyes on Fisk and the orchestra's concertmaster, Evan Hernandez, who'll play a duet together along the way as the ensemble backs them up in a spirited piece by Jean-Baptiste Senaillé.
It's "a matter of trying to give them a whole wide range of styles to play," Cryan says, as she described how she picked the various pieces–both to challenge the performers and to give the audience variety.
Cryan has been the music director since 2013, developing the musicians the way a coach develops players, then watching them go. This year's top orchestra has 38 students (many of those who won't be performing are at a math competition). Last year it had 48. A previous year it had 24. It may have a lower number next year, as 12 students are graduating, which is giving Cryan some anguish.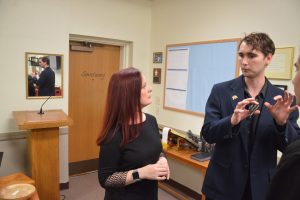 It's not for lack of replacements: there are more than 300 students in the four orchestras at lower levels, including 70 in the Con Brio Orchestra, the last step before Harmony. But they have to be ready to make the move up.  "I try to raise the bar for everybody. Next year frankly is going to be my challenge, I know, and it may be a smaller orchestra," Cryan says. "I'm not going to move the kids up just for the sake of moving up." (Cryan is also in charge of a huge group of beginners, so she sees the FYO's potential from seed to flower.)  But any thought of losing students to graduation is a long way away. There's plenty of this year left, there's another major concert at the Auditorium (on April 29, with all 350 students performing), several smaller ensemble performances, and of course Saturday's debut concert at the Baptist church, what Cryan describes as branching out into Bunnell.
If students love their rehearsal time with Cryan–and they're quick to say they do–it's because when she says they keep her on her toes, it's not a figure of speech. As a conductor she is all movement all the time, not only conducting the music but channeling the energy–the dynamism, the emotion and that exhilaration Taing talked about–to her musicians. The orchestra at its best creates that loop of energy back and forth between Cryan and the musicians, an effect that in public performances spills out into the audience and gets listeners in the groove.
It's the effect the performers are looking for.
"I hope that they can feel our teamwork and collaboration in our music," Taing says of Saturday's audience, "and that we don't just play as singular musicians, but we are a cohesive orchestra. And I also hope that they can sense that we really do care about the music, and that we put a lot of time and effort into it, because although we only meet, like, twice a week, we all take our own time to work on music."
There was also this hope from Jonathan Fisk, speaking of the audience: "I want them to contribute what they can to the benefit of the program."

The Flagler Youth Orchestra's Harmony Chamber Orchestra consists of Cheyenne Akins, Derek Akins, Tristan Armstrong, Nikki Burley, Jonathan Fisk, Joseph Fisk, Monica Fisk, Sarah Flandreau, Ethaniel Hernandez, Evan Hernandez, Brooklyn Hoffmann, Chloe Hoffmann, Victoria Jensen, Jack Lisenby, Hannah Lopez, Sabrina Lorenzana, Parker Mace, Jinan Mallah, Emily Skripko, John Skripko, Logan Smith, Isaac Summers, Michelle Taing, Benjamin Toppin, Luka Tristam, Jearad Tuccio, Jonas Winter, Gabrielle Wong, Keona Yuan, Daniel Zayas, and Victoria Zayas. The orchestra is conducted by Artistic Director Sue Cryan.