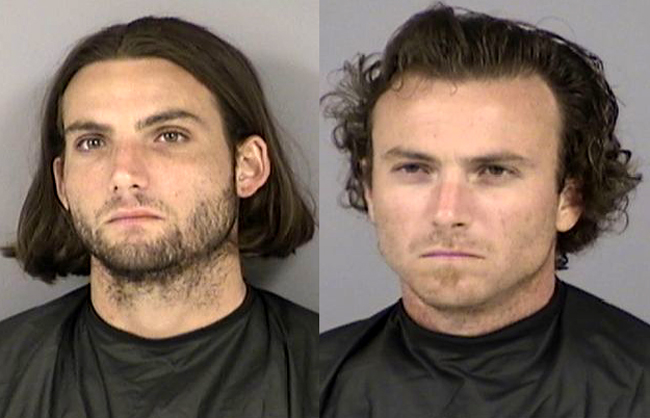 Hancock Bank in the Palm Harbor shopping center was robbed at gunpoint in the middle of the afternoon on June 22. The robbers got away, driving a white Oldsmobile.
Today, two suspects in the robbery in jail: Michael Cona, 28, and his brother Shawn, 30, of 48 Fischer Lane in Palm Coast.
Michael Cona, the Sheriff's Office said, had entered the bank just after 3 p.m., brandished a gun, threatened to shoot bank tellers and customers, and demanded–and got–money from two tellers before heading back to the car. Some 14 bank employees and customers were inside the bank at the time, including an 82-year-old and a 74-year-old woman. The surveillance video showed enough of Cona's brown hair and ponytail to lend a clue, as did video of the Oldsmobile Alero, which struck a curb violently on its way to Florida Park Drive, possibly damaging the front driver-side tire.
On June 23, a day after the robbery, investigators secured a probable-cause warrant to search the house at 48 Fischer Lane. There, they found a white Oldsmobile Alero–with a doughnut (or spare tire) on the front driver's side. There was no sign of the original tire at the house. Lucy Cona, the registered owner of the car, told investigators that she'd been out on the afternoon of June 22, and when she got home, her son told her that the car had had a flat tire. Shawn Cona told investigators that he was at Publix at the time of the robbery, and hit a curb there. He then changed his story to hitting a curb at the Wells Fargo Bank, when a deputy told him the car had been caught on surveillance video. When the deputy asked him whether the car would appear in Wells Fargo's surveillance video, Cona had no answer.
A Colt .22 was also found in one of the rooms, as was all sorts of drug paraphernalia–spoons containing opiate residue, syringes in plastic bags, large quantities of miscellaneous prescription pills, including Oxycodone, and empty prescription drug bottles.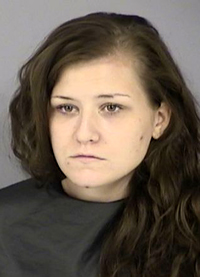 Shawn was arrested on those charges: possession of a controlled substance, possession of Oxycodone, possession of drug-cultivation and paraphernalia, and habitually driving on a suspended license, a felony. Those charges added up to a bond of $16,500. Only subsequently was Shawn Cona also charged with armed robbery, and served while he was at the jail. According to the Flagler County Sheriff's Office, it was Cona who drove the get-away car during the June 22 armed robbery. The bond for that charge was set at $100,000.
Suzanne E. Garrison, 21, who was also at the house at the time of the search, was also arrested on an Oxycodone possession and drug paraphernalia charge. Her bond was set at $6,000.
Today, Cona's brother, Michael, 28, was also arrested at the house on 48 Fischer Lane and charged with armed robbery with a firearm. His bond was set at $100,000. He'd been in jail before: on Dec. 29, he was arrested and charged with driving on a suspended driver's license.