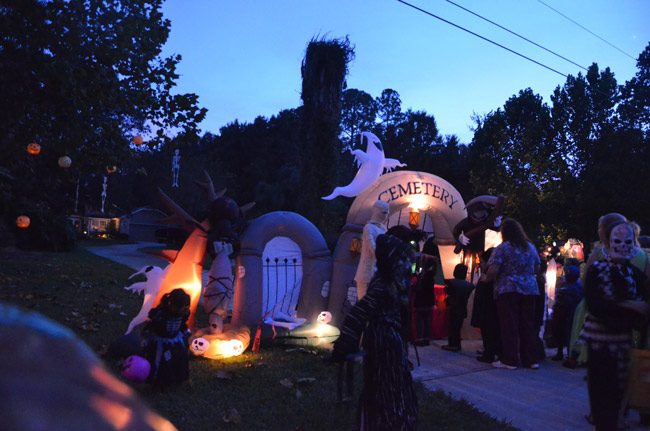 It's not for nothing that immediately after the clock strikes midnight at the end of Halloween night, After Americans will have bought 600 million pounds of candy for the occasion, the blue flag marking National Diabetes Month will rise to bring awareness to the 30 million Americans with diabetes, and the 80,000-some deaths attributed to the disease every year. But over the next two days local authorities will be concerned with more immediate matters of safety and health.
The Flagler County Sheriff's Office will have a speed enforcement detail on Halloween day at locations known to be crash-prone, the agency is cautioning. This detail will focus on speeding and aggressive driving. Patrol units, bicycle patrol, and auxiliary patrols will also have an increased presence on residential neighborhood roads where children are trick-or-treating.
Sugar Mill Plantation and the Bellaire Drive-area of Palm Coast in particular are known to have heavy pedestrian and vehicle traffic during Halloween. Lighted crosswalks will be operated by deputies in Sugar Mill Plantation in order to help pedestrians safely cross Old Kings Road. Pedestrians are urged to only cross at the lighted cross walks when possible.
In Flagler Beach, keep in mind that Eagle Lakes is a private community, and public parking is not allowed on vacant lots or in the road. The Eagle Lakes Home Owners Association has issued passes to residents and authorized guests and will be controlling access to their community.
The sheriff's DUI patrol will be active over the next few days: you should have a designated driver if you go partying and would rather not take a one-way ride in the sheriff's "taxi," to the county jail, where orange costumes await.
"There will be a lot of Halloween activities and fall festivals going on this week and into the weekend," Sheriff Rick Staly said. "Safety is our number one priority. Please drive slowly and watch for trick-or-treaters. Secure your pets before answering the door. If you consume alcohol, have a sober driver." Securing pets is a special concern in light of a recent dog attack of a pizza delivery man in Palm Coast, just as the dog's owner opened the door to take delivery.
If you're worried about what homes to let your children target for trick or treating, the Florida Department of Law Enforcement this week launched a new mobile app, making it easy for citizens to see where sexual offenders have registered a residential address anywhere in Florida. The "Search Sexual Offenders and Predators" button is one of seven FDLE public services featured in the new app, which may be downloaded here.
To use the interactive map to display the registered residential addresses of sexual offenders and predators, location services on the mobile phone must be turned on. However, all other sections of the app are still usable even if location services are not turned on. The app, developed in-house at FDLE, does not track your location or store your personal information.
There are 25 registered sex offenders living in Flagler County that have specific sanctions stating they cannot hand out candy, decorate for the holiday, or leave their porch light on during Halloween. These limitations are designed to protect children from potential threats from sex offenders or predators. Sheriff's Deputies and probation officers will visit the homes of all 25 offenders with these sanctions on Halloween day to conduct a walkthrough of their residence and instruct them on the limitations. These offenders must be in their home by 4:30 p.m. on Halloween day and remain inside for the rest of the night.
The app also allows searching active Amber, Missing Child and Silver Alerts, search wanted persons or stolen vehicle information, search unsolved cases in Florida and submit a tip about suspicious activity.
On Oct. 31, the sheriff's office released a video featuring Staly as Sheriff Woody, and his usual sidekick in Fugitive Friday Bingo videos, this time as Buzz Lightyear, offering Halloween tips. See the video to the right.
The sheriff offers the following guidelines:
Treat-or-Treaters:
Make sure your costume fits properly and that masks don't obstruct your vision.
Carry a flashlight or a glow stick.
Never trick-or-treat alone.
Only visit well-lit homes and always stay on the porch. Never enter the home.
Look both ways before crossing the street and never run in the street.
All candy should be inspected by an adult before eating.
Parents:
Supervise children at all times.
Inspect all candy before eating letting your kids (or you) eat it. When in doubt, throw it out.
Speak with your child about an emergency plan in case of separation.
Make sure your child knows their home phone number and address.
Consider attending a trunk-or-treat or community event near you.
Drivers:
Reduce your speed and watch for children in the road.
Use your headlights, even at dusk.
Don't let children ride unsecured in vehicles, even when driving from house to house.
This isn't the time to ride with headphones or blaring music on: be alert to sights and sounds.
If you drink, do not drive.
Meanwhile, as the estimated 3.4 pounds of candy consumed by the average American each Halloween courses through your system–and your children's–Flagler Dental Associates is hosting its seventh annual Candy Buy Back program starting Nov. 1 through November 10. The program allows all area trick-or-treaters to earn $1 per pound of candy turned back in, for up to 5 pounds per child.
"We want to encourage kids to make wise decisions about their dental care at a young age," said Dr. Ryan Smith of Flagler Dental. "Eating less candy will also help them avoid unnecessary cavities." The unopened candy is being collected at both Flagler Dental Associates locations during regular business hours and will be sent overseas to deployed soldiers. All children are welcome to participate:
Flagler Dental North
30 Office Park Drive
Palm Coast
386 446 3883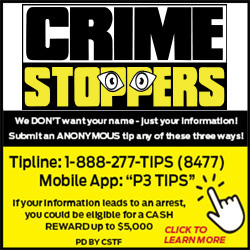 Flagler Dental South
97 Flagler Plaza Drive
Palm Coast
386 693 4883
And for extra consciousness of sugar';s effects, the Flagler County Commission will again support Florida Hospital Flagler in its efforts to raise diabetes awareness by raising the "Unite for Diabetes" blue flag at 8:15 a.m. Nov. 5, in front of the Government Services Building. The ceremony will precede a commission meeting.
Speakers will include Commissioner Nate McLaughlin, Florida Hospital Flagler Chief Nursing Officer Kathy Gover, Florida Hospital Flagler Foundation Member Laura Gilvary, and Flagler County Health Department Administrator Bob Snyder. Snyder will introduce a diabetes education, training, treatment, and prevention program that will begin in 2019.
Diabetes affects 14 percent of Flagler County adults, or nearly 13,000 adults, and it was identified as a local health priority during the last community health assessment. "Since our diabetes rate is two percentage points above the state average, we expect this new education program will help reduce the trend and allow our neighbors with diabetes to lead healthier lives," Snyder said. The commission meeting will include the reading of a proclamation, recognizing November 14 as "World Diabetes Day."
"Diabetes awareness is so important," McLaughlin said. "An early diagnosis can prevent a host of other medical-related issues. Please join us, and wear blue."