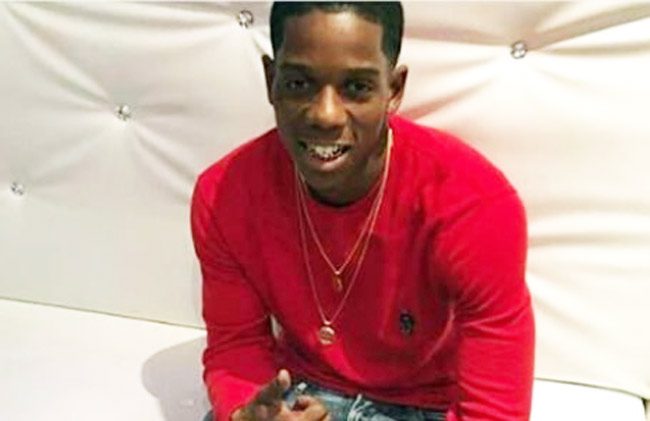 Last Updated: 3 p.m.
Hakeem Javon Griffin, a 22-year-old resident of Ryan Drive in Palm Coast, was killed in an argument on a street in Queens, N.Y., Wednesday evening (Feb. 28). His assailant is at large.
Griffin had gone back to his neighborhood in Queens for a friend's birthday, the Daily News reported. He was outside Vinny's Pizza and Pasta at 97th Place and 57th Avenue in Corona–a relatively low-crime neighborhood of working class families and immigrants–when he got into an argument with another man. "During the fight, one of the men pulled out a machete and started slashing," the paper reported. Griffin was cut on the neck and chest and lay bleeding before he was transported to Elmhurst Hospital nearby, where he died.
"His mother took him away from here for a different life," a 46-year-old neighbor named Cee Cee told the Daily News. She had previously lived next-door to the Griffins. "Then he comes back here and that happens to him. It's sad … His mother raised him well."
Griffin was due back in Palm Coast Thursday. By then, a street memorial of red, white and blue candles and flowers had sprung up outside the pizza shop, along with pictures of Griffin.
"He was a really good kid, he had a very bright future ahead of him," said Jarrod Eden, a Palm Coast contractor who knew him. "He always had a smile on his face, and was an extremely hard worker. His older brother is a Marine and he was always talking about him."
Eden got to know Griffin first by luck, then as an employee. "I was getting my car washed at the new SuperWash in Palm Coast when I met him," Eden said. "He was working on the line and helped me get some tools out of my bed before I pulled through the wash. His smile was almost contagious, he asked what I did for work and I told him I'm a contractor. He immediately lit up and proudly told me that he was just about to graduate from Daytona State with a construction degree and said he was looking for a job for when he graduated. Without hesitation I gave him my card and told him to call me when he graduated. A few weeks later my phone rang and it was Keem. I hired him and after his two-weeks notice to the SuperWash he came to work for me. He was a very hard worker, and an extremely passionate kid. He wanted to own his own business one day, and I had no doubt that one day he would. I'm extremely sad for his friends and family."
Griffin had had minor troubles in Palm Coast, where he'd been pulled over last October after allegedly making a right on red at Parkview Drive and Belle Terre Parkway, without stopping first. A Flagler County Sheriff's deputy smelled pot and Griffin conceded that he'd been smoking it, but a search of the car produced an ecstasy pill and drug paraphernalia such as a scale that resulted in additional charges. He was due in court next week, on March 7, for a pre-trial.