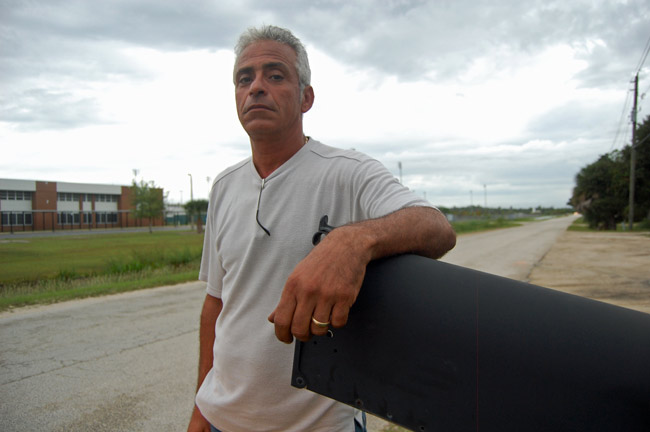 It was supposed to be a routine update to the Palm Coast City Council of its Town Center developments, including an update on Bulldog Drive's cosmetic reconstruction into a handsomer entrance to what was to be the city's new downtown. That construction might begin either this summer or the next. But nothing has been routine with Town Center since its inception in 2004. Nor was it Tuesday morning.
The council, sitting as the Town Center Community Redevelopment Agency board (a technicality with no bearing on the council's authority), was to approve a huge change order to the engineering design contract of the Bulldog Drive reconstruction, the third such additional cost to the project.
Palm Coast had already engineered a widening of Bulldog Drive. But it's been re-engineering the project, and paying the costs, because it could not acquire one final piece of property alongside Bulldog Drive from its owner, Gus Ajram, who owns GEA Auto.  Ajram wanted $1.25 million for his property. The city was prepared to go no higher than $1 million. The two sides deadlocked in a very long, very acrimonious battle that became personal between Ajram and Jim Landon, the city manager.
Landon threatened to condemn Ajram's property. Ajram dared Landon to do so. After more than a year of (costly) legal maneuverings on both sides, Landon dropped the threat, because between legal and other fees, and the possibility that a judge would award Ajram the higher amount, condemnation could have likely cost the city more than paying Ajram the difference. So Landon literally took a detour. He would curve the reconstructed Bulldog Drive around Ajram's property.
Yet the cost of the re-engineered design—$348,0000—was  well above what it would have cost the city to settle the acquisition with Ajram, and widen Bulldog Drive as it had originally planned. The engineering contract has already increased by $20,000. Tuesday morning, the council was set to approve yet another cost increase, this time of $213,000, bringing the total engineering contract cost to $582,000.
Ajram was in the audience. The latest developments set him off.
---
Audio: Gus Ajram's Outburst[media id=307 width=250 height=250]
He went up to the lectern when Palm Coast Mayor Jon Netts opened the segment of the meeting to public comment, and, after introducing himself as "the bastard that owns the property on Bulldog Drive," lashed out at the council, and particularly at Landon, in a viciously slur-laced tirade against what he described as the city's "abuse, just for the simple reason I'm half a nigger, half camel-jockey" (Ajram is a native of Lebanon with darker skin), "just the abuse your management and your city attorney put and my family [through] for 11 years." He referred to the time, documented in the city's dealings over the property, when the city used CRA dollars as a sweetener to compel his tenants to leave the property. Though he paused initially and said he'd speak calmly, his voice rose immediately to nothing short of a scream, louder and more confrontational than anything the council has heard in memory, as he described what he perceived as purposefully discourteous, unfair treatment because he'd stood up to the city, and because of his origins. "If I had blond and blue eyes like the rest, I would have been taken care of. But I;m a dumb nigger, they underestimated me." He then likened himself to an Arab spring facing the city, and targeted Landon.
"This is not American. I'm more American than he'll ever be," he shouted, referring to Landon. Ajram lost his land in Lebanon because of the civil war there, migrated to the United States, where he became a citizen, married, raised a family, and started several successful businesses in New York and Florida. The city has refused to allow him to sell cars at his Bulldog Drive location, forcing him to sell them from a property at the county airport across State Road 100, at an additional cost to him of $24,000. Today's confrontation was the culmination of a six-year stand-off with the city, and a very costly one in legal bills for both sides. The city spent taxpayer dollars fighting it. Ajram had to spend his own, ruinously.
Ajram had spoken less than two minutes when, in the middle of a sentence, he collapsed over the lectern and, in the words of Charlie Ericksen—a frequent presence at city meetings who is to be sworn in as a county commissioner this afternoon—twitched and looked as if he was having a stroke.
Mike Beadle, the Palm Coast Fire Chief, and Flagler County Sheriff Mark Carman (who'd been set to stop Ajram moments earlier) came to his aid, as did Ericksen.
The council members and the city manager all stayed in their seats, staring down at the scene a few feet from them as others in the audience sprang up to help. Netts called out for a call to 911 and a recess.
Less than a year ago, Ajram had a heart attack. Ajram was refusing treatment this morning, but was eventually put on a gurney and taken to an Ambulance in the parking lot of the Palm Coast Community Center, where he was given fluids and Aspirin, but refused morphine and nitroglycerin. He was taken to Florida Hospital Flagler, but walked out of his own power as soon as he arrived.
He was back at his shop on Bulldog Drive a little after 11 a.m., no less angry than he'd been at the meeting, and defiant: he said he'd be at every subsequent meeting if necessary. He said the city's dealings had "tagged" him and his property, making it impossible to sell, since it had been targeted for condemnation, while the reconstruction of Bulldog Drive would veer off his shop and box him in between the road and a ditch—moves, he said, purposefully designed to "screw me."
Ajram promised not to go away.
Meanwhile, back at the council, Netts described the incident as "a very unfortunate circumstance," and added: "By way of explanation, he is a property owner in the CRA, and there have been extensive negotiations between Mr. Ajram, his attorneys and the city over a number of years regarding potential acquisition of his property. Clearly he's not happy with the position the city has taken. Our best wishes for a quick recovery go out to him."