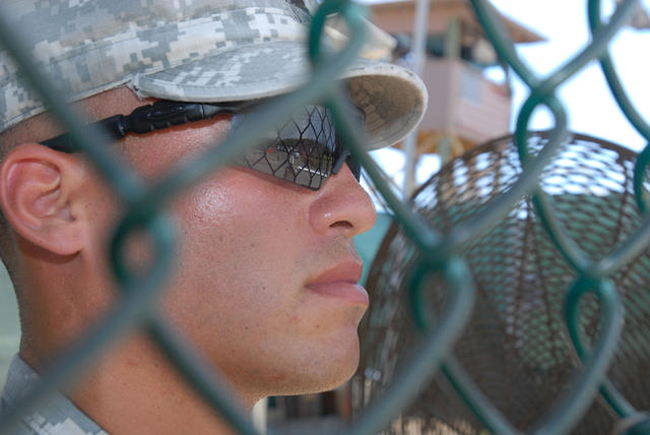 I remember the time—we all do, or should—when, whatever one felt about the concentration camp at Guantanamo Bay, at least opinions about it flew left and right. The fact of the prison's existence was enough to spark debate about what we stood for as Americans, or no longer stood for considering that we were willing to imprison and torture hundreds of men and boys illegally, indefinitely, outside the reach of the law or basic due process.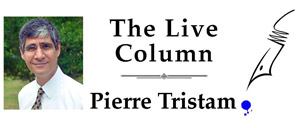 Guantanamo was a grim enough blight on America's conscience that it was an election issue in 2004 and again in 2008. It inspired one of Barack Obama's most memorable phrases when he blamed his predecessor for putting forth "a false choice between the liberties we cherish and the security we provide." It also inspired one of Obama's clearest promises. He'd close Guatanamo.
Here we are five years after he was first elected, 11 years after the concentration camp opened, and Guantanamo is still there. It's a sign of how far the national conscience has sunk, how stale it's become, that mentions of Guantanamo today don't raise questions about its existence, but about the mentions themselves: What Guantanamo? Who cares? And So what?
I have no doubt that writing of it now here might cause all sorts of yawns, mostly from those wondering what on earth I'm talking about: people are more conversant with the flap over Mitt Romney's black grandchild or Phil Robertson's Bible-thumping bigotry about gays than they are about an American prison indistinguishable from the camps of the Soviet gulag during the Stalinist era.
Obama broke his promise to close the camp, but he's not alone to blame. Democrats and Republicans in Congress ran scared every time he showed a way to close the camp. They didn't want those inmates on American soil, as if somehow a prison complex on the mainland couldn't be trusted to hold them securely. As if there is that much to distinguish the blue-eyed blond domestic murderer of innocent civilians—a terrorist to his victims regardless of the way FBI statistics prefer to more cleanly euphemize him—from the generic Allah-chanting Arab with a suicide belt. More disturbingly, those generic congressmen either did not trust the American legal system to work as advertised, or feared that it actually would. If it did, it would find that many of those alleged terrorists are little more than bit players and pawns of machinations they didn't even want a part of.
A Pentagon report released in 2009 found that out of 534 Guantanamo prisoners transferred back to their countries, one in seven had allegedly engaged in terrorist activities, or been suspected of it, understanding that the way the Pentagon defines "terrorist activities" is its own well-guarded mystery, and suspecting someone of being a terrorist is not the same as committing a terrorist act. Ask Richard Jewell's ghost. Still: assume that one in seven of those was a born-again terrorist. That means six out of seven were not. Was the Pentagon suggesting that holding that 86 percent of prisoners would have been justifiable, because 14 percent (a much lower rate than the typical violent American criminal's recidivism) had gone fanatic again? The grim Bush-Cheney era's answer was of course an absolute yes. Enough members of Congress have so far preferred to apply the same untenable calculus. Obama isn't the alien one in this formula. His congressional opponents are.
Obama is trying again. No one was paying attention the day after Christmas when he signed into law a defense bill that again puts Guantanamo on a path to closure, which means that 79 prisoners could be sent home and 71 more could have their case reviewed to determine whether they still pose a threat, and could also be sent home. That would leave just eight men there (among them the grotesque Khalid "Sheikh" Mohammed, mastermind of the 9/11 attacks, whose confessions should have long ago earned him a place in one of Louisiana's Midnight-Express-like prisons). The eight have either been convicted through Guantanamo's kangaroo courts, or are now being made to jump through those bogus proceedings. But Obama's attempts have been through this before, only to be hijacked by congressmen too scared of their shadows, and too aware of the public's indifference to Guantanamo's existence.
So in answer to why speak of Guantanamo now, here's why: the indifference makes us all complicit in a betrayal of American values that has outlasted even that miserable sham once known as the war on terror. A little more awareness could go a long way to nudge Congress back to civilization on this count. I don't hold out hope. The irony should not be lost on us that our congressional district is represented by Ron DeSantis, the sort of fanatic who had no trouble advertising his brief service in Guantanamo's kangaroo courts as a badge of honor while leaving silent his employment with a more legitimate Florida corporate law firm.
With political charlatans like that in Congress, who don't know their Constitution from their Lenin, it's no wonder Guantanamo endures, and with it an American shame most Americans refuse to admit.

Pierre Tristam is FlaglerLive's editor. Reach him by email here.