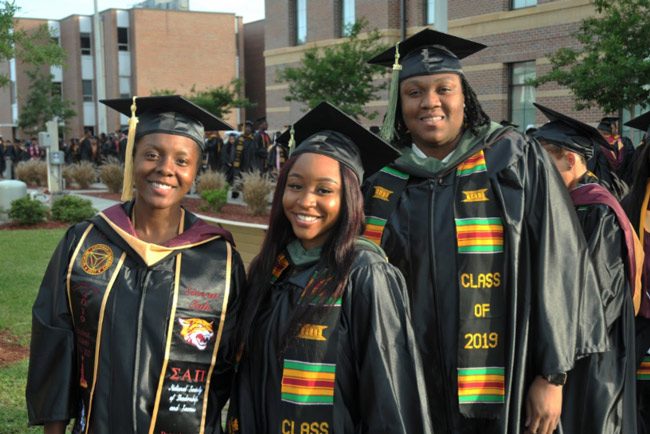 Hubert Grimes, Bethune-Cookman University's interim president, delivered the following Consecration message at Gertrude Hotchkiss Heyn Memorial Chapel on Wednesday (May 8).

I leave you love. These words led off the beginning of our founder's Last Will and Testament. No greater words, nor bequest has ever been made. And yet, we to whom she spoke these words — her children, her descendants, those to whom she left a legacy, have often been the ones who have not received its true meaning.
I stand before you tonight on a stage that has meant so much to me, personally, over the last twenty-five years. In 1994, I was made an Honorary Wildcat by President Oswald P. Bronson on this stage. On this stage in 2000, I was sworn in as a Circuit Judge — the first and only African American to ever hold that office, even until now. In 2017, on this stage, I was announced as the Interim President of BCU and from here, I gave my first greeting to the BCU family. This stage has been a place of honor, as well as a place of sorrow/celebration, where home going services such as that of our founder were held in 1955 and her son, Albert Bethune in 2018 as well as others were conducted. But with all of that being said, this stage has also been a place of prayer and consecration.
Tonight, on this stage, in my last message to this class and my last formal message as Interim President, we pause to consecrate you for the life journey ahead.
Each of you has come through a four, five or six-year journey to achieve a bachelor's and for some a master's degree. Through the long days and equally long nights, you have persevered. Sometimes, with people who encouraged and celebrated you and at times in spite of the haters and backstabbers who wanted to see you fail. But you have made it to this point. And in a few days, you will walk across another stage to receive your sheepskin diploma and thereafter, begin another journey in the next phase of your life.
You will take with you knowledge that you didn't have before. You have captured experiences that will long be remembered and friends that will last a lifetime. But through this Bethune experience, I trust you have been infused with the spirit of our founder, particularly with the first bequest of her Last Will and Testament — that you have been left a legacy of love.
It will be so important for love to be the driving force of your life beyond these walls. And not just a fake kind of love or even a surface love. In my life and particularly in the last two years, I have experienced both, the real and the fake.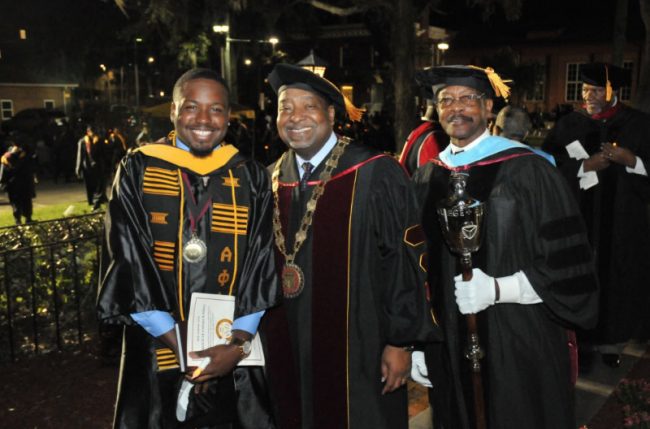 The real love is found in the passages of I Corinthian 13. The fake love is where people, in the words of the O'Jays song, "are smiling in your face and all the time, trying to take your place"….. Be aware of those people, for that is not love, but lust and their reward will come in due season. Make sure you are not one of them.
The founder showed us examples of love, time and time again. She sacrificed for the benefit of those who had little resources. She believed in honoring her promise to God that she made as a little ten year old girl — "that if he would let her learn to read, she would teach others to do the same." And since that promise, thousands upon thousands of lives have been made better.
You are the beneficiary of her selfless love. And at this critical juncture in the history of this university, let it not be said that we failed to lay aside our petty differences, and self-centeredness for the benefit of this place we call Bethune.
For me personally, particularly over the last two years, I have encountered and endured attacks of the enemy — many, if not all of them, lies and false accusations. But the university is still standing, and still graduating those who came for an education and refused to leave until it was obtained.
Pictured from left to right: Rev. David Allen, Interim President Hubert Grimes, Dr. Daran Mitchell, Rev. Kenya Lovell, Dr. Walter Fordham, Rev. Randolph Bracy Jr.
You are those who came. A few years ago, as freshmen, you entered to learn and tonight we will begin the ceremonial candlelight journey where you will depart to serve. But it does not stop here. For we have added something else that is equally as important to your journey and that is you must return to invest.
Giving back to your school in time, talent and money is how we exemplify the love of our founder. Whether it is ten dollars, a thousand or more, that is how you return to invest. While you may say that you cannot afford to give because you have student loans, and that is probably true, you can more than make up for that by becoming a one-person recruiter over your lifetime.
What if each of you committed that you would recruit, encourage and promote three high school students to come to your alma mater each year. That is the equivalent of $75,000 that you would bring to your alma mater. What if you told others to do the same? What if you speak positively about the place where you graduated from and not join those who speak badly about the place where you got your ticket to prosperity? What if social media became your tool to promote your alma mater? What if we each realized that the answer to our problems is found within us, that in fact, "We Are Our Answer." Speaking the good about your school is one way of returning the love of our founder.
How do we overcome the lies and negativity that were unleashed over the past eighteen months about your school? You draw upon the strength that our founder tapped into — the Spirit of Love.
Love is a selfless act. Love is not selfish. It is not scared. Love is courageous, even when others do not understand. Love doesn't pick fights or seek to self-promote. But love doesn't give up, easily. The love that she displayed didn't build walls, but tore them down. The love that she lived for did not promote division. She did not set out to gain titles or fame. But her work spoke for her and she is celebrated today, 115 years after the founding of this school and 60-plus years after she left earth for her heavenly reward.
Early next year, she will be celebrated when her statute is put on display in National Statuary Hall in Washington, D. C. as one of two representatives of the State of Florida — the only African American to be so honored by a state. How did she get there? She got there through a spirit of unselfish love.
That is why the first thing that she left you in her Will is "love," I consecrate you tonight in that same spirit. As you grow in life, you will learn that love is more than a fleshly touch or a fleeting kiss. It is more than what you can get out of somebody that you claim to love. It is what you give that will be long-lasting. In the words of our founder, the Most Honorable Mary McLeod Bethune, our leader, our standard bearer, our mother, our friend — I Leave You Love.