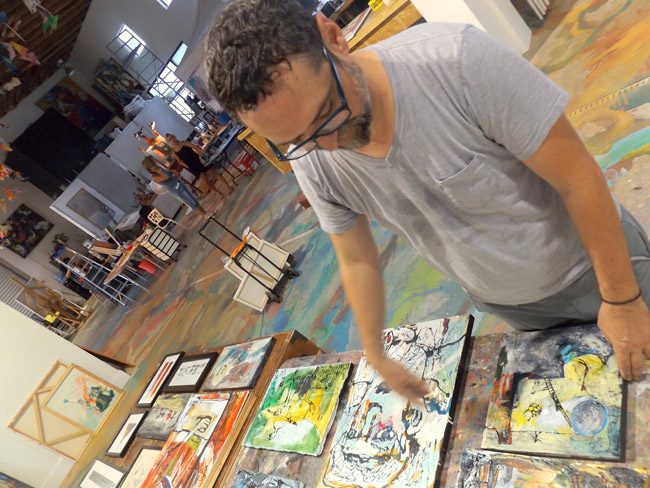 Here is what the one-eyed albino frog sees as she peers through the looking glass of the aquarium at the world outside her world: Artist JJ Graham is squeezing a palm-sized plastic bottle with a pointy tip – sort of like a hair-coloring bottle, except the inky, viscous liquid coming out looks more like black mustard. But Graham isn't sloshing paint Jackson Pollock-style onto his foil-covered, 18-by-24-inch canvas.
Rather, Graham spreads his black mustard lovingly, inquisitively and even hesitantly at times, as if he were some Mad Max post-apocalyptic hot dog vendor/artist/prophet. And, like all respectable hot dog vendor/artist/prophets, Graham is as uncertain and rapt with anticipation as any acolyte seeking revelation. Graham himself is curious about what images and symbols may emerge.
"I see a tightrope right here," Graham says with just a hint of glee, as he squeezes the bottle and a trail of ebony acrylic paint flows onto a natural diagonal crease in the silver foil encasing the canvas.
The frog, as much muse as spectator, looks on.
"There's a one-eyed frog, an albino frog that will literally swim up and watch me paint in the little aquarium there," Graham says. The aquarium sits in the window-filled Florida room of the Palm Coast residence that Graham is house-sitting for a friend – a room where Graham has set up a makeshift painting studio.
Very quickly a tightrope walker, balance pole in hands, emerges on the foil canvas – a figure that looks like a mash-up between those Paleolithic cave paintings in Lascaux, France; those tiny cartoons in Mad magazine by Sergio Aragones and those small, gaunt humans by Swiss sculptor Alberto Giacometti.
---
"Instead of asking people for money or donations, I thought 'Why not try and do it with art?' "
---
Tightrope walkers abound in Graham's recent works, and they are a perfect metaphor for the task he has set himself. Less than five weeks ago Graham set out to create 50 paintings and drawings before June 18. The simple math indicates that's far more than a painting a day – a giddy, mind-boggling pace that even a crayon-wielding kindergartener amped up on Twinkies would have trouble keeping.
Graham dubbed his project "The Builder Paintings" with good reason. All 50-plus works will be part of an exhibition that will have its opening reception from 6 to 9:30 p.m. Saturday (June 18) at Salvo Art Project, the gallery-studio complex in Bunnell that Graham runs with his fellow artist and beloved Petra Iston. Salvo also is home to more than a dozen other area artists, who both work and display there.
The purpose of the Builder paintings and acrylic drawings "is to build this place out," Graham says. Salvo, which is ensconced within the Nature Scapes Landscape & Garden Center, recently completed installation of air conditioning, and now Graham and Iston are on to the next phase: completing construction of additional artist studios in the loft-like upstairs of the quasi-second story of the building.
"Instead of asking people for money or donations, I thought 'Why not try and do it with art?' " Graham says. The Builder Paintings are "affordable," he says, with many of the works ranging from $450 to $650.
"I love that kind of pressure because there are so many things born out of that," Graham says of his madman pace. "You have to get in this zone where you can't second-guess yourself. And you have to be very quick on your decisions of what makes the cut."
For the Builder Paintings, which also entail a significant amount of brushwork as well as that black mustard acrylic "pen," Graham "chose to revisit my first love — the line, illustration," he says.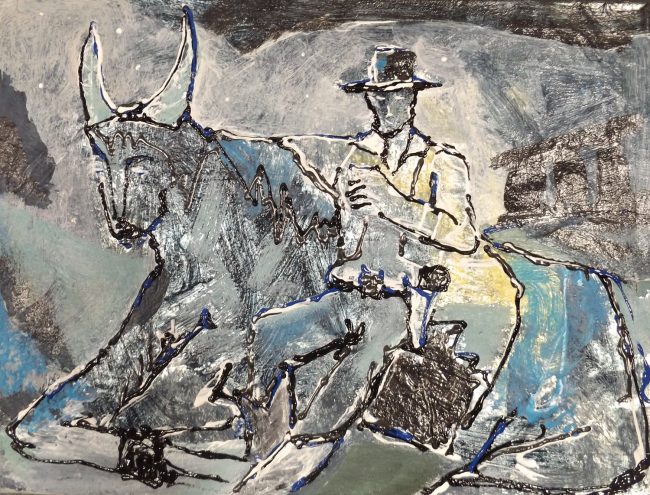 It's a love that goes back to his days growing up as the son of a Pentecostal preacher in Mississippi, a land where art instruction was as scarce as water and gasoline in the Mad Max universe. And so young Graham's mom would drive him to the library where the muses had miraculously placed "How to Draw Comics the Marvel Way" by Spider-man creator Stan Lee.
"Forcing myself to be direct, I chose to draw with paint," Graham says of his Builder works. "For a lot of the drawings and things I'm doing, there are no preliminary drawings. I'm not looking at a reference.
"What happens is you begin to draw and you get into this place – it's almost like the drawing begins to respect you in a way because you don't have an eraser. If something doesn't work and you're doing a drawing on paper, it goes in the wastebasket. You don't have time to fix and correct. You move on.
"That happens but after a while it doesn't happen so much. It's almost like the drawing wants to live: 'You know what, I have to cooperate or I'm going to the waste basket,' " Graham adds with a chuckle.
While a number of the Builder Paintings may appear "simple" or child-like or akin to folk art upon first glimpse, given the number of cartoon-like characters that inhabit many of them, a closer inspection reveals more – much more – going on.
Along with those previously cited touchstones – cave paintings, Giacometti, Mad's Sergio Aragones – the Builder Paintings at times echo numerous art history periods, styles and artists.
"Love Brigade," which depicts one of those wiry figures aiming a heart-spitting bazooka at hammer-toting demons, recalls the social activism of Keith Haring's pop art work.
"Coffee Break With Taurus at Stonehenge," with its cowboy hugging a bull beside those Neolithic standing stones in England, all awash in moody blues and indigos, recalls both expressionism and the minimalism of Zen Buddhist/Taoist art (think of one of those monochrome paintings of Lao-Tzu astride a water buffalo).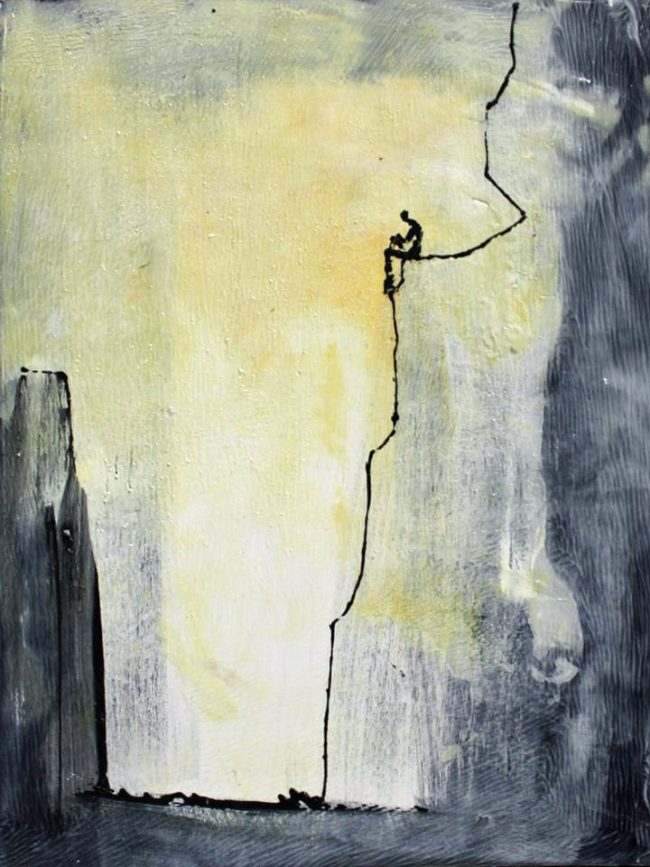 "Galactic Bull" recalls the mystic side of modernist Marc Chagall.
Graham describes many of the Builder works as "backwards illustrations – the paintings come first and then I come up with stories." For example, he dubbed one of his tightrope walkers "Surefoot."
Patrons can "feel free to ask me any questions concerning the characters that often inhabit the work," Graham says. "I'll do my best to answer."
Salvador Dali, that master Trickster-Surrealist, famously said: "There is only one difference between a madman and me. The madman thinks he is sane. I know I am mad."
Likewise, Graham says: "The more I paint, the more I get in that crazy place that I like to be in. It's a very lucid state. The difficulty and the frustration is not going there – it's getting back. Doing 50 paintings, at some point you have to push things away. And then you get frustrated and there's a point where you feel like you're drowning. It's like when I used to run long distance. Your side hurts, your back aches. There's this kind of a wall. Then you push through and everything gets kind of quiet."
Painting on foil has affected how Graham's muse visits him.
"I started painting on these very reflective surfaces, and you get in these states," he says. "For instance, you think of people who had visions like Nostradamus or St. John the Baptist. People can debate all day long about the significance of what they saw. I think Nostradamus painted a ceramic bowl black and poured water in it and stared into it.
"Yes, it's debatable (interpreting what they saw). And I'm definitely not getting religious – that was my father's bag. What's not debatable to me is 'Did they see stuff?' Yeah, they saw stuff.
"If I start going in there and painting on this foil which is a very reflective surface, this weird thing happens. After about 20 minutes, it's like a little window in my head opens and a guy steps up to a projector and then whatever's in my subconscious starts to appear. And then you're really just painting what you see.
"I'm analytical enough to know that I've put myself in a state and that I'm dreaming. Then the dream is being projected onto this very reflective surface."
–Rick de Yampert for FlaglerLive

An opening reception for "The Builder Paintings," featuring works by JJ Graham, will be 6 to 9:30 p.m. Saturday June 18 at Salvo Art Project, 313 Old Brick Road (in the Nature Scapes Landscape & Garden Center), Bunnell. The event will feature live music by Luis Mario and His Latin Jazz. Reception admission is $10 and includes wine and hors d'oeuvres. Free for children. Information: 386-871-9546 orsalvoart.org.