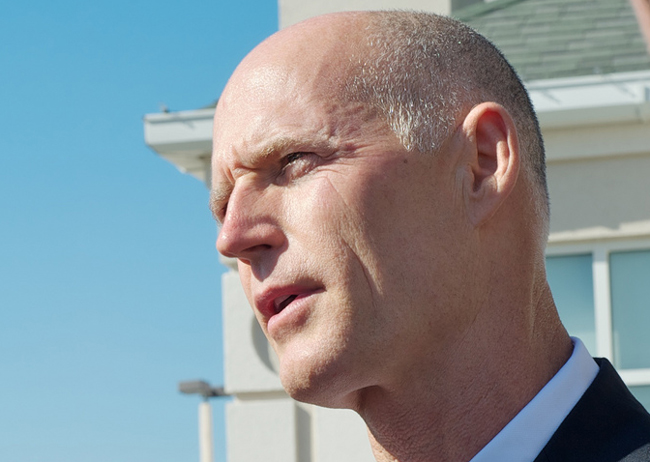 The latest Quinnipiac University poll, released today, has Florida Gov. Rick Scott's approval at 29 percent and his disapproval up to 57 percent, a significant worsening of Scott's numbers since April 6, when he polled a then-dismal 35 percent approval against 48 percent disapproval.
It is also the worst showing of any governor tracked by Quuinnipiac University. New Jersey Gov. Christopher Christie, a polarizing figure, has a 47-46 percent split in approval versus disapproval, Ohio's John Kasich is disapproved by 49 percent, and Pennsylvania Gov. Tom Corbett has 37 percent disapproval, among key states.
The Florida poll, conducted May 17-23, is the first broad measure of Floridians' response to Scott's rookie legislative session, which ended earlier this month. It reflects wide displeasure with the governor's administration, from the perceived unfairness of his budget to the depth of cuts in state spending to frustration with the lack of regulation of the state's property insurance industry. Voters' loss of confidence in Scott is extending to Republicans, with just 51 percent now approving of his performance, down from 58 percent in early April.
The survey involved 1,196 registered voters. It has a margin of error of plus or minus 2.8 percent.
Disapproval of the state Legislature is almost even with that of Scott, at 56 percent. And just 3 percent of Floridians term themselves very satisfied with the way things are going in the state. When those who are somewhat satisfied are included, the figure rises to 39 percent, compared with 61 percent who say they're somewhat or very dissatisfied (29 percent, representing almost a third of the state's voters, are in the very dissatisfied category).
"It probably doesn't make him feel any better that the State Legislature is sharing the basement suite in the eyes of the electorate," said Peter A. Brown, assistant director of the Quinnipiac University Polling Institute. "The good news for the governor is that he has three and a half years to turn public opinion around. "
Just 30 percent of voters approve of the way Scott is handling the budget, while 59 percent disapprove. Among independents, now the key group in virtually statewide elections, disapproval is at 56 percent. Scott will be signing a $69.7 billion budget Thursday (May 26). The budget was balanced through almost $4 billion in cuts, including $1.35 billion cut out of education and $1 billion cut from the Medicaid, the health-care program for the poor and elderly, which was overhauled into a managed-care system. Regulatory state agencies saw their ranks cut by the hundreds, or–as in the case of the Department of Community Affairs, which oversaw growth management–almost eliminated.
More pointedly, less than a quarter of Floridians (24 percent) and less than half of Republicans (45 percent) approve of the final budget agreed to by Scott and the Legislature. Just 25 percent of independents agree with it, and 11 percent of Democrats.
Fairness is now an issue. Asked the following question: "Do you think the new state budget is fair or unfair to people like you?" Just 29 percent said it was fair, and 54 percent said it was unfair. Among independents, 30 percent said it was fair and 48 percent unfair.
"The data on the perceived fairness of the governor's budget is crucial. When voters by almost 2-1 say his approach is unfair to them, that's a giant flashing political warning sign for Scott," said Brown. "When voters don't think they are being treated fairly, they tend to react negatively."
As for the spending cuts, just 23 percent of voters (and only 46 percent of Republicans) think it'll help Florida's economy, while 38 percent say it'll hurt, and 31 percent say it won't make a difference. Even fewer think the new budget will help create jobs: 26 percent say it will, 61 percent say it won't.
On insurance, 63 percent say property insurance is getting more difficult to obtain in Florida and 3 percent say it is getting easier. One in four voters, 26 percent, say there has been no change.
An even larger share, 74 percent, say property insurance is getting more expensive in Florida, as 3 percent say it is getting less expensive and 16 percent say there has been no change.
This frustration with the insurance market for consumers leads 59 percent of voters to call for more government regulation of property insurance in the state, while 29 percent say the state is doing enough.
"Whether the new law changes public attitudes about insurance in Florida, only time will tell, but there is no doubt that the electorate sees a crying need for something to make getting and paying for property insurance in Florida less onerous," said Brown.
The survey did not explore health insurance.