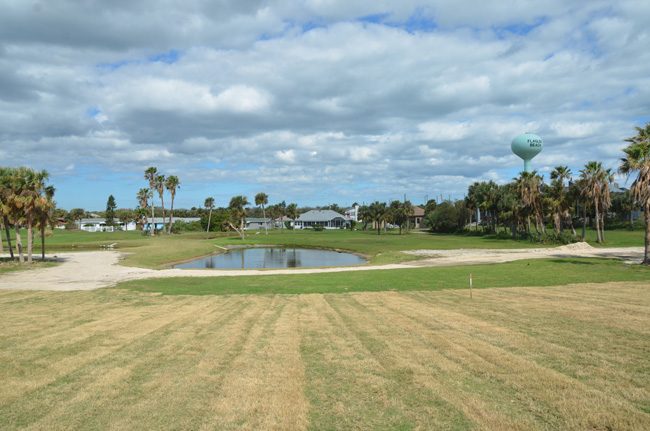 The Flagler Beach City Commission can't figure out what to do with the city-owned but privately run golf course at the south end of town as the course continues to struggle to attract players. It's not even clear–to the commission, to the management group or to players–whether the nine-hole course meets playing standards.
For now, the commission has decided to do nothing and hope for the best, a decision that leaves the property in the same sort of uncertain limbo it's been since last fall, when it was torn up by Hurricane Irma and a major city stormwater project.
The course is lease to Flagler Golf Management, a small organization financed by South Florida realtor Terry McManus and run locally by course manager Duwayne McDaniel and his son Craig McDaniel. The course shut down when Irma struck and remained closed afterward as the city dug through its grounds for a new drainage system. At one point the city threatened to sever its lease with the management group but eventually backed down.
The course's new, $50,000 sprinkler system the city paid for was completed only last week. Most holes remain unplayable though. One player compared them to playing on concrete. After months of clashing with the city over accusations that it was not meeting its end of the lease, Golf Management has been paying its bills, but the course has remained more dormant than active.
In early May Commissioner Kim Carney proposed invoking a section of the lease that would give the city authority to appoint a "Golf Course Resolution Committee." The six or seven-member committee would include representatives of the commission, of Golf Management and the community. Its mission would be to "identify the inadequacies" of the operation and develop solutions, with a focus on "reasonably acceptable" standards. Commissioners agreed to go that route.
Last Thursday, commissioners changed their mind.
Commissioner Marshall Shupe said the committee was premature. He favored hiring an independent third party to evaluate "what should the course look like and how should it be functioning. At that time, it may be appropriate to form a committee." (Shupe was not at last Thursday's meeting. He submitted his proposal in writing.)
If at first a majority of commissioners seemed to agree, even that proposal was eventually set aside.
"The way the make-up of the committee was described, it does favor one side over the other," Commissioner Jane Mealy said, rejecting Carney's approach. "And although we shouldn't be [taking] sides, we should all be working to the same aim but it doesn't look like we are. I would rather a professional look at it before we start talking about anything."
"My only problem with getting a report from a professional is they don't know the whole history and what's reasonable and acceptable" at that particular property, Carney said.
"What if we let this golf course get to the end of the growing season and just table this until fall when the growing season is over and we have a better idea how this course is going to manage it," Commissioner Eric Cooley said. In May, he'd referred to renewed attempts at looking over the management company's shoulders as a "witch hunt."
"They have yet to manage it without disasters on their hand," Colley continued. "We just recently as a city got their irrigation to 100 percent, so we haven't given them a growing season yet. We're at the beginning of it, if we just give them to the end, we can then make a call about forming a committee."
Mayor Linda Provencher noted the management group is paying the bills, mowing, maintaining the course. 'If they're paying their rent and they're not coming to the city for money and they're not bugging you," she told City Manager Larry Newsom, they should be left alone. Commiss Chairman Rick Belhumeur said any movement on the city's part would be premature without giving the company a chance to make it.
"So if you don't want to do it through committee," Carney said, "and you don't want to take the advice of other golf course management professionals, then I don't want to hear anymore complaints from the general public, because I'm not going to listen to them, because there's nothing we can do. Were locked in a lease, we can't set standards, all they have to do is pay the bills and they're officially a golf course, is basically we're saying. I hope they play there, I hope they have a good golf season. The community needs to know that we're locked. We're locked, and we're sorry that we're locked."