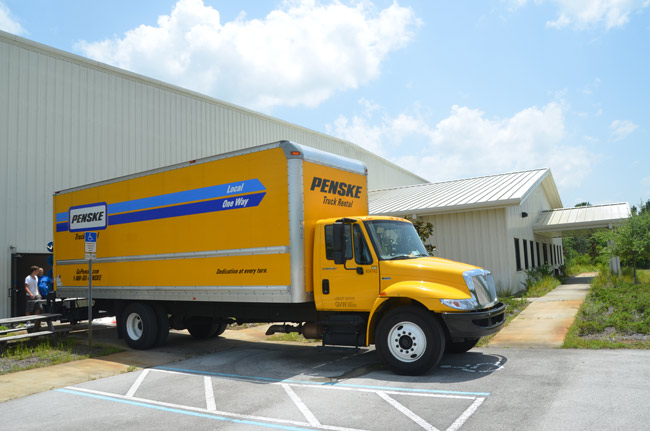 Global Outreach Charter Academy not only has a home—and a spacious, inviting one in a world of its own at the Flagler County Airport—but it's moving in, and it's hiring: teachers, aides, office personnel, afterschool workers, lunchroom help. The K-8 school is looking for two dozen people or more, and possibly more than that depending on enrollment.
Friday afternoon, Kathy Stow, the school's first principal, was even figuring out color schemes for the walls to replace the drabbish pale white covering the 19,000-square-foot building's walls. It'll be light blue at the entrance, and before long you should also be hearing the sound of classical music streaming in. "It's very much like a private school atmosphere, tuition free," Stow says. With uniforms for students and staff.
The school's first-year capacity is 368. Global Outreach is taking student enrollment as well, in preparation for the first day of school, which will be Thursday, Aug. 16 (less than a month from now), the same day that traditional public schools resume. Stow and her growing staff will hold open enrollment and information sessions at 6 p.m. on July 25, Aug. 1, Aug. 8 and Aug. 15. Family orientation is on Aug. 15.
All classes will be taught in English, but all students will be required to take Russian as a second language, and additional languages, such as Spanish and Chinese, may be offered afterschool, depending on demand. Whether enrollment is 100 or 368, the school is opening in a little more than three weeks, Stow said.
She's fully aware of the checkered history of charter schools in Flagler County. Heritage Academy was just forced shut after its various incarnations operated in the county for less than a decade, and after two successive F grades from the state. Palm Harbor Academy, in just its third year, got an F this year. Imagine School at Town Center has been much healthier, in grades and enrollment, scoring an A this year, the same year it nearly doubled its enrollment. Charter schools are publicly funded but privately run, and may be run as for-profit schools (as Imagine School is) or as non-profits (as Outreach Academy is).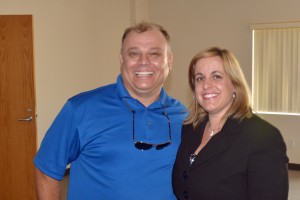 "It really comes down to management, curriculum, high expectations for students. Those are really important factors," Stow says, crediting the company backing Outreach for being particularly student-centered rather than profit-driven. As if to make the point, a quick walk-through the building yields an appearance by Sergey Soroka, the Ukraine-born founder (with his wife) of the school, whose rolled-up sleeves were no metaphor. He was helping to unload a rental truck full of student desks and other school furniture.
Global Outreach's sister school in Jacksonville got a B this year. Its Palm Coast version will follow Florida's Sunshine State Standards. It will be administering the usual standardized tests such as the Florida Comprehensive Assessment Test (FCAT). "We are held to all the same standards," Stow says. But the school has more leeway with discipline and even the number of hours students are in class. At Palm Harbor, for example, students are expected to put in one hour a day more than their peers in traditional schools.
Global Outreach is at 1000 Aviation Drive in Palm Coast, at the end of a winding road that veers east from the entrance to the county airport. You'd think there'd be a lot of airplane noises. Within the building, there isn't. The school is at the extreme eastern edge of the airport, and a fence company was on the grounds this afternoon beginning to prepare to build a long fence that will demarcate the school's grounds from the tarmac. It will also create a huge space for the school for play areas. And an enormous hangar—the same hangar where the county staged its Feed Flagler food drive in the past two years—will be transformed into the school's cafeteria and meeting hall.
Speaking of which: the food will be catered in, though the school is a participant in the national free and reduced lunch program.
For now Stow is working out of a makeshift office with just a lap top and a bottle of soda. It was only at the beginning of the month that Jacksonville-based Global Outreach, which specializes in foreign language education, signed a lease with Flagler County to take over the building, which had been sitting vacant and unused for most of the last three years. It's an uncharacteristic location. But the building was designed for a school, its lay-out being almost all corridors and classrooms. And Global Outreach may take advantage of its location to develop an aviation club and possibly an aviation elective. Stow herself comes from a family seeped in aviation, including pilots and her own early career as a flight attendant.
Stow, a graduate of New Smyrna High School whose parents live in Palm Coast, plans to develop several enrichment programs during and after school, including music and sports, with a focus on hands-on relevance for students. "I really feel the kids need to be excited. I want to get away from the 'here's your assignment' approach,'" she says,  nevertheless stressing that homework will be expected of students.
Until January last year Stow, who's just short of a dissertation for her doctorate in education leadership, was the principal at Woodmont Charter School in Hillsborough County, a position she left in January. She has three young children (ages 4, 6 and 8), the oldest two of whom will be attending Outreach Academy.