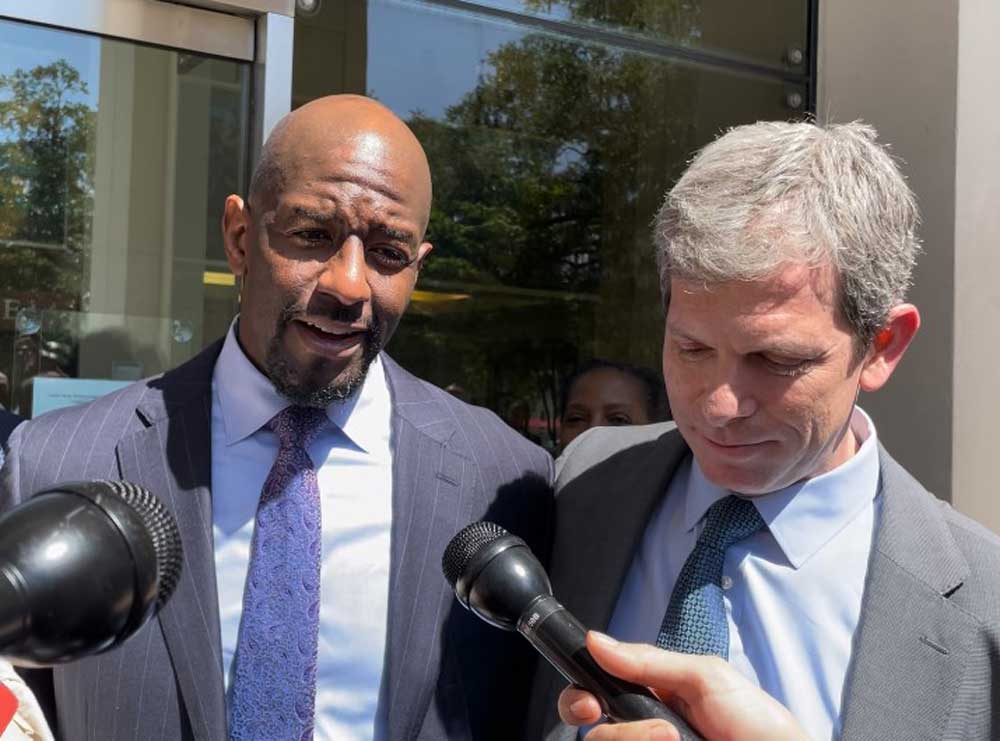 After five days of rocky deliberations, jurors on Thursday acquitted former Democratic gubernatorial nominee Andrew Gillum on charges of lying to federal investigators but were unable to reach a verdict on conspiracy and fraud charges.
U.S. District Judge Allen Winsor declared a mistrial on charges that Gillum, a former Tallahassee mayor, and his political mentor, Sharon Lettman-Hicks, bilked political contributors out of money and illegally steered it to Gillum for his personal use.




Federal prosecutors told the judge they intend to pursue a second trial.
Speaking to reporters outside the courthouse, an ebullient Gillum expressed "gratitude" for his legal team, his family and supporters and for "second chances."
Gillum said he and his family have been "under attack on all sides" for the past seven years.
"They've quite literally tried to take everything from us. And the beauty is that in our system, the powers that be don't always get to decide," said Gillum, accompanied by his wife R. Jai. "Everyday people like you and me sometimes get our swing at the ball and today the jury took it."
Gillum, 43, sprinted into the national spotlight after winning the Democratic gubernatorial primary in 2018. Gov. Ron DeSantis defeated Gillum by less than 33,000 votes in the general election.
The charges against Gillum and Lettman-Hicks are related to activities between 2016 and 2019, as Gillum's political stature blossomed. Gillum and Lettman-Hicks were accused of conspiracy to commit wire fraud and committing wire fraud. Gillum also was charged with making false statements to federal investigators about his dealings with undercover agents who posed as developers during his time as mayor.




Gillum has steadfastly maintained his innocence and asserted that he was the victim of a political witch hunt, in part because he is Black.
"I just got to believe that, through this all, maybe one of the things that needed to be revealed to me is that this system is in desperate need of reform. And I'll just say, 'to be continued,'" he said Thursday.
As the not-guilty verdict was announced in a crowded courtroom shortly after 3 p.m., Gillum wiped away tears. His wife, seated a few feet behind him, silently wept. She and other family members tearfully clung to each other as a courtroom deputy announced "no verdict reached" on each of the 17 other charges involving conspiracy to commit wire fraud and committing wire fraud. Thursday also was R. Jai Gillum's birthday.
A similar scene unfolded among Lettman-Hicks' family members and allies as they heard "no verdict reached" on the 17 charges against her.
"Thank God Andrew Gillum is not guilty. And the rest, you know, is just theater," Lettman-Hicks told reporters.
Attorney Mutaqee Akbar, who represents Lettman-Hicks, said his client was a victim of the effort to nail Gillum.




"The whole thing was based on these false ideas that Andrew Gillum was crooked," Akbar told reporters.
Akbar said prosecutors should drop the case because they failed to prove that either defendant had done anything wrong.
"And it was politically charged. I think we can't hide from the fact it was politically charged, and Ms. Lettman-Hicks got caught up in this whole thing," he said.
It was clear in recent days that jurors were struggling to reach a verdict. They sent a note Tuesday to Winsor saying they had reached agreement on the false-statements charge but were unable to come to a unanimous decision on at least one other charge.
Turmoil continued Wednesday when it was disclosed that a juror had posted information about the trial on social media.
On Thursday morning, a juror handed a message to a courthouse security officer saying she wanted to speak privately to the judge but did not elaborate on her reasons. Before Winsor responded to the message, the jury sent another note to the judge reiterating it was unable to reach unanimity about other charges.
"The situation's complicated," Winsor said.
The jury's inability to settle on a unanimous verdict prompted Winsor to send jurors what is known as an "Allen charge" — also called a "dynamite charge" — urging them to reach consensus on all the charges.
But attorney David Markus, who represents Gillum, opposed the move, arguing that the jury was at an impasse.




Markus noted that jurors had sent Winsor a number of questions since Friday and on Wednesday requested and received hard copies of exhibits, along with colored markers and paper clips. Thursday's note was the "second time" jurors informed Winsor they were deadlocked, Markus argued.
"It's not like they've been sitting around. They have been trying very hard and very diligently. This is now day five of deliberations," said Markus, who several times asked Winsor to declare a mistrial on all charges.
After Gillum's acquittal, Markus called the jury "one of the most conscientious" he had ever encountered.
The charges against Gillum came after a lengthy FBI public-corruption probe that also snared Scott Maddox, a former Tallahassee city commissioner and former Florida Democratic Party chairman. Maddox pleaded guilty in 2019 and is serving time in federal prison.
During opening arguments April 18 in the Gillum case, Gary Milligan, an assistant U.S. attorney for the Northern District of Florida, outlined a complicated series of transactions involving contributions from a handful of non-profit organizations to P&P Communications, a company controlled by Lettman-Hicks.
The prosecutor repeatedly accused Gillum of "attempting to distance himself" from the alleged wrongdoing.
"He wants something to happen but doesn't want to take responsibility for it and he's separating himself from it," Milligan argued.
Prosecutors spent a week detailing the false-statement allegations against Gillum, playing tapes of conversations between him and undercover investigators and showing emails between the men.
But in her opening remarks, Gillum attorney A. Margot Moss relied on the same remarks used by Milligan to try to show her client's innocence.
"I need you in your mind's eye (to) dissociate that. It's a requirement that you do," Gillum told an investigator after one conversation.




"Andrew Gillum refused to take a bribe," Moss argued, pointing out that Gillum told the undercover investigator that "the one has nothing to do with the other."
Outside the courthouse Thursday, Gillum thanked the jury for having "persevered" through the complex case.
"They showed up, they did their jobs, up to the point where they realized that it was becoming increasingly challenging to try to square the zig-zag lines that had been drawn for them that they needed to make some sense of," he said.
–Dara Kam, News Service of Florida