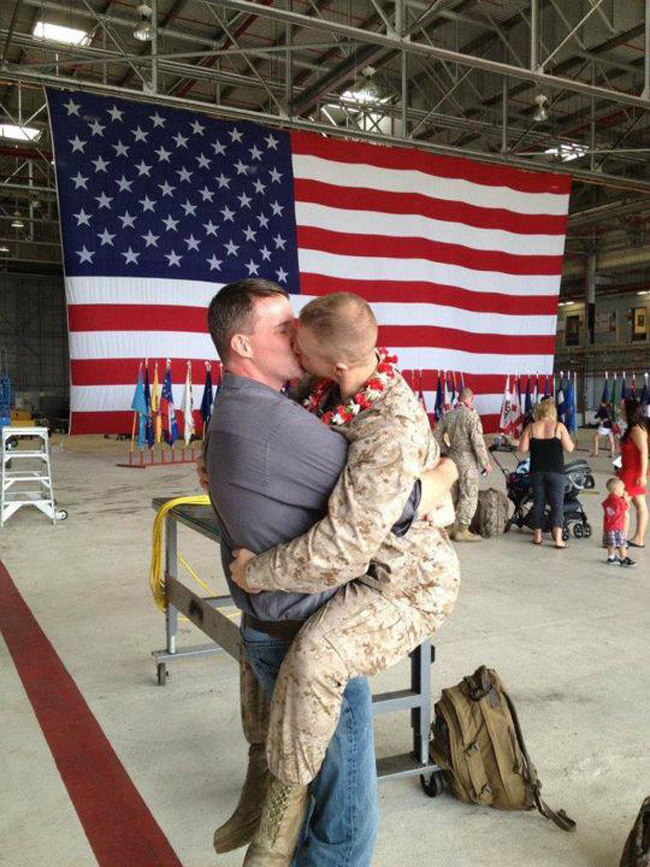 After a decade of war in Iraq and Afghanistan, the soldier's homecoming kiss is almost a cliché: husband reuniting with wife, girlfriend returning to boyfriend, dad surprising his child in her classroom. It's impossible to watch without becoming emotional even when the scenes have by now taken a manipulative twist as local TV news producers stage them with shameless frequency.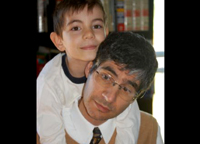 But this picture is different. Marine Sgt. Brandon Morgan is kissing his boyfriend Dalan Wells, on the mouth, his legs wrapped around Wells's hips. Morgan is in fatigues, but he's the feminine one swept off his feet. A giant American flag frames the couple at the Marine base in Hawaii where Morgan just landed after a six-month deployment to Afghanistan. A friend shot the picture and posted it on Facebook. It wasn't meant for broad public consumption or ratings or voyeuristic appeal. It went viral, generating dozens of news stories and tens of thousands of comments on the many sites that picked up the shot.
Most celebrated the happy couple in words as moving as the image: "Welcome home, brother!" "Truly amazing and profound." "I'm not gay and I'm not a Marine. Just wanted to come here and state that this photo makes me very proud to be an American and very proud of our United States Marines." Some, inevitably, rehashed instead the old bigotries veiled as pleas for discretion, or worse, usually in language best paraphrased: Don't cram it down our throats, don't show, don't tell, don't dare, and that old standard of sophomoric reaction: "Yuck," usually followed by a firing squad of exclamation marks. Old prejudices never die, especially when the military merely tolerates the post-don't-ask-don't-tell normal without quite embracing it. There's a cutting difference.
You won't find this picture or any like it posted at the Department of Defense's promiscuously image-rich websites (where it's no small irony that military hardware is displayed with the prurience of porn), though you should: it is no less a wonderful and heartbreaking a picture than countless ones where the relationships are more ostensibly traditional. The fact that it involves two men should be as irrelevant to the appropriateness of the scene as if it involved father and child.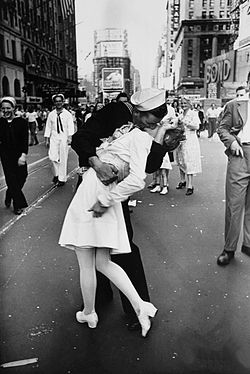 If anything, the picture of Morgan and Wells rises above the other clichés of the genre because, as intimate as the moment is between the men, who suspected neither the shot nor the enormous attention it would receive in late February, it has the same iconic feel as Alfred Eisenstaedt's Life magazine shot of the sailor kissing a nurse in Times Square on V-J Day. Both capture a moment of exuberance and jubilation. Both, in different ways, capture the essence of liberation on a large scale, personified through two beating hearts and two sets of lips.
It's not an exaggeration to say that the very slow liberation of gays and lesbians from millennia of brutality across most cultures is as monumental a victory as the defeat of fascism, especially when hatreds with similarly obliterating motives are being defeated. Victory for gays and lesbians is nowhere complete. Not even in the United States and especially not in Florida, where gay-marriage bans are still the rule and triumphs of gay equality the exception. But the picture from Hawaii is one more frame in a narrative virtually fated to a better future.
Brandon Morgan has it just right: "This is a homecoming picture. Gay, straight, it doesn't matter who you are. Love is love. We haven't fought for more rights or better rights than others. We fought for equal rights. And now we have them." For those who don't, it's a matter of time, because in the battle between natural rights and primal bigotries, it's ultimately no contest.