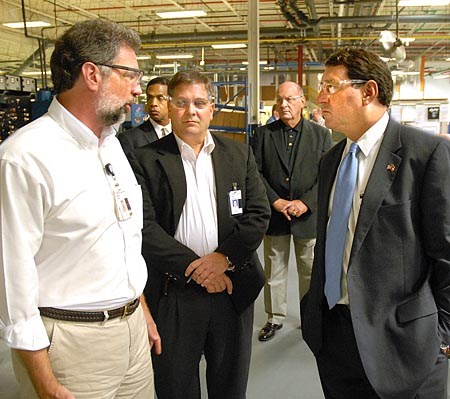 Gov. Rick Scott is hiring Mississippi Gov. Haley Barbour's economic development chief to take over leadership of Enterprise Florida.
Gray Swoope will head up the state business promotion agency, Scott's office announced late Monday. Scott had been impressed by Swoope's work in convincing major global companies such as Toyota, GE Aviation and ADP to build facilities in Mississippi.
"Bringing new energy and expertise to Florida's economic development activities is an ideal task for which Gray Swoope is well suited," Scott said. "I am excited to have him leading the job creation and economic development mission in Florida."
The Orlando Sentinel reported earlier Monday that Scott, in a letter to Enterprise Florida Vice Chairman Hal Melton recommending Swoope, said he is still planning to create a new agency similar to the old Department of Commerce that would oversee all economic development, community development and workforce training issues. In the letter, Scott also said he wanted the same person that heads up Enterprise Florida – now Swoope – to head the new economic development agency.
Scott fired previous Enterprise Florida President and CEO John Adams last month, saying he wanted to point the state's economic development effort in a new direction. Adams had been in that role for five years.
Scott said that in addition to helping lure major companies to Mississippi, Swoope helped create a "measurable increase in jobs saved and/or created through expansions."
Swoope, a native Mississippian, is credited with helping Tupelo, Miss., keep a Cooper Tire plant there when the company was consolidating operations, pushing the state to provide a $30 million incentive package. He also lured a truck engine manufacturer to Mississippi, and a new steel mini-mill.
Still, Swoope did come under some criticism in Mississippi from a couple of legislators who believed the major new employers weren't being recruited to predominantly black and poor areas. One lawmaker there complained that because most economic development deals are kept secret from legislators, representatives of those areas rarely got to make a push to get those new jobs to their constituents.
An Associated Press story earlier this month reported that most large economic development projects approved in Mississippi since 2004 have been in northern Mississippi, including the Toyota plant in Blue Springs and the steel mill in Columbus. Swoope responded that typically, the needs of the company dictated the location, not local politics.
Before going to work for the state, Swoope was president of a local economic development agency based in Hattiesburg, Miss. He also has worked in economic development in Arkansas.
Like Florida officials, he has had to deal with economic factors arising out of hurricanes – Southern Mississippi was devastated by 2005's Hurricane Katrina – and also had to deal with the economic fallout from last year's BP oil spill, which had a major impact on Mississippi Gulf coast businesses.
Scott, who must sign a budget that cuts more than $3 billion from current year spending, also was impressed by Swoope's ability to work efficiently. He cut the Mississippi agency's budget by 26 percent over seven years, cutting its workforce by 15 percent.
–David Royce, News Service Florida