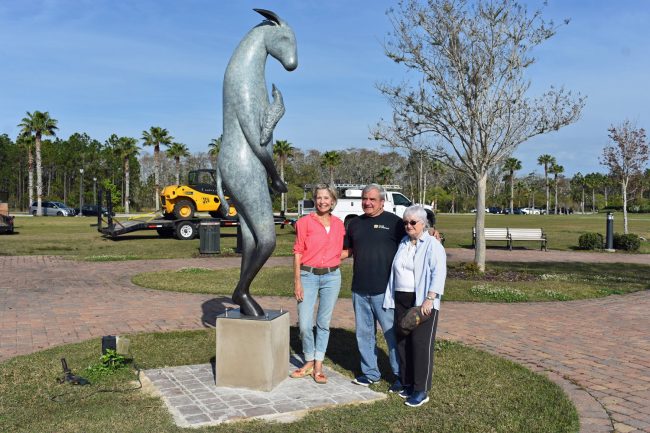 Meet "Burro With Bird on His Shoulder," Copper Tritscheller's nine-foot sculpture of a slender, small donkey musingly announcing itself as he stands on hind legs. The burro is one of the self-taught artist's signature subjects.  She likes its hard-working humility, its unsung heroism, its resilience. Palm Coast may come to admire "Burro" for the same reasons: it speaks to the city's own resilience. The bird adds a touch of grace or affection, a hint of something about to take flight.
The sculpture not too long ago was winning plaudits and making friends at the Shanghai Art Fair. It is now the inaugural work in the Gargiulo Art Foundation's long quest to fund and create a sculpture garden in Palm Coast's Central Park. The sculpture, the first of five to go up over the next year in the park, has already been installed, but it will be unveiled in a ceremony celebrating the new garden and the Gargiulo initiative the morning of March 26 (at 9 a.m.).
The initiative is as ambitious as it is generous–to artists, to the city–and it is part of Palm Coast's attempt to transform Central park and Town Center into an innovative district with art as one of its driving forces.
The concept of a sculpture garden in Central Park was bandied about as far back as October 2011 during a meeting of the city's Beautification and Environmental Advisory Committee, as it discussed the city's then newly established Arts Commission and the proposed Arts in Public Places Program that would be created in March 2013.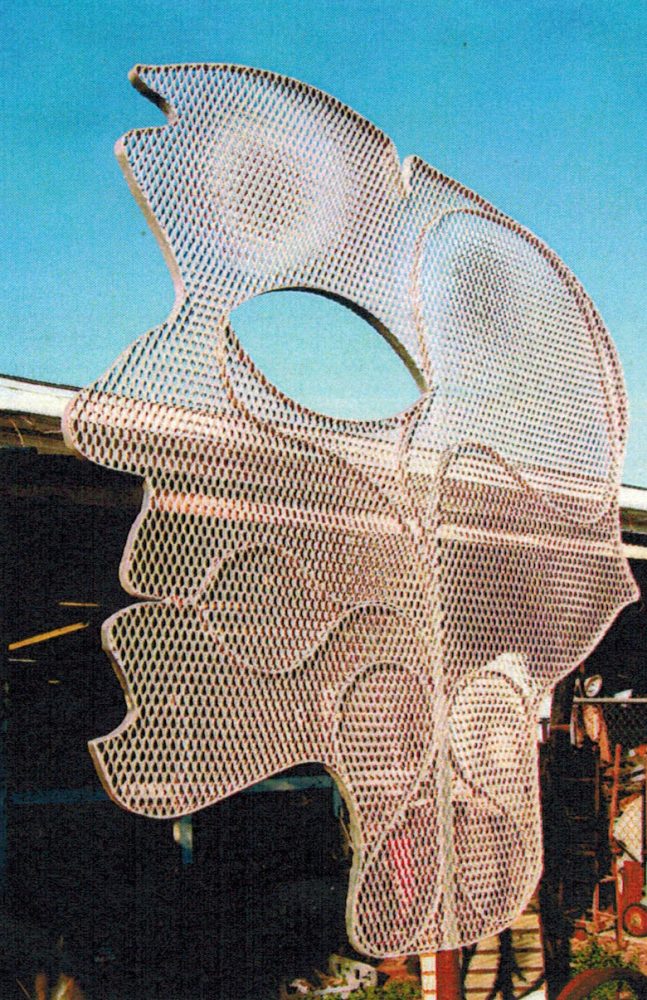 A proposal to "charge a developer of property (in excess of $250,000) a 1% fee of the total construction costs" for "artwork as part of the development" was cited in the undated draft of a city document written prior to the creation of the Arts Commission.
Both the sculpture garden and an arts-funding ordinance are closer to reality, the former through the efforts of Tom Gargiulo, and the latter through a seed planted when Mayor Milissa Holland participated in a Women's History Month panel last year.
The Gargiulo Art Foundation, headed by Gargiulo and his long-time companion Arlene Volpe, has worked hand in hand with the city's Art in Public Places Program over the years, resulting in numerous paintings and 14 outdoor public sculptures being placed on city property, including Paul Baliker's bronze panther in Linear Park near the Hammock Dunes Bridge, and the eight soaring blue herons at Waterfront Park.
In October 2017, the foundation received a $3,000 grant from the city (one of 11 grants awarded to local nonprofit cultural organizations) to market and build awareness for a planned sculpture garden around Town Center's Central Park, behind City Hall. That amount is the annual maximum allowed under the city's Cultural Arts Financial Assistance Matching Grant Program.
Tom Gargiulo has an ambitious plan of action: While his goal is to eventually raise $100,000 over several years for the project, the sculpture garden was to be jump-started with a $25,000 commitment from the foundation that, he hopes, would be matched by $1,000 donations each from 25 arts patrons during the first year. His 2018 donors brought in $19,000, and 2019 so far netted two donors' pledges of $1,000 a year for the garden. ($1,000 donors are acknowledged on a bronze plate at Town Center.)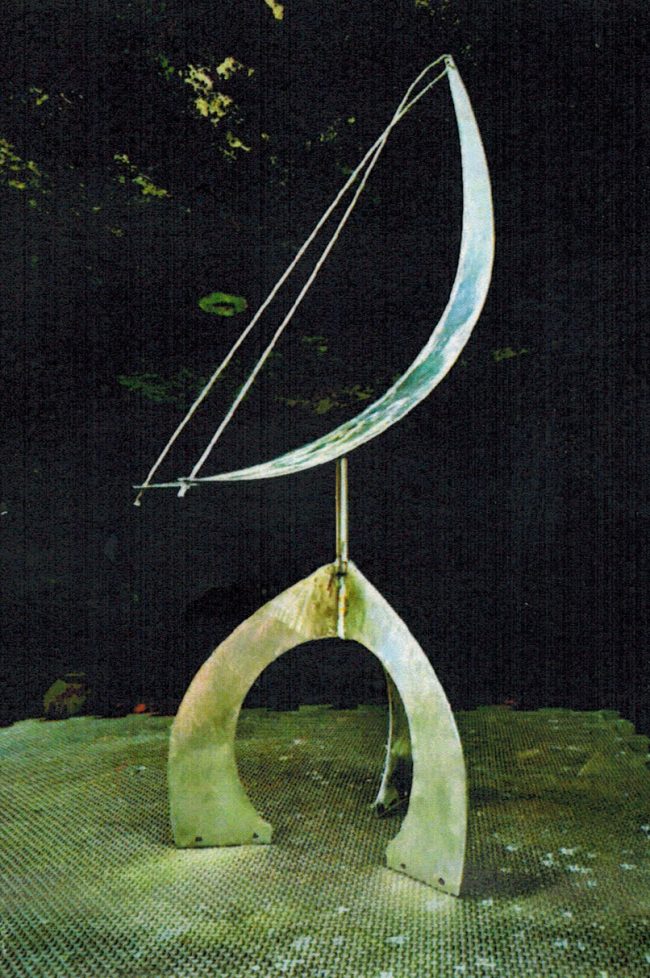 Funds will be used to purchase the sculptures from area artists, "that are unique," Gargiulo said. The five sculptures, aside from "Burro," include three by Harry Messersmith ("Primordial Landscape," "See" and "Skater") and one by Peter Hokanson ("Wind Sail II"). The sculptures will be installed on city land and will thus become city property. Messersmith is a noted area sculptor and former art museum administrator. New Smyrna Beach artist Peter Hokanson created the "Wind Sail" kinetic sculpture at the Flagler County Library.
Though Gargiulo is not getting as many contributors as swiftly as he'd like, he and DeLand sculptor Harry Messersmith, who is curator of the project, are soldiering on. "We can do something with $50,000," said Gargiulo, who is a painter, an arts patron and member of the Arts Commission, which vets works proposed for the Arts in Public Place Program.
"Once people see the sculptures, more contributions will come in," Gargiulo, who put in $50,000 over the past two years, said.
Gargiulo, Messersmith and Volpe have discussed the sculpture garden with Bill Butler, the city's recently-retired landscape architect, and Ken Jones, a member of both the Beautification and Environmental Advisory Committee and the Arts Commission.
The four other sculptures slated to go up in Central Park are currently going through the committee process.
"When we do these sculptures, we have to go through committees and we have to get the approval of the city of Palm Coast," Gargiulo said. "This is not like buying a painting and someone says 'I like it, hang it,' or 'I don't like it, take it out.' This involves a lot of money. You can't just buy a sculpture and maybe not have it accepted, so we have to lay out the ground work and get ideas from other people to see if it will fly or not."
"This is a process," Butler said. "When we started the Arts in Public Places Program, the City Council early on said, 'We don't want to be involved with approving art.' So we knew we needed some kind of review board to look at art, who knew art."
Through the Beautification and Environmental Advisory Committee, a seven-member Arts Commission was created that includes members from various city departments and boards, and four volunteers "from the arts community — people who have different expertise and knowledge," Butler said. The commission "vets" all works proposed for city property, Butler added. The Arts Commission is an advisory group and not an official city board, and meets only on an as-needed basis.
Any art work proposed for city property is reviewed by the Arts Commission, and then goes to the BEAC, and "they may ask questions about the appropriateness of the art, or maybe there's another park or city property it would be more suited to — those kind of comments," Butler said.
The process then continues with the city's Parks Team, which consists of Parks and Recreation, Public Works, Planning and the landscape architect, who look at a proposal to determine if it's feasible in terms of installation and maintenance.
A June 18, 2012, city memo states: "If the costs for installation are minimal and our Public Works crews are able to do the work in their schedule, there will be no charge for the installation" of artworks. "If this is not the case, there may be some minimal charge."
The city's Public Works team "may" provide the labor for installation of sculptures, as it did with the heron sculptures at Waterfront Park, which required the use of a backhoe to put the 130-pound birds in place, Butler said. Similarly, the city may install the concrete bases for the sculpture garden, but the Gargiulo foundation would have to supply the materials, Butler added. The city installed "Burro" (and just wrapped it in fencing ahead of the weekend's Seafood Festival, just to protect it because it still needs just a few adjustments before it's fully installed.)
While the city contributes some labor, a "fair amount of staff time" and the annual cultural grants, the city "currently does not have budgeted funds for art," said Cindi Lane, communications and marketing manager. "The city council makes the decisions on policy issues like that."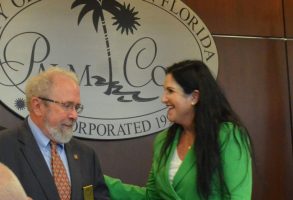 Mayor Milissa Holland, when asked why the city isn't subsidizing such a project as the sculpture garden more directly — beyond the city's $3,000 maximum grant amount — said the city council has received no proposal to provide funding for the project.
"There's a process in place that takes place when any funding request comes about," she said, adding that she could not speculate whether any such funding might be approved "without seeing any type of proposal."
"I personally, as one-fifth of the city council, think it would be a good idea to increase those numbers," City Council member Bob Cuff said of public arts funding. The sculpture garden may give the council a more concrete reason to do so, with more creative or unexpected funding mechanisms.
While Cuff noted proposals for a sculpture garden were largely off his radar, he said an existing "line item in our capital improvements budget" might be a vehicle for funding such a project as part of a larger effort.
"I don't want to give the impression that anything is a done deal or that there's money in the budget, but my understanding is there are a couple of proposals for projects in the area of City Hall that would fit into our capital improvement budget," Cuff said.
He noted he had seen no plans for such proposals, but added he believed landscaping, benches and a "garden environment where sculptures could be located" would be a good fit for the area.
"To me that would be an exciting thing for the city," Cuff said. "The whole area around the lake and Town Center is a popular venue for all kinds of stuff, different festivals and so on. It certainly is an area that people like to go to, and I'd think having sculptures to add interest and bring more traffic to that area would be a very nice addition."
"I am an advocate for art in public places," Holland said, adding that she is going to propose that the City Council discuss arts funding "in the near future" during a workshop session, in particular a resurrection of that idea floated seven years ago that certain new construction projects, public or private, be required to set aside a small percentage of their costs for some sort of art.
Since Central Park is in the city's newly created innovation district, and since that district is in a Community Redevelopment Agency (a sort of enterprise zone where property taxes generated within it largely stay within it), the city could dedicate some of that revenue to the arts.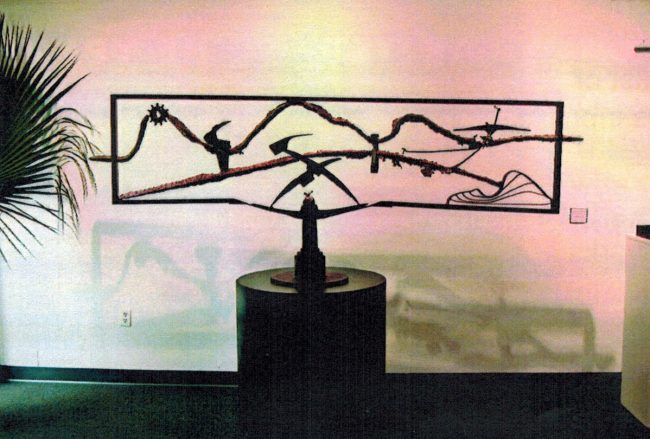 That undated document, labeled "draft" and citing "the proposed Palm Coast Arts Commission," which means it was written prior to that commission's establishment in October 2011, reads in part: "Many cities throughout Florida have an 'Art in Public Places' program. This program in a typical scenario charges a developer of property (in excess of $250,000.00) a 1% fee of the total construction costs for their Art in Public Places. This fee is either paid to the city's program or the developer includes an equivalent amount in artwork as part of the development. The process is all part of the city's permitting.
"The fund is utilized by the city's Art Commission to purchase and maintain artwork placed in the public domain. (This could be parks, roadside art, city buildings, etc.)
"The following cities in Florida are just a partial listing of those that have such a program: Coral Springs, Palm Beach Gardens, Tampa, Sarasota, Clearwater, and Miami Beach. There are many others in Florida and around the country. Seattle has created a model that is used by several of the cities mentioned as well as many others around the country."
However, when Palm Coast created its Arts in Public Places Program in March 2013, it was without any such fee mandated. Instead, the city has relied on donations of art from such entities as the Gargiulo Arts Foundation.
"If you look at the history of Palm Coast, we're a young city, being incorporated in 1999," Holland said. "We've seen a tremendous amount of growth in that short period of time, and then we saw a very significant downturn of the economy. The city council's priorities became one of keeping up with our infrastructure needs with limited revenue sources, and ensuring the basic needs of residents were being met through their tax dollars, and they accomplished that.
"Now that we've come out of that recession and are seeing growth reoccurring in our community, I am very open to beginning a dialogue with our council on how art, being a significant economic contributor to our quality of life, can be part of our strategy of moving forward. I think the timing of it is appropriate with the building industry coming back in our community."
Holland's support of public art was bolstered when she participated in a Women's History Month panel discussion with a member of Orange County's Arts and Cultural Affairs, and Holland discovered Orange County already has an arts funding ordinance in place.
According to orangecountyfl.net, "Construction projects in Orange County generally set aside 1 percent of the budget for original, site-specific public art. A selection panel comprising stakeholders in the building, arts professionals and members of the Public Art Review Board reviews submissions for each project."
Miami-Dade County passed such an ordinance in 1973. Former Miami gallery owner Robert Sindelir, who now lives in DeLand, became that county's first director of Art in Public Places.
"When the ordnance was established in 1973, it was a mandate to put one and half percent for art as a line item in all construction with public funds," Sindelir said. "They didn't quite understand one and half percent when they passed the ordinance, because it didn't sound like very much, but it was three times what the GSA (the federal General Services Administration) mandated (for art in federal construction projects). This also coincided with the very much real and very much worse recession that happened at exactly at the same time."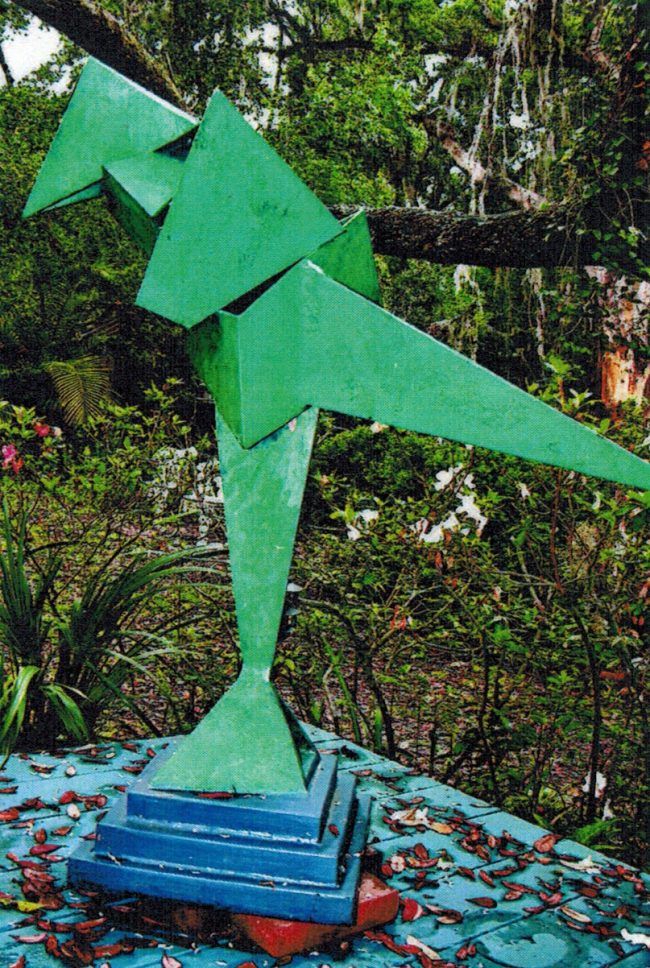 Holland has requested documents from the Orange County arts group relating to the establishment of its ordinance.
"It would be a similar exercise here," she said. "We as a council would have to go through the appropriate dialogue and instruct staff to come back with a policy that would allow for this to occur. You have to have public input on this as well."
While Sindelir said the Miami-Dade ordinance covered publicly funded projects, Holland said "it's my understanding that the Orange County ordinance covers both public and private industry."
At least one local public entity, the Flagler County Tourist Development Office, has contributed funding directly to public art.
"Our office annually invests in a significant amount of arts and culture-related projects," said Matt Dunn, executive director of the office. "Cultural activities, including public art," are part of a mix that contributes to creating an "attractive destination," he said.
"Our efforts over the past several years have allowed for further growth with the arts community," Dunn said. "For example, our awards, both of $150,000, to Flagler Auditorium and the Palm Coast Arts Foundation (PCAF) we hope will create an environment that allows for public art possibilities.
"Our most recent example of financial support consideration for public art projects is with PCAF's Turtle Trail (a PCAF fund-raising effort in which sponsors purchase fiberglass turtles painted by area artists). It is our intent, by way of budgeting for the 2018-19 fiscal year, to purchase a tourism-specific turtle to be placed in a high visitor-traffic location within the county. Additionally, we plan to explore opportunities with PCAF to create a brochure and digital assets to promote a tour of the sculptures when the time is right.
"It's also important to note that whenever arts organizations in our community are awarded event grants from our effort, this financial contribution allows for budget relief within those organizations, thus allowing them to pursue these types of initiatives, such as the Turtle Trail, if they choose to do so."
Both Gargiulo and Messersmith are aware of critics who say arts funding should take a back seat to more pressing social service needs such as combating homelessness, domestic violence, poverty and hunger.
"In building a community, there is a range of responsibilities," said Messersmith, who experienced the fiscal/administrative side of the arts world when he served as executive director of the DeLand Museum of Art (now the Museum of Art – DeLand) in the early 1990s.
"We've found that if you don't have a cultural underpinning, a foundation of schools and libraries and art, you're feeding an empty void, because the human population without inspiration becomes self-destructive." Messersmith said. "It feeds to the dark hole of desperation because there isn't enough to aspire to.
"The human population just can't work all the time. There is not enough in that vicious circle of work pay work pay survive food eat work pay survive. What breaks that monotony is the arts. Out of that comes creative science, creative living, creative home building, creative car design, even flying something to space. Our democracy is based on the idea that if you can imagine it, if you can write about it, draw or design it, then we can build it. For that reason, we have great architecture, we have a space program, we have a solar and green energy program going on in spite of politics.
"I'd like to see the sculpture garden inspire in that same way — inspire someone with 'Wow, I never looked at nature that way.' All those other things (social needs) are extremely important. but they have to be integrated with the creative."
"There's a real value to what we're talking about – economic development strategies and tying in the arts to that conversation," Holland said. "There's no question that when companies are looking to settle into a new community, those CEOs and their families and their employees and families put a very high commodity on what cultural experiences that community can open them up to.
"We have a vibrant arts community and we also have a very large segment of our community that has demonstrated time and time again that they want to see us make some investment and have a more concrete approach to how we view the arts."
"I may not have the most refined taste of anyone you will run into," Cuff said. "But I confess every time I come over the bridge and see the panther there," in Linear Park between the eastbound and westbound lanes of Palm Coast Parkway, "or go down to Waterfront Park and see the birds flying along, I think it's something that enriches the community.
"You'll always get second-guessed by somebody that likes one thing but doesn't like another or has different priorities. But in my mind," Cuff continued, referring to public art, "it makes Palm Coast a nice place to be and I'd like to see more of it."