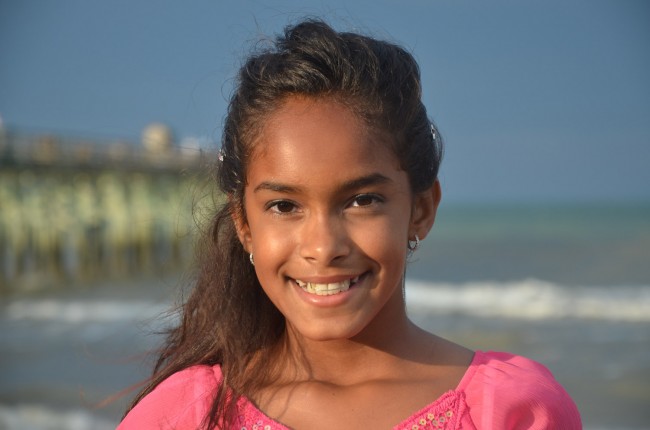 Gabrielle is the 11 year old daughter of Darren and Nerisha Wong of Palm Coast. She has black hair and brown eyes.
This year Gabrielle will attend Belle Terre Elementary School as a ? grade student.
Gabrielle likes to swim and is going for her black belt in Tae Kwon Do. She also plays violin with the Flagler Youth Orchestra. Gabrielle hopes to be a lawyer one day, and then a judge to show her leadership and allow peace and justice to reign.

The Complete Miss Flagler County Pageant Image and Portrait Galleries
2013
Little Miss Flagler County 2013 Contestants, Ages 5-7
Little Miss Flagler County 2013 Contestants, Ages 8-11
Miss Junior Flagler County 2013 Contestants, Ages 12-15
Miss Flagler County 2013 Scholarship Pageant Contestants, Ages 16-23
2012
Meet the 2012 Miss Flagler County Contestants: The Overview
Little Miss Flagler County 2012 Contestants, Ages 5-7
Little Miss Flagler County 2012 Contestants, Ages 8-11
Miss Junior Flagler County 2012 Contestants, Ages 12-15
Miss Flagler County 2012 Scholarship Pageant Contestants, Ages 16-23
2011
Meet the 2011 Miss Flagler County Contestants: The Overview
Little Miss Flagler County 2011 Contestants, Ages 5-7
Little Miss Flagler County 2011 Contestants, Ages 8-11
Miss Junior Flagler County 2011 Contestants, Ages 12-15
Miss Flagler County 2011 Scholarship Pageant Contestants, Ages 16-23
2010
Meet the 2010 Miss Flagler County Contestants: The Overview
Little Miss Flagler County Contestants, Ages 5-7
Little Miss Flagler County 2010 Contestants, Ages 8-11
Miss Junior Flagler County 2010 Contestants, Ages 12-15
Miss Flagler County 2010 Scholarship Pageant Contestants, Ages 16-23