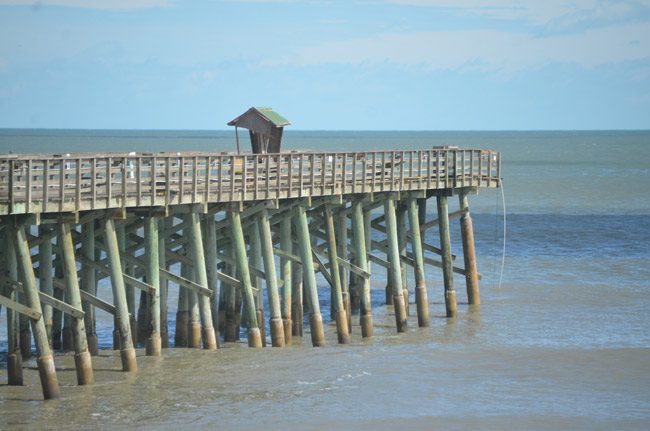 The Flagler Beach Pier will re-open to the public by May 1. It'll be shorter: the rebuilt pier will not include the 160 feet it lost during Hurricane Matthew, nor the T-shaped tip so cherished by fishermen. That will come later, with more permanent repairs. But those long-term repairs may entail a significantly different-looking pier, with concrete in its more lengthened future.
The Flagler Beach City Commission voted unanimously to approve the immediate, $918,000 strengthening and repair of the pier to Orlando-based Construction Co. Inc., recommended to the city as part of a bidding process by Mott Macdonald, an engineering consultant the city hired. Construction Co. was one of three bidders, with the highest bid at $1.2 million, though City Manager Larry Newsom had expected bids to be closer to the $1.4 million range.
Newsom said the city's pier insurance, which covers up to $1.5 million in damages, will pick up the cost, though the city has a $300,000 deductible. Of that, the city expects the Federal Emergency Management Administration to pick up $225,000, and state emergency management to pick up $37,500, leaving the city's bill at $37,500, some of which the city hopes may be defrayed with money from the county's Tourist Development Council, which has a fund devoted to capital improvements.
The bids were opened on Feb. 2. Construction Inc. will be awarded a 60-day contract. It will be required to work seven days a week, and must finish, at the proposed price, within that window.
"If they don't finish on time and they don't have a very good excuse, they start paying daily dollars," Newsom said. There is no incentive to finish early. "The incentive is, if they get it done in time, they won't be penalized, and they can be at the ribbon-cutting."
In its recent work history, Construction Co. has installed aluminum floating docks at three boat ramps in a $236,000 contract for Seminole County, it completed a $1.8 million shore stabilization project in Longboat Key, installed a wood observation tower for $226,000 on Marco Island, and worked as a subcontractor, installing vinyl sheetpile, earth anchors and a concrete cap on a seawall in Cocoa Beach, for $1.5 million, among other projects. See the complete list of projects here.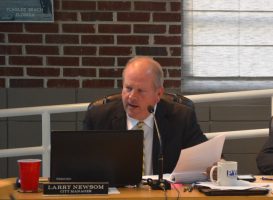 Newsom stressed to city commissioners that the project about to start is limited in scope, designed to ensure the safe use of the pier. "Just like putting a tarp over your house before getting a roofer out there, you really want to get that structure shored up so we don't lose it," he said. The structure is "moving around pretty good on the end. I've been out there. It's like a rollercoaster when you have some good wind."
That will enable public use of the pier while the city studies a long-term fix, so the immediate fix will be strictly emergency repairs. The city has not yet discussed with FEMA what the federal agency would support, long-term, at least not in details. FEMA, the city manager said, may be reluctant to simply pay bills if the city doesn't do something to stop the pier from losing parts of its structure. It did so in 2004 as well, after a series of hurricanes struck the state.
So the future of the pier may mean a more concrete-leaden structure.
"On the 28th, we are going to bring some conceptuals in here and talk about what we want the pier to look like in the future, and also what the end cap is going to look like," Newsom said, "because one thing we want to do is figure out where we're going. There has been one discussion where that pier stays where it's at, and you come out and go over and build a longer, concrete pier, and you can still use that section of pier for special events—as a concept. Those are the kinds of things I'm looking at bringing forward. But either way, if you look at what your loss is, FEMA, working with our structural engineers, they may say you need to back it up a little but more on the wood, take some more out, and add concrete and go out over the water and go up. That's the thing we have to work through. Is it going to nbe the exact same path, are there other options: that's kind of where we want to go, because now is the time to take a look at that, with the damage you have today."

Bids for the Flagler Beach Pier's Emergency Repairs (2017).