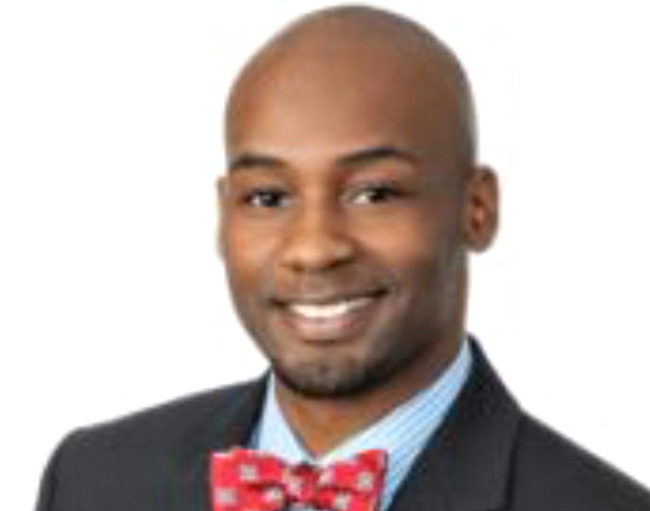 An attorney who graduated from Florida State University in 2005 was identified as the gunman who opened fire at the campus library early Thursday, injuring three people, including one critically, before he was killed by police.
But Tallahassee and university officials expressed relief that the shooting, which came as at least 450 students studied for exams shortly after midnight at Strozier Library, wasn't a bigger tragedy.
Tallahassee police chief Michael DeLeo confirmed the identity of the shooter as Myron May, who died after university and Tallahassee police responded quickly to the scene.
"Mr. May was in a state of crisis," DeLeo said. "We have not found any information at this time to indicate why he chose this morning to act, or why he chose the Strozier Library as the place for his actions. Based on all our evidence at this time, we continue to believe that Mr. May acted alone, and there is no further threat to the students, the university, the workers or the community."
State Rep. Matt Gaetz, a Fort Walton Beach Republican and Florida State graduate, said on Twitter that May was an FSU student senator in 2002.
"Shocked that Myron May has been identified as the FSU shooter," Gaetz tweeted. "I knew him in undergrad. He was so kind. This is just awful for everyone."
University police chief David Perry said two students and one university employee were shot. One was treated and released, and two were being treated at local hospitals. He said their families had been notified but their names had not been released Thursday afternoon.
Classes were canceled Thursday, but will resume Friday. Perry said Strozier Library also will re-open Friday and that university President John Thrasher and Provost Garnett Stokes would be there — along with a beefed-up police force — "to welcome our students back to having some sense of being normal in a safe environment."
"We are going to get back to normal tomorrow," Thrasher said during an afternoon news conference. "We're moving ahead and continuing to pray for the victims and Florida State University, but we are going to get through this with the great family we have."
Thrasher thanked Gov. Rick Scott, who had visited the campus that morning. He also said supportive messages poured into Tallahassee from people all over the country.
Thrasher, DeLeo, Perry and Stokes were flanked by Tallahassee Mayor John Marks, Mayor-elect Andrew Gillum, city manager Anita Favors-Thompson and Allan Bense, chairman of the FSU Board of Trustees.
Perry praised the university's emergency response system, which enabled 55,000 people to receive notifications within five minutes of the shooting. By then, the gunman was down.
"I think it's appropriate to note that 13 days ago, the FSU Police Department conducted active-shooter training for situations just like this," Perry said.
The law enforcement officials said May never got further into the library than the front desk, where he shot one person, then went outside and shot two more.
May, 31, had returned to Tallahassee in recent weeks from Texas, where he graduated from the law school at Texas Tech University in 2009 and practiced law. He'd shown up twice in FSU police records, Perry said, once on suspicion of using marijuana in 2002 and as the victim of a vehicle burglary in 2003.
But a journal May kept and his recent postings on Facebook showed that "Mr. May's sense of being and place in our community was not what most people would refer to as a normal status," DeLeo said. "He was in a sense of crisis, and he was searching for something."
May's Facebook posts included a number of Bible verses, a quote from the late Black Panther Bobby Seale and, on Veterans Day, a note of gratitude for the military service of his family members.
"IS OUR GOVERNMENT VIOLATING ORDINARY CITIZENS' RIGHTS?" he demanded Saturday on Facebook. "UNFORTUNATELY, THE ANSWER IS YES!"
On Nov. 7, May posted a comment about FSU's star quarterback, Jameis Winston.
"Now, either Jameis is one of the most depraved people to ever play college football or someone is really out to get this fellow," he wrote.
Hundreds of students held a prayer circle around the fountain on Landis Green, across from the library, on Thursday morning. Many prayed. At one point, they softly sang the FSU war chant.
Christian Guya, a freshman from Naples, said the shooting had brought the campus together.
"It's really scary, because seeing the pictures and videos that were sent to me, it could have been any of us," Guya said.
Keanu Jackson, a freshman from Fort Pierce, said he was in his dorm when he learned of the shooting.
"People weren't responding to messages, and you worried that it could have been them that got hurt," he said. "It was just a tense, tense night for everybody. I didn't get to sleep until 5 a.m."
Gillum, who will take office Friday, said the community was "extremely fortunate that the victims were kept to such a small number."
"Obviously, any victim is a tragedy, but you can imagine the potential for great bodily harm to so many individuals were it not for the quick response time and the courage of the students who followed good instructions," Gillum said.
–Margie Menzel, News Service of Florida