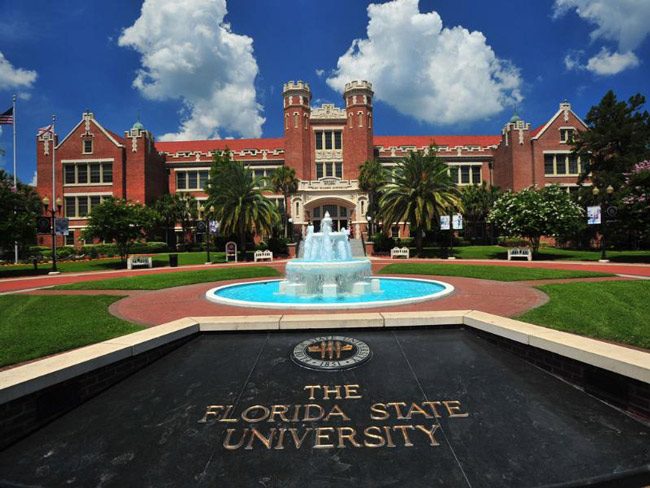 An appeals court Friday backed Florida State University in much of a legal battle with a gun-rights group about weapons on campus — but also sent back to a circuit judge an issue dealing with the university's student conduct code.
The long-running lawsuit, filed against Florida State by the Second Amendment advocacy group Florida Carry, has drawn attention mostly because of incorrect firearm information published in a 2015 football "game day guide." That information inaccurately said football fans could not stow guns in cars when attending games.
But the complicated 16-page ruling Friday by a three-judge panel of the 1st District Court of Appeal focused heavily on other issues, including a university ban on students carrying stun guns and questions about information in the student conduct code. It also dealt with issues such as a state law that blocks government agencies and officials from imposing restrictions on firearms and a 2013 ruling that said the University of North Florida could not prevent students from keeping guns in vehicles.
While state law bars people from carrying concealed firearms on college campuses, Florida State's student conduct code also included a prohibition on a wide range of weapons. Among other things, the student conduct code addressed firearms, stun guns, knives and swords, according to Friday's appeals-court ruling.
Florida Carry alleged, at least in part, that Florida State and top school officials knew or should have known that they were prohibited from regulating possession of firearms on campus, including in vehicles, the appeals court ruling said. Florida Carry also alleged that the university had improperly barred students with concealed-weapons licenses from carrying stun guns and other "defensive devices."
Leon County Circuit Judge Charles Dodson in May 2016 ruled that the issue about the "game day" guide was moot because Florida State had corrected it shortly after receiving a complaint. The appeals court Friday upheld that decision without explanation.
But other parts of Dodson's 2016 ruling drew more legal analysis, including his conclusion that the university was able to bar students with concealed-weapons license from carrying stun guns and other "defensive devices" on campus. The appeals court disagreed with Dodson's legal reasoning but upheld his ruling on the issue.
Florida Carry also sought fines against university President John Thrasher and university Police Chief David Perry because of information in the student conduct code, including information indicating firearms could not be kept in vehicles. The appeals court ruled in favor of Thrasher and Perry and pointed to an affidavit given by the police chief.
"As stated in Chief Perry's affidavit, and not challenged by any record evidence to the contrary from appellants (Florida Carry), until our UNF decision FSU believed it was permitted to regulate the possession of firearms in vehicles," said Friday's ruling, written by appeals-court Judge Ross Bilbrey and joined by judges Thomas Winokur and Harvey Jay. "As further stated in Chief Perry's affidavit, immediately after our UNF decision, FSU undertook action to comply with the decision. The undisputed facts are that any violation by President Thrasher or Chief Perry of the preemption (in state law of Florida State being able to regulate firearm possession) was not knowing and willful."
Florida State acknowledged in the case that the student conduct code improperly included a prohibition on firearms in vehicles, the ruling said. But Florida State also said it was not enforcing the prohibition. As a result, Dodson ruled that Florida Carry's challenge to the language in the student conduct code was moot.
But the appeals court Friday overturned that part of the ruling Friday, sending the issue back to circuit court for further proceedings to determine if the university could be held liable.
"Here, appellants brought suit over a year and a half after (the UNF decision on guns in vehicles), and the FSU Student Conduct Code at the time the complaint was filed still contained regulations contrary to the preemption (on universities imposing firearm regulations)," the ruling said. "While FSU may not be enforcing the challenged provisions of the code, those provisions remain. Accordingly, appellants' challenge to the student conduct code was not moot."
–Jim Saunders, News Service of Florida