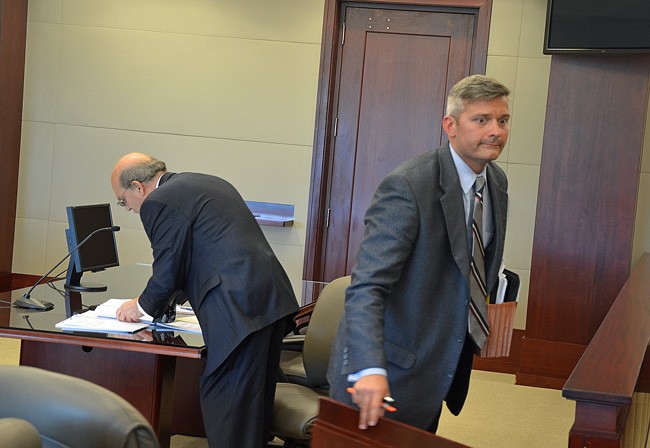 Flagler County Circuit Judge Michael Orfinger ordered a Palm Coast pressure group and its attorney to pay the Flagler County Commission's legal office $3,100 in fees and interest as a result of a frivolous suit the group filed against the commission last year.
Eight weeks ago, Orfinger found in favor of Palm Coast government, ordering the same attorney and a different client to pay Palm Coast $15,900 as a result of a frivolous suit the city fought off.
The suit against the county was filed by a group called the Flagler Palm Coast Watchdogs, created by Dan Bozza, who said at the time of its creation that the group's purpose was to file suits against local governments. The group hasn't filed any other suit than the one tossed out, though it threatened to do so. The suit alleged improprieties in the county's purchase of the old Memorial hospital in Bunnell, and sought to have that project stopped, even though it had been almost a year since the county commission had approved the purchase.
"I did not view that as responsible at all on the part of a group of citizens that wanted to challenge a decision legally," County Attorney Al Hadeed said. "The only nexus that I could find with filing the complaint in June was that now the elections were getting into gear, so I saw it as a tactic to try to influence the elections more than I saw it as a serious effort to undo the decision that the board had made almost a year earlier."
The suit against the city was filed by Dennis McDonald, a two-time county commission candidate and, more recently, a candidate for the state Senate seat that covers Flagler County. His suit alleged that the city had improperly executed development around the old Palm Harbor shopping center and Palm Coast Parkway.
Bozza and McDonald were members of the Ronald Reagan Republican Assemblies, the radical right-wing group that's taken over leadership of the local Republican Executive Committee. They were both represented by Josh Knight, a Palm Coast attorney who's being arraigned in county court next Tuesday on a battery charge. The charge was a downgrade from a battery and kidnapping charge Knight had faced in circuit court in February, after an incident involving his wife immediately after the hearing where he and McDonald were ordered to pay Palm Coast its legal fees.
Knight did not return calls placed to his office and cell phones. Bozza, who is retired, did not return a call placed at his home line.
Orfinger ruled in favor of the county in a hearing on Wednesday. Neither Knight nor Bozza showed up despite calls made from the courtroom to the Watchdogs' legal representative. The county was represented by Hadeed.
"They were supposed to have a successor attorney but no one came and no one came from the organization," Hadeed said. The judge, he said, "approved all of the hours that I submitted in the case, and he awarded me, based on skill and experience, $200 an hour." Hadeed had submitted about 15 hours.
"This was not an attempt to be punitive whatsoever," Hadeed said Friday. "This was not an attempt to seek a penalty but rather to provide reimbursement to the county taxpayers for the work I had to do on what was and is a frivolous suit."
Four times ahead of Wednesday's hearing Hadeed attempted to end the case with the Watchdogs without seeking the fees. Hadeed said his dismissal motion had outlined with detailed citations of legal authority showing why the suit had no basis. He followed through with additional communications to Knight to seek an amical, fee-free dismissal.
" In my motion I have laid out as clearly as I can the lack of jurisdiction and included cites for the court's benefit but also for you and your client," Hadeed wrote Knight on July 15. "I assume you have had time to study the arguments and the cites.  If you do not have any case or other authority that establishes that you do have jurisdiction, you should voluntarily dismiss.  If voluntarily dismissed I will not pursue Chapter 57 attorneys' fees on the dismissed complaint."
Hadeed tried again two weeks later. "It is not my preference to seek fees, as I explained in my email" he wrote in a letter mailed to Knight's office. "However, now that you are aware of the legal issues on jurisdiction, if we have to continue to proceed, I must recover attorney's fees for the benefit of county taxpayers."
The order calls for the Watchdogs—which, aside from Bozza, are not known to have any other members—to pay $1,570 of the fees, and Knight to pay $1,570.