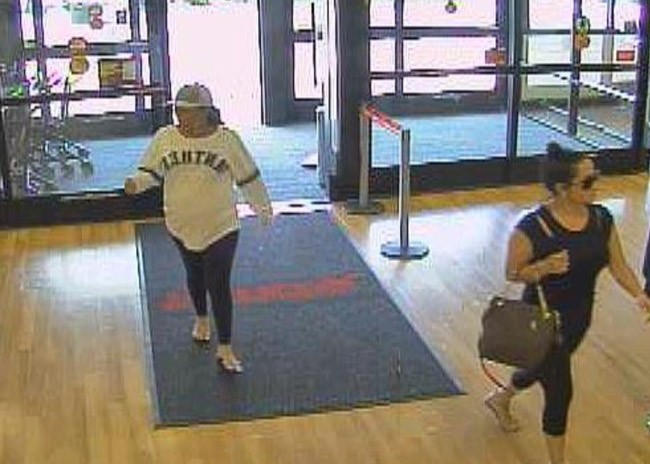 Flagler County sheriff's detectives are seeking the public's help to identify two suspects in the theft of a 72-year-old woman's wallet at TJ Maxx and fraudulent use of her credit cards at two other stores within an hour in September.
Detectives say the theft occurred on Sept. 14 while Lillie Keeton of Palm Coast shopped at TJ Maxxin Palm Coast. A woman asked the victim to help her pick out pillows for her mother. The victim told deputies she left her purse and wallet in the cart out of her sight for several minutes while she talked with the woman, who decided not to buy any pillows and walked away.
When Keeton victim went to pay for her items at the TJ Maxx cash register, she discovered her wallet was missing, and so were her driver's license, checkbook, credit cards and about $100 in cash.
The next day Keeton's credit card company informed her that the card had been used in several suspicious transactions, one of which was declined (at a gas station), others that were not: the card was used fraudulently, first at Target in Palm Coast at 4:17 p.m., and then at Best Buy in Daytona Beach, at 4:50 p.m., making purchases totaling $4,600.
Detectives obtained surveillance video from all three stores. Video from Target shows the suspect using one of Keeton's credit cards in four different transactions. Two of the transactions were for $500 gift cards and the other two transactions were for four prepaid service charges of approximately $406 each.
One suspect is described as a Hispanic or Asian female with dark hair, wearing a gray sweatshirt, blue jeans and large aviator sunglasses. Video also shows her walking from the parking lot to the store and two other people with her: One is a Hispanic male wearing a dark baseball cap, dark shirt and blue jeans. The other is a woman wearing a brightly colored shirt who appeared to come from TJ Maxx. All three were seen exiting and entering a white minivan, possibly a Toyota Sienna or Dodge Caravan.
Video from TJ Maxx shows both female suspects entering the store, though each was wearing different clothes from when they appeared in the Target and Best Buy surveillance video.
If you have any information about any of these suspects, please call the Flagler County Sheriff's Investigative Services Division at 386/586-4801 regarding Case No. 15-95040. Or call Crime Stoppers, 1-888-277-8477 (TIPS) and you may be eligible for a reward of up to $1,000.