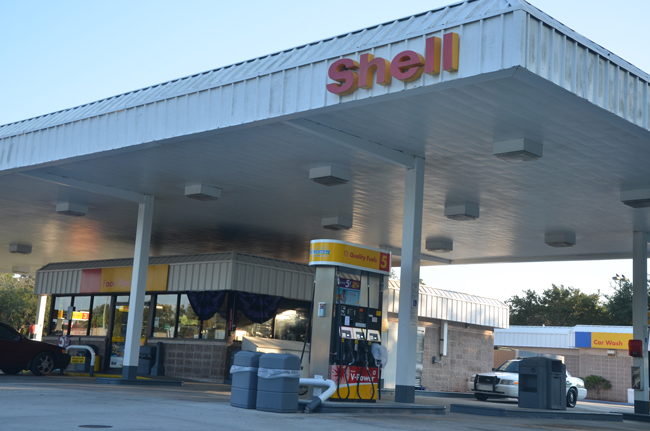 The story, images and audio of Frank Celico's services at church and graveside is here.
Services are set for today at 11 a.m. at St. Elizabeth Ann Seton Catholic Church in Palm Coast for Sgt. Frank Celico, the Flagler County Sheriff's deputy who died suddenly last week at age 33.
A very large contingent of law enforcement personnel is expected to stream into the city, and a two funeral processions will take place, closing several streets in Palm Coast and Bunnell along the way between 10 a.m. and past noon.
"Probably in the morning it's a good time not to go out until you need to," Palm Coast Fire Chief Mike Beadle said.
The road closures and processions' itineraries are as follows: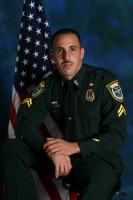 Beginning at 8 a.m. Thursday, Cypress Point Parkway eastbound will be shut down except for emergency vehicle traffic coming in to attend the funeral at Mother Seton, which is located on Belle Terre Parkway, near the intersection with Cypress Point.
The procession will leave at 10 a.m. from Craig Flagler Palms Funeral Home on Old Kings Road, south of State Road 100. It will proceed west on State Road 100 to U.S. 1, into Bunnell, past the Celico family business in downtown Bunnell—Celico Auto Body at 309 North U.S. 1—north on U.S. 1 to Royal Palms Parkway.
The procession will then head east on Royal Palms, crossing Belle Terre and continuing through Town Center, to Old Kings Road. It'll go north on Old Kings Road, crossing Palm Coast Parkway and continuing north, past the Shell station and Dunkin Donut shop where Celico loved to be, to Fleetwood Drive, where it will loop through Fernwood Drive, where Celico lived, and back out to Florida Park Drive, then south to Palm Coast Parkway.
The procession will go across the I-95 bridge at Palm Coast Parkway to Belle Terre Parkway, then on to Mother Seton.
After mass, between noon and 12:15, the procession will leave the church, go north on Belle Terre to Palm Coast Parkway east, then south on Old Kings Road, back to the cemetery at Craig Flagler Palms, where Celico will be interred.
"There is anticipated a very large group of law enforcement officers coming into town early tomorrow morning for the procession, so there'll be a lot of traffic in town," Beadle said.