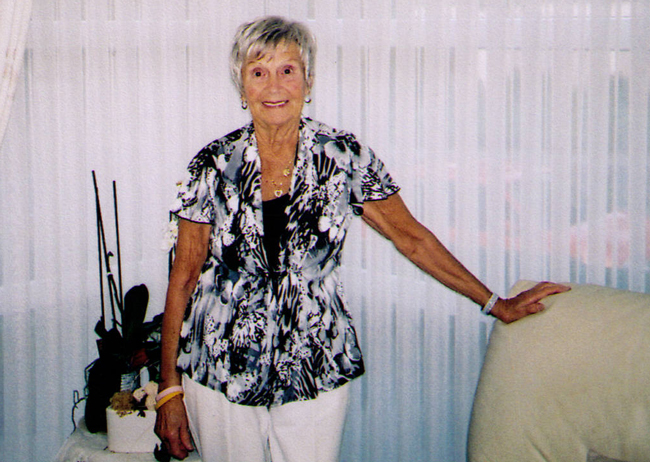 Note: A memorial service for Françoise is set for Thursday, Nov. 17, at 6 p.m., at St. Elizabeth Ann Seton church on Belle Terre Parkway in Palm Coast.

Françoise Pecqueur died Saturday at 12:09 p.m., 42 hours after she was struck by a car driven by Jamesine Fischer, 55, on Columbia Lane near Palm Harbor the evening of Nov. 10. Pecqueur had been walking her dog, Molly, in the same place where she'd walked her for years, near the home of Pecqueur's companion.
A Palm Coast resident of the B Section since 1996, Pecqueur would have been 77 today. The day of the fatal accident, she had bought the dress she was to wear at her grandson Christopher's wedding, in March, in Tallahassee.
The incident, under investigation by the Florida Highway Patrol since Thursday, is now a homicide investigation. It is surrounded by conflicting and disturbing information in the sequence of events. Fischer, the wife of John Fischer, the Flagler County School Board, reportedly left the scene of the accident, returned, and left again without informing paramedics that she may have been responsible for the collision. A call to police from the Fischer home at Freeland Lane, less than two miles from the scene of the accident, was made about 12 hours after the accident to report the collision, promoting the Florida Highway Patrol to place Fischer under investigation and impound the PT Cruiser she had been driving.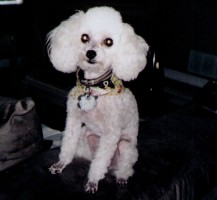 The Cruiser's windshield on the passenger side is lacerated with a top-to-bottom crack as a result of the collision, which resulted in violent trauma to Pecqueur's head. A slight woman of thin frame but in excellent health–walking and dancing were her twin passions–she was declared brain dead soon after the collision. Fischer told authorities she thought she had struck a dog. Molly, Pecqueur's dog, was not inured. It is a tiny poodle weighing about 3 pounds. The dog is being cared for by Pecqueur's companion, an 80-year-old man who, like the rest of Pecqueur's family, is contending with the devastation of her death.
Pecqueur's only daughter, Catherine Vyvyan, who usually lives in Jacksonville with her husband Richard, has been in Palm Coast taking care of her mother's house and business between intense bouts of sorrow, anger and, paradoxically, joyful memories of Françoise, whom Vyvyan described Sunday night, still in the present tense, as "the most active woman I've ever seen in life. Loving. Giving. She's a giving woman. She'd help out anybody. She's always doing something for somebody."
The Vyvyans at Françoise's kitchen table in her spotless three-bedroom house Sunday evening, exhausted from emotions and sleeplessness since Thursday but periodically boosted by memories of Françoise as Catherine flipped through a photo album and clutched a medallion of the Virgin Mary that Françoise always wore, and that was given to her daughter after she died. Françoise was a devout Catholic. She attended St. Elizabeth Ann Seton church in Palm Coast.
The Fischers, too, are devout Catholics who attend Santa Maria del Mar in Flagler Beach. Both families have a statuette of the Virgin Mary in their front yard. John Fischer, who spoke about the accident Friday morning soon after the highway patrol had impounded the car, spoke of how his wife had been shaken by the accident–"accidents happen," he said–and of how they were praying intently for Pecqueur. The Vyvyans were struck that the Fischers didn't visit at Halifax Hospital.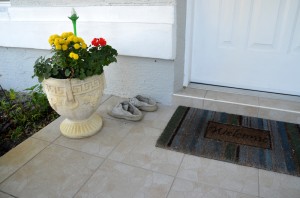 Speaking of her unfailing health–until the accident–Richard Vyvyan described how he could not keep up with Françoise's walking speed: She had walking shoes all over the house, as if strategically placed always immediately at hand for a quick walk. "She's always been active," Richard says. "She was full of life. She couldn't sit down for 10 minutes. She had to be moving all the time." Half her bedroom's walk-in closet is taken up by dancing clothes. She spent a couple of hours a day at the gym, and had a stationary bike in a spare bedroom, placed facing a television ad a stereo, with several CDs just brought back from her latest, and last, trip to France.
Françoise Pecqueur was born Françoise Marie Simone on Nov. 14, 1934 in La Gorgue, a tiny town the size of Flagler Beach in the very north of France, within walking distance of the Belgian border and a short drive from Dunkirk, scene of the famous French and British exodus before advancing Nazis in the early days of World War II–an exodus Françoise would have witnessed.
She left France for the United States in the late 1960s. Her late husband's sister had settled in Memphis after marrying an American during World War II. It was one couple inviting another. Pecqueur would stay in Memphis until 1996. It's where her ashes will be buried, next to her husband, as she requested. Her husband was a cabinet maker. She was a seamstress all her life. Soon after arriving in Palm Coast she began working at Publix, where she was a cashier for 11 years. Her daughter finally urged her to quit, to enjoy life. Françoise said she would when she'd turn 70. She quit a bit later than that, and enjoy life she did. She spent evenings at various social clubs in town, loved to cook and invite friends over for dinner, maintain her garden, care for friends.
In September she went back to France, her first trip back in eight years. She spent a month seeing friends and family there. She has a brother and sister in France (François and Paulette), nieces and nephews, too, a brother-in-law in Memphis, and more nieces and nephews there. She was due to be at her son Christopher's wedding with his bride-to-be Jessica in March. Christopher had a request after his grandmother died: he wanted her walking shoes.
For the Vyvyans, it's been a nightmare since Thursday, quite literally: When she is able to sleep at all, Catherine wakes up in shock at visions of her mother involved in the accident, being struck, being flipped–her mother with whom, as an only child, she had a bond she thought would never be broken, at least not until she had made good on many years of taking care of Françoise, had she ever needed it, in an old age that never seemed to come. Catherine naturally has difficulty walking into her mother's bedroom, its small toiletries and perfumes on the dresser and a couple of printed icons of the Virgin Mary slid against the frame of a mirror. She has trouble making it anywhere in the house without expecting to see Françoise reemerge, to hear her voice, distinctively high-pitched and insistent with verve, to see her going about her routines.
A life so bright and buoyant, so loving of life, so violently, cruelly stilled: there's no understanding it for Catherine and her husband, nor many of Françoise's family and friends rallying around the Vyvyans.