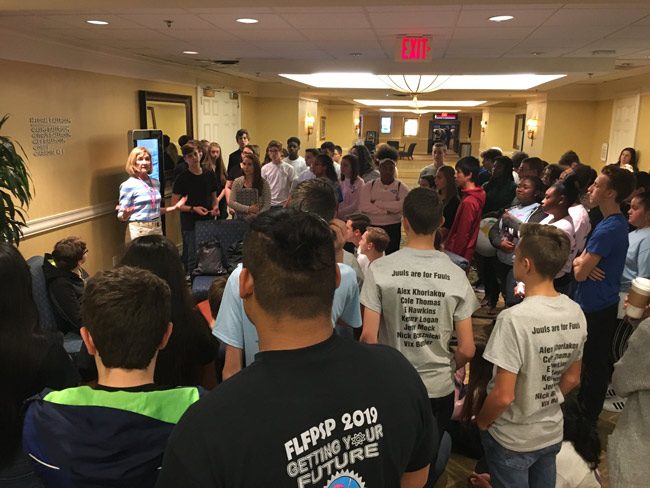 By Andy Dance
This has been another great year for Future Problem Solvers and Community Problem Solvers students in Flagler County schools. The following summary of results from the 2019 Florida FPS Affiliate Competition in Orlando this week shows just how seriously Flagler Schools takes FPS competition.
A total of 332 students attended the Florida FPS Affiliate competition from six different schools: Flagler Palm Coast High School, Indian Trails Middle School, Buddy Taylor Middle School, Rymfire Elementary School, Bunnell Elementary School & Old Kings Elementary School.
These Flagler Schools students brought home a total of 236 awards, including one "Best Writer" and four CmPS "Grand Champion" projects. No fewer than 72 students from three schools received invitations to compete at the FPSPI International Competition June 5-9 at the University of Massachusetts-Amherst.
Below is a summary of students invited to FPSPI International Competition:
Flagler Palm Coast High School: Coaches: Diane Tomko, Caitlin Hutsell and Sarah Reckenwald.
COMMUNITY PROBLEM SOLVING (CmPS)
Middle Division (grades 7-9)/Teams
Education and Civic Category
1st Place: "Juuls are for Fuuls, " Nicholas Bereznicki, E. Hawkins, Alexandra Khoriakov, Kenneth Logan, Jerry Mock, Cole Thomas
COMMUNITY PROBLEM SOLVING (CmPS)
Senior Division (grades 10-12)/Teams (there are no sub-categories for the senior division)
1st Place: "Hours4Ours," Caroline Rizzo, Rylee Millikan, Lily Murphy, Ashley Buglione, Emma Tice, Tate Underberg
COMMUNITY PROBLEM SOLVING (CmPS)
Senior Division/Individuals:
1st Place: "Root to Rise," Ekatereena Kouzina
2nd Place: "Think Out Loud,"  Valerie Diaz
COMMUNITY PROBLEM SOLVING (CmPS)
GRAND CHAMPION – SENIOR DIVISION
"FPC BULLDOG PATROL," Nicholas Blumengarten, William Patin, Abbigail Carver, Gabrielle Jackson, Sydni Leon, Katia Martynuk. (See a full story on the project here.)
GLOBAL ISSUES PROBLEM SOLVING (GIPS)
Senior Division/Teams
2nd Place: Sarah Main , Michael Pierre, Terra White, Matthew Pokorny
3rd Place: Cassandra Ventura, Chase Smith, Will Patin, Kevin Tyler
GLOBAL ISSUES PROBLEM SOLVING (GIPS)
Senior Division/Individual
3rd Place: Brock Underberg
4TH Place: Kyleigh Ruddy
Global Issues Scenario Performance
Senior:
1st place: Elisa Figliuzzi
2nd place: Katia Martynuk
Indian Trails Middle School: Coaches: Jennifer Colindres & Judy Colindres.
COMMUNITY PROBLEM SOLVING (CmPS)
Middle Division/Teams
GRAND CHAMPION – JUNIOR DIVISION
"Project SKILLS," Chloey Rudy, Veronica King, Katelyn Telfer, Genesis Epstein, Robert Miller, Carlos Silva, Matthew Nevod, Paige Reckenwald, Ben Kopach, John Newman, Victoria Ganung
GLOBAL ISSUES PROBLEM SOLVING (GIPS) – TEAMS
Middle Division
2nd Place: Jackson Castaneda, Daniella Fernandes, Jack Petocz, Alyssa Vidal
GLOBAL ISSUES PROBLEM SOLVING (GIPS) – INDIVIDUAL
2nd Place: Cameron Driggers
Rymfire Elementary School: Coaches: Tim Ruddy, Amy Kopach, Caryn Burris, Kate Sturman, Judy White & Jennifer Lujan.
COMMUNITY PROBLEM SOLVING (CmPS)
Junior Division/Teams
Education/Health/Environment Category
GRAND CHAMPION
"A.R.T.S." (Appreciating Reviving and Teaching Skills), Morgan Chafe, Reese Dingle, Noah Doolin, Ava Wheaton, Connor D'Agostino, Abigail Blumengarten, Aniyah Graham, Liliana Lisowski, Layla Croslin, Savannah Tawbush. Coach: Amy Kopach
Human Issues Category:
1st Place
"T.R.A.I.N." (Training Rescued Animals in Need), Ashley Kassan, Wyatt Christlieb, Jacob Moss, Aria King, Desirae Astrologo, Desmond Akmentins, Jasmine Santana, Nyla King. Coach: Kate Sturman.
GRAND CHAMPION
"P.A.L.S." (Positive Acts Lift Students), Samantha Newell, Halley Londono, Marion Clayton, Anna Gimbel, Kade Manley, Jack Wronowski, Kyleigh Brown. Coach: Tim Ruddy.
GLOBAL ISSUES SCENARIO WRITING
Individual – Junior Division:
1st Place – Jack Mikutel
The above results are just the tip of the iceberg. Let's recognize all the students who came home with awards from state competition. Click for fuller lists of competitors and awards for Bunnell Elementary, FPC, Indian Trails, Rymfire Elementary. For more information on FPS in Flagler County, go here.
Donations are accepted, and sponsorships are available to help students attend the International Competition. The cost for students, including registration, lodging, food and travel expenses is approximately $1,100 per student. Flagler FPS works year-round to raise funds with the sole purpose of reducing the cost for students to attend an International competition. Flamingo Flocking is our signature fundraiser; however, we have other opportunities available for the community to get involved. Please visit online.
Every March, the Florida Future Problem Solving Program brings together the affiliate programs from all over the state for two days of competition. Flagler Schools has a strong history of excellence at the state competition, thanks to Flagler Palm Coast High School educator and FPS coach Diane Tomko. Ms. Tomko introduced FPS to the Flagler School District 26 years ago, as a middle school teacher under the tutelage of Belle Terre Middle School Principal Buddy Taylor. She later brought the program with her to FPCHS, and it has flourished ever since. The program spread throughout the District and now includes five elementary schools and both middle schools. Ms. Tomko is retiring this year, and we want to thank her for her vision and commitment to excellence that established and maintained the FPS program for so many years.

Andy Dance is a Flagler County School Board member.