Manny Miranda wanted to make sure he had the name right.
Florida Power and Light's senior vice president for power delivery was addressing a small gathering of government and business officials Tuesday afternoon at the official opening of that hulking gray structure on 19 acres between the grounds of Florida Hospital Flagler and the Hilton Garden Inn.
FPL built the 25,000-square-foot, two-story building between February and September, the first of seven such bunker-like buildings built around the state to withstand Category 5 hurricane winds and give the power company's employees a safe place to hunker down during a storm, so they can immediately get to work repairing power failures once a storm subsides.
The name of the facility was projected in large blue letters above a picture of the new building behind Miranda as he spoke. But he's based in South Florida. He was intent on not making a mistake in front of Flagler's and Palm Coast's political froth, so he said, "It's going to be called…," he paused, ruffled through his notes, and finally concluded: "Palm Coast Service Center."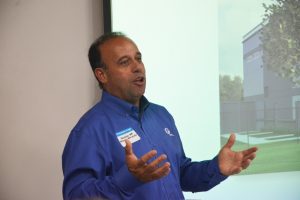 The way he'd built up to the moment and the obviousness of the name made it sound like a punch line–his audience laughed, anyway–though the company is nothing if not serious about its goal: to reduce as much as possible the turnaround between the time customers lose power and the time it's restored.
"Everything we do is about speeding restoration," said Chris McGrath, one of the FPL spokespersons dispatched to the grand opening, as he stood outside the building next to what, all told, was a more interesting segment of the operation than the building itself: an FPL mobile command center, one of just a handful, which can be driven anywhere in the state and operate like a mini-HQ for repair operations, minimizing the time required to diagnose where problems are and how quick restoration can happen. The van-like vehicle FPL had brought to the grand opening is actually one of its smaller command centers, compared with a 9-ton, 40-foot-long, $1 million model it rolled out in 2015, loaded with electronics, among them satellite communication capabilities (which helps when ground-based communications are down.)
The company says it invested upwards of $2 billion in the decade-long span that saw Florida spared by any direct hurricane hit, and into 2017. On Tuesday FPL handed out in its two-sheet press kit a one-sheet summary of "system improvements" in Flagler County over the past 11 years, including inspections of the 34,226 power poles in the county, upgrades to nine main power lines that serve critical infrastructure such as police and fire stations, the hospital, grocery stores and gas stations, the trimming of vegetation along power lines at the rate of a mile a day, and other such routine work that utilities must do to keep their infrastructure current.
The new building is something extra, at least for FPL's workforce. "One of the obstacles we face each time we pre-position thousands of men and women ahead of a major hurricane is identifying safe places to ride out the storm," Miranda is quoted as saying in an FPL release for the occasion. "While we do everything we can to restore service as fast as possible after a hurricane, we cannot and will not cut corners when it comes to safety. During future storms, these new service centers will play a vital role in our preparation by providing a safe staging point for the brave men and women who face the storm head-on."
In his remarks to the gathered guests Tuesday Miranda summed up the effort as improving the infrastructure's "resilience" to emergencies.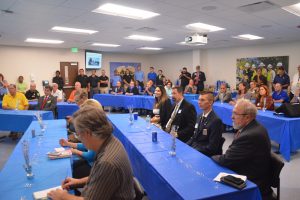 The Palm Coast service center is one of seven new such buildings across the state, with an additional five that are being "reinforced" to become Category-5-resistant structures, so that by the time construction is over, FPL will be able to house some 1,000 workers simultaneously in the 12 buildings, ahead of a storm, if necessary. Bill Orlove, an FPL spokesman, said the Palm Coast service center could accommodate about 100 such line workers in emergencies (and yes, the service center has back-up generators, he said, as it, too, can lose power).
The building was completed in September, ahead of Hurricane Irma. But for all its advertised uses, it was not, in fact, used as much of a hunkering-down or staging site during the emergency, with relatively little activity in and out of the facility. "We had a couple of dozen staff and contractors stationed here to ride out the storm," Orlove said.
There was no staging ground in Flagler, Orlove said: the staging ground for the region, one of 29 across the state, was at the International Speedway in Daytona Beach. What infrastructure improvements did take place over the last many years did not seem as evident to customers in Flagler after Irma struck, as they lost power in proportions rarely seen before, with full restoration not complete until the 10th or 11th days after Irma.
On Tuesday, however, Miranda said the extent of the outages across the state combined with the relative rapidity with which they were ended showed that the company was improving its response time.
The new service center will not result in more local FPL employment. 'It's a functioning building outside of a storm," Orlove said, with up to 50 locally-based employees using it as their base to pick up their work orders, to plan and so on. It's also a storage facility for company equipment as it was previously. FPL has owned the grounds since 1984. Before its new building, the property appraiser valued the property at $1.7 million, all of it taxable. The 2016 property tax bill paid for the property was $33,000, an amount very likely to rise in coming ears when the value of the new building is included.
Other than the FPL service center, Flagler County has just one other building that can withstand Category-5 winds: the Emergency Operations Center behind the Government Services Building in Bunnell.