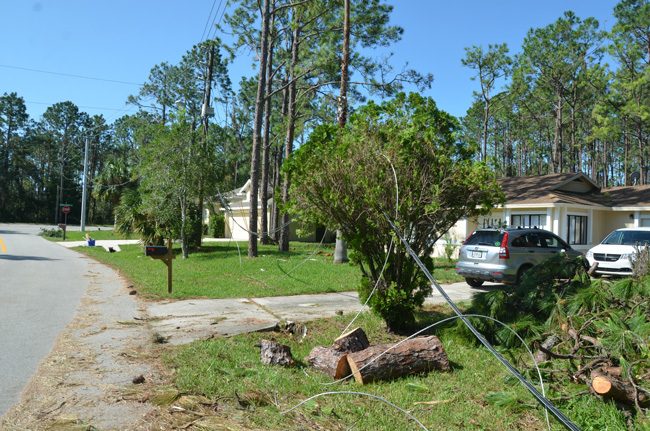 If you're trying to figure out when your power will be reconnected, good luck. The company is very good with generalities, and very poor with answers that matter to customers. That's been true for individual customers. It's even been true for local governments.
"I haven't heard of them telling us anything," Palm Coast spokesperson Cindi Lane said. "I know that Mr. Landon has had contact with an FPL executive at various times but I don't know that it's been overly satisfying, if you can put it that way." Jim Landon is Palm Coast's city manager.
"Obviously we need power, from the city's standpoint with the wastewater system," Lane said, a system dependent on electricity to flush out lines from individual "pep" tanks in people's yards to lift stations. Without power, the tanks back up all the way into people's bathrooms and potentially create public health hazards. City crews have been addressing emergencies on a case by case basis, to the extent made possible by available manpower and generators.
Flagler County officials this morning had a somewhat clearer idea of what FPL was doing, based on reports from the company. County Emergency Manager Steve Garten said today FPL would be focused on Palm Coast's P Section, the barrier Island's north side, and western areas of the county, while also focusing on a handful of homes where special needs patients must be returned so their special needs shelter can be closed and prepared for school next Monday. Those patients, less than a dozen, cannot be returned to their home if they don't have power because they have oxygen tanks and medication that depend on electricity.
"I was told today they'd try to do a heavy push to try to get as much as possible to get that number down," Garten said of overall power cuts. But areas still flooded will not be tackled just yet because it would be a hazard to workers and customers.
Meanwhile, with more than a third of Flagler County's customers still without power Thursday morning (21,600 customers out of 58,000, as of 10 a.m.), FPL is not disclosing where the outages are. It's not itself disclosing in what order they are being reconnected. It ostensibly "updates" its county-by-county outages map every hour, and while the trend has been downward, the numbers have fluctuated up and down. Nor does the company have a geographic way of keeping customers informed about where the work is being done, or where it is next scheduled to be done. "I wish they had something like that," Garten said. "That way we could put that out, but right now they don't have that."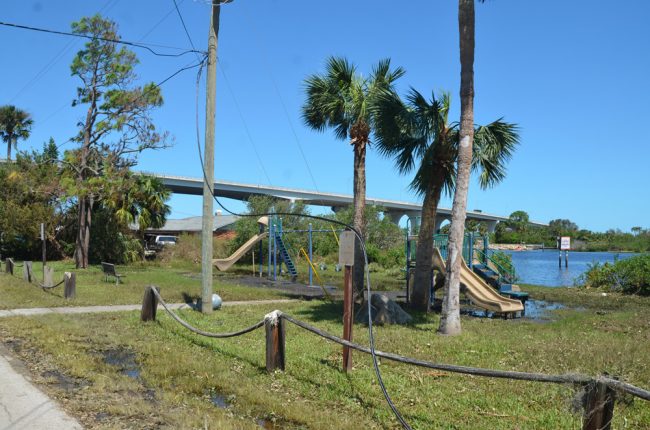 So people who have been without power, staying with friends or relatives, in hotels or out of the county, are left to make guesses, day after day, sometimes by the hour, as to whether to book another night, impose on friends and relatives some more, or make the drive back–all in the dark: FPL will give no guidance other than its canned and smiley-faced explanations, which it dispenses for Flagler no differently than for South Florida or the west coast of the state. The most precise the company gets is when it states that east coast residents should all be connected by the end of the weekend, which is still four days away, while west coast residents will be reconnected a few days after that.
Bill Orlov, an FPL spokesman who was quite forthcoming during the Hurricane Matthew emergency (when FPL send its vice president for communications to Flagler Beach at one point, though likely only because Gov. Rick Scott was visiting that day), could not be reached: "I am currently in my FPL storm role. I will have limited access to email service," his email account automatically answered a media inquiry.
Sandra Fine answered FPL's media line by phone in Miami but said she was not an FPL spokesperson and that she would try to get one to call back. Meanwhile, she suggested to a reporter that he could travel to St. Johns County where FPL spokesperson were in the field, answering reporters' questions–then proffered scripted reassurances that FPL is working "24 hours a day" with 21,000 crews across Florida. It sounds impressive, but FPL isn't saying how many of those crews are in Flagler, which makes the larger number sound more like a marketing pitch than useful information. She said she'd try to have an FPL spokesperson call back. None did.
It's the sort of void many local customers are familiar with.
"I haven't seen an FPL truck in my area at all," Patrick Juliano, a Palm Coast firefighter who's been particularly critical of FPL on Twitter, said this morning from the B Section. "The hourly restoration rate of @insideFPL in Flagler County is terrible," he'd tweeted Wednesday. "In last 3 hours less than 100 customers have power restored." He then posted a nine-hour comparison of reconnections showing that only "2720 less customers have power at 5pm then when they started at 8am," and hash-tagged it: #Regression
Beyond the inconvenience, lack of power creates a ripple effect of consequences from lost reserves of food to schools that can't open if they're in a no-power zone to students who can't do their homework even if their school is reconnected to lethal dangers from still-dangling power lines (or "laterals," as power officials call them) to diminishing cash and, of course, the heat.
It's not getting as hot as south Florida, where in Hollywood Hills, for example, eight residents died, six of them from excessive heat and two from reasons that have not yet been determined. The facility's air conditioning had failed. But it's hot: Thursday highs were expected near 90, and highs over the next week were expected in the mid-80s each day, with little wind and opressive humidity, making it feel much hotter.
The frustration locally was summed up by D.R. Harris, who wrote in a message to FlaglerLive, from the barrier island: "I would like to know why Hershel King Park has electricity when so many human beings in Flagler County do not? I have an 101yo neighbor, another one with althimerz, and my son is a type 1 diabetic. We are forced to stare at this park with power while being told ours may return by Sept 17 around 11:45PM!!! I am beyond outraged that there is no one listening to me either. We've been ignored after every hurricane and power outage here in Painters Hill."